A Great River, the debut solo album from doom/psyche masters USX's founding guitarist NATE HALL, is out today in North America via Neurot Recordings.
Featuring nearly forty minutes of material over ten original numbers, A Great River even further explores the lush bed of Appalachian heritage and songcraft USX has become widely popular for, yet showcases an even more folk and bluegrass influence as well as more expansive, soundscape passages. Fully envisioned and crafted by HALL himself, the album was recorded at Fahrenheit Studio in Johnson City, Tennessee by Travis Kammeyer. Here the multi-instrumentalist HALL displays his musical abilities by layering multiple styles of guitars, banjo, Theremin and all vocals, outside of keyboards courtesy of Kammeyer on two tracks, resulting in an incredible display of unique, modern Americana. A Great River can be ordered HERE.
NATE HALL will perform material from A Great River at the album's official CD release show this Saturday, May 12th in Johnson City, Tennessee, with more live performances to be announced in the weeks ahead.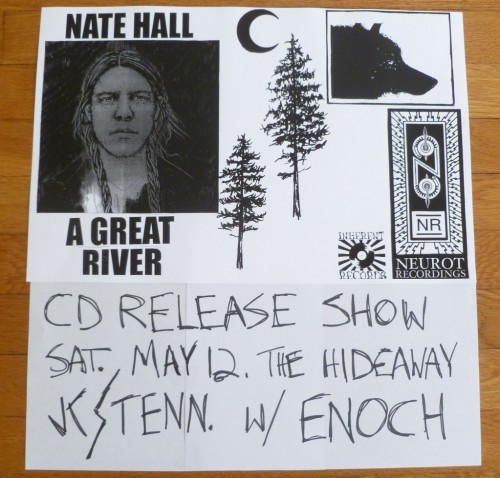 Nate Hall's A Great River CD Release Show:
5/12/2012 The Hideaway – Johnson City, TN w/ Enoch
"A Great River isn't so much a bold solo diversion than a natural progression of Hall's overall musical body of work. He takes to folk and country as effortlessly as the heavy stuff and the mood he captures on these 10 tracks is extraordinary… 8/10" — Decibel
"…beautiful and lush work of a songwriter beginning what will hopefully be a long journey…" — The Obelisk
"…if you have never longed for a life in the wilderness with nothing but the sounds of wind and trees and an occasional howl of a wolf or coyote in the background, A Great River may not be right for you. Seriously. This is a true vagabond's album if I know one." — Sea of Tranquility
"This is the album I have been listening to daily, because with every play, I realize how killer NATE'S voice is, plus he pens some of the best lyrics, word that cut to the bone." — Cvlt Nation
"Musically A Great River is on the complete opposite of what I usually listen to, but sometimes you come across an album that really resonates with you, regardless of genre or style. Stunning album! 8.5/10" — This Is Not A Scene
http://www.facebook.com/pages/Nate-Hall
http://neurotrecordings.com
https://www.facebook.com/officialNR