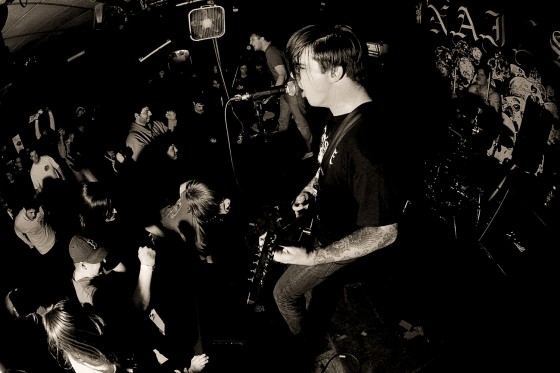 This week Southern California killers NAILS will storm the West Coast on a six-city tour supporting Converge, alongside Torche and Kvelertak. The riot will originate in Seattle this Wednesday and spread through Portland, San Francisco, Pomona and Los Angeles before burning down Mesa, Arizona on October 30th.
NAILS will drop a new 7″ via Southern Lord at the turn of the year. The Obscene Humanity 7″ captures three of the most iconic tracks from the bands' raging debut 12″ EP of the same name, re-recorded during the Unsilent Death sessions with their more modern, metallic, pulverizing low-end tonal attack.
Today Cvlt Nation is hosting a stream of the reanimated title track "Obscene Humanity," alongside a detailed breakdown of the process behind bringing these songs back to life for this 7″ by founding guitarist/vocalist Todd Jones, AT THIS LOCATION.
To round out the year, NAILS will enter the caverns of Godcity Studios in Salem, Massachusetts with Converge's Kurt Ballou from late December into early January, recording their anticipated next full-length. The new album, Abandon All Life, will be finished early in the year for a Springtime release on Southern Lord.
NAILS w/ Converge, Torche, Kvelertak:
10/24/2012 El Corazon – Seattle, WA
10/25/2012 Branx – Portland, OR
10/26/2012 Slim's – San Francisco, CA
10/27/2012 Glasshouse – Pomona, CA
10/28/2012 EchoPlex – Los Angeles, CA
10/30/2012 The Nile – Mesa, AZ
http://www.unsilentdeath.com
http://www.nailsmerch.com
http://www.southernlord.com
https://www.facebook.com/SLadmin
http://twitter.com/twatterlord