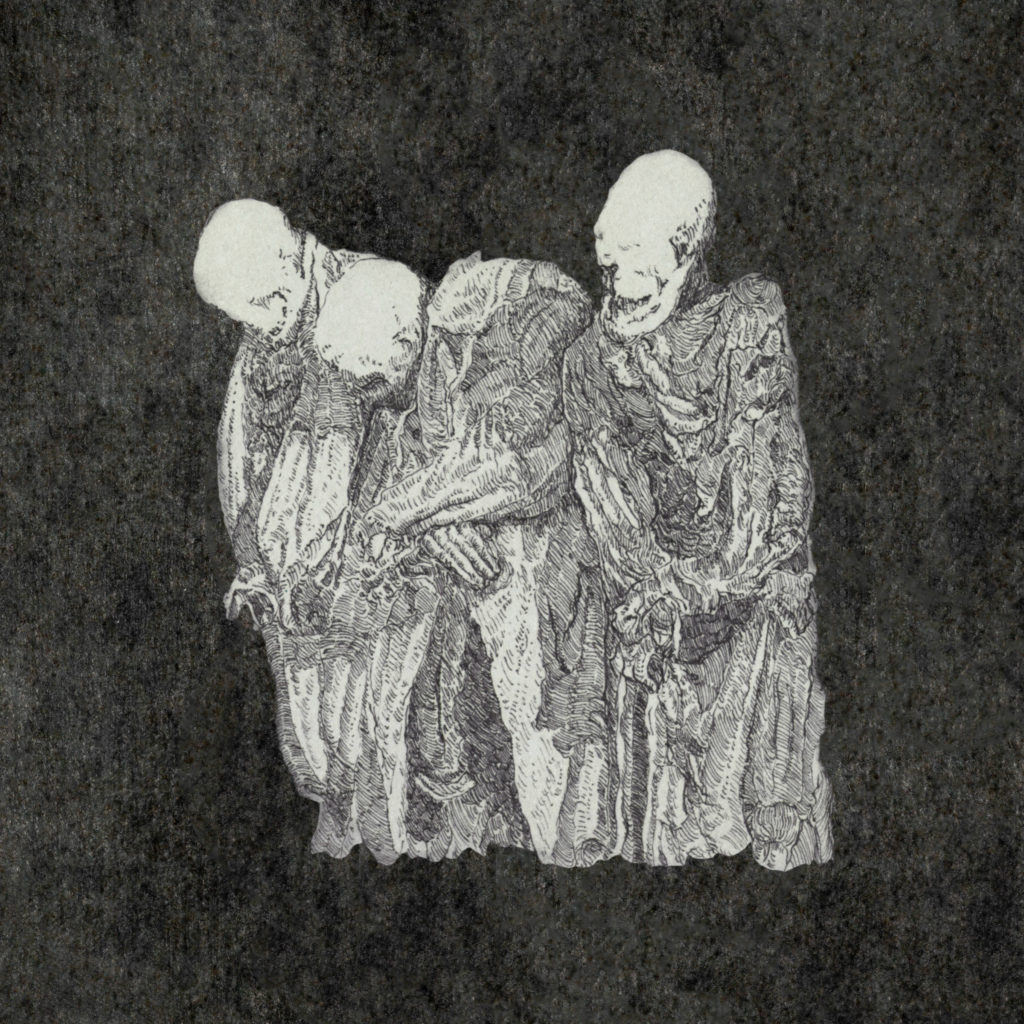 Cult metal outlet No Clean Singing is hosting the advance stream of Döda Själar, the decimating new LP from mysterious underground black/death outfit MYLINGAR, days ahead of the album's release. The album strikes this Friday through 20 Buck Spin in the US and through Amor Fati Productions in Europe.
Less an album of songs to passively enjoy, MYLINGAR's Döda Själar is an all-encompassing specter of claustrophobic oppression and pestilence, draping its blackness over everything and leaving little but barren wasteland behind. An unexplainable, unknowable force for the malevolent villainy that envelops our world. Fans of Deathspell Omega, Portal, Altarage, Ulcerate, Pissgrave, and similar auditory barbarity must hear MYLINGAR.
No Clean Singing, who has covered prior MYLINGAR releases, offers an intense, extensive review of Döda Själar alongside the advance stream of the album, writing in part, "Like its predecessors, the new record shocks the conscience, shakes the body like a rag doll, and broils the mind like a raw steak that's first been tenderized by aggressive pounding and then seasoned with a spice called Derangement. In those respects, and others, it's closer to the two predecessors than it is a divergence from them, certainly close kin even if it's not the kinship of a simultaneous birth. What that means is that if you're familiar with the previous two releases, you might as well go ahead and press Play, and revel in the madness, or run for the hills in fear and disgust, depending on your reactions to the terrifying brilliance of those previous monstrosities."
Embrace and endure MYLINGAR's Döda Själar in its gutting entirety via No Clean Singing RIGHT HERE.
Döda Själar will see release this Friday, August 2nd through 20 Buck Spin in the US and through Amor Fati Productions in Europe.
Savagery in musical form takes a further step toward total sonic annihilation with Döda Själar, the culmination of a bestial trilogy from the eccentric intensity called MYLINGAR. A tempest of whirlwind blackened death metal barbarity and animalistic filth, unrelenting in its intent to rend flesh from bone and inflict torment. There is no peace here. The guitars and riffs burn through everything like scorched earth with the scraping, gritty bass barreling forward into total massacre. All the while the insanity presided over by a voice neither animal nor human but both at once, diseased, psychotic and commanding. The pace in general remains maddeningly frantic but relents as needed to revel in the violence of its creation.
https://www.facebook.com/mylingar
https://mylingar.bandcamp.com
http://www.20buckspin.com
http://www.facebook.com/20buckspin
http://twitter.com/20buckspinlabel