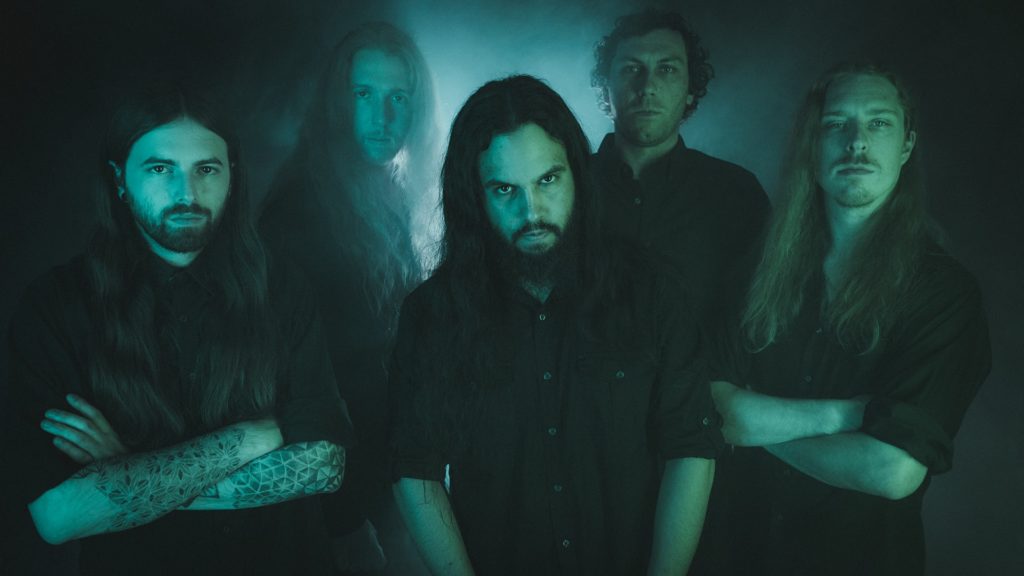 [photo by Weapon Rex Visual Media]
Creator-Destructor Records welcomes Redwood City, California symphonic/melodic death metal quintet CREPUSCLE. The label is preparing the band's second LP, Heavenly Skies, for release this fall. Additionally, CREPUSCLE will support new labelmates Light This City on their tour through the Southwest US this week.
Following their initial demo in 2013, CREPUSCLE – a reference to the time of day immediately following sunset – independently released their debut full-length, Draconian Winter, the following year to critical acclaim, including a sponsorship from ESP Guitars. The band's epic and intense songs blend elements of melodic death metal and symphonic, orchestral finesse, delivering excellent songwriting and instantly infectious movements in the vein of Wintersun, Hypocrisy, Kalmah, and Insomnium. After a five-year wait, the band is now ready to unveil their long-awaited second album, Heavenly Skies.
The members of CREPUSCLE proclaim of the signing, "We could not be more thrilled to join forces with Creator-Destructor Records and contribute our symphonic metal stylings to their incredibly diverse roster. We have admired mastermind Ben Murray's work with the label and Light This City for years, so we are honored to be working with a seasoned veteran who believes in our vision and is as eager to help us spread our music as far as possible. We are ready to unleash Heavenly Skies to the world and could not have asked for better allies to help us in this endeavor."
The track listing for CREPUSCLE's Heavenly Skies and its cover art by German artist Aerroscape have been posted. Creator-Destructor will release the album on October 11th. Watch for new updates including audio premieres, preorders, and more to be posted in the days ahead.
In the meantime, stream the band's Draconian Winter debut album at Bandcamp HERE and see the dual-guitar playthrough video for "In All Its Majesty" from that album at ESP's website HERE.
This week, fans in the Southwest US can catch CREPUSCLE performing material from the impending album as they support Light This City on a tour through the region.
CREPUSCLE w/ Light This City:
7/31/2019 Rebel Lounge – Phoenix, AZ
8/01/2019 Rock House – El Paso, TX
8/02/2019 Vibes Underground – San Antonio, TX
8/03/2019 Boozers Rock Bar – Corpus Christi, TX
8/04/2019 Dirty Dog Bar – Austin, TX
8/05/2019 The White Swan Live – Houston, TX
CREPUSCLE first came to fruition in the spring of 2006 under the name Draconian Winter in Redwood City, California. The members during that era, aged fourteen through eighteen, began writing rudimentary songs while trying to find their sound. The intent was always to write honest metal that they themselves wanted to listen to. As a result, the Silent Reverie EP was self-released and the band began playing live regularly, while also experiencing various hiatuses, setbacks, and drastic lineup changes.
Through much trial and error, founding member Eligio Tapia gradually honed-in on what would become the sound of CREPUSCLE. The lineup changed so much over time until Tapia was the only founding member that remained. He decided that the Draconian Winter title no longer seemed appropriate. It was time for a new chapter, so the remaining members of the band all agreed that the best way to do that would be by changing the name. In order to pay tribute to the previous era, it was decided that the debut album would be called Draconian Winter.
The recording process for their debut album began in the autumn of 2010. The songs written during the Draconian Winter-era were refined and, in some cases, rewritten to showcase the more mature sound that had been developed. CREPUSCLE turned to Ryan Alvarado to produce the album. Over the next four years, the band and Alvarado worked tirelessly on the album. Despite scheduling conflicts, technical difficulties, and personal struggles, everyone forged ahead with a common goal: to create the best album they possibly could, unwilling to compromise until this goal was achieved.
Backed by Gavin DeVaughn on bass, Aaron Robitsch on Keyboards, JB Schuler on drums, and Cameron Stucky on guitar, Tapia and the rest of CREPUSCLE are ready to spread their music to every corner of the world.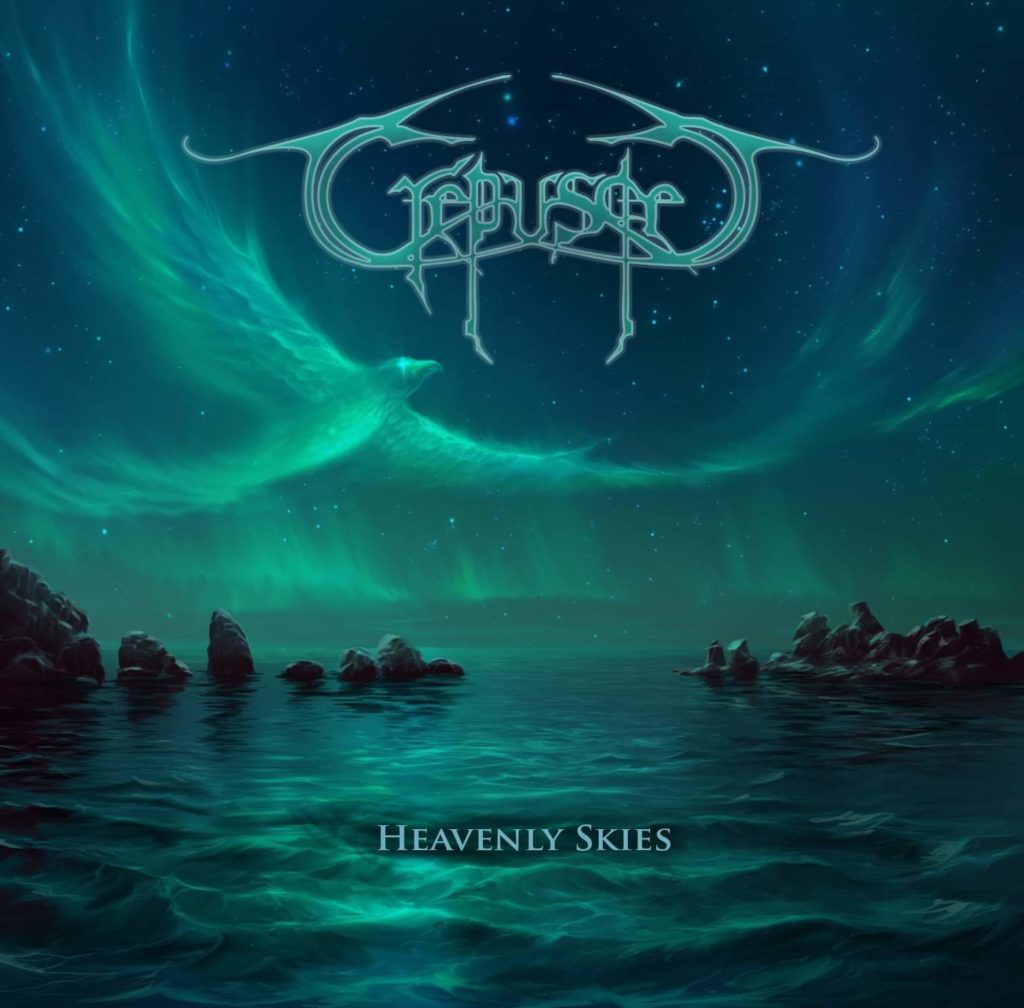 Heavenly Skies Track Listing:
1. Aurora
2. Heavenly Skies
3. Fault Line
4. Severed
5. Ethereal Waters
6. In The Winds Of Glory
7. Lunar Lullaby
8. Elapsing Eternity
9. Resignation
10. Road To Peril
11. Limitless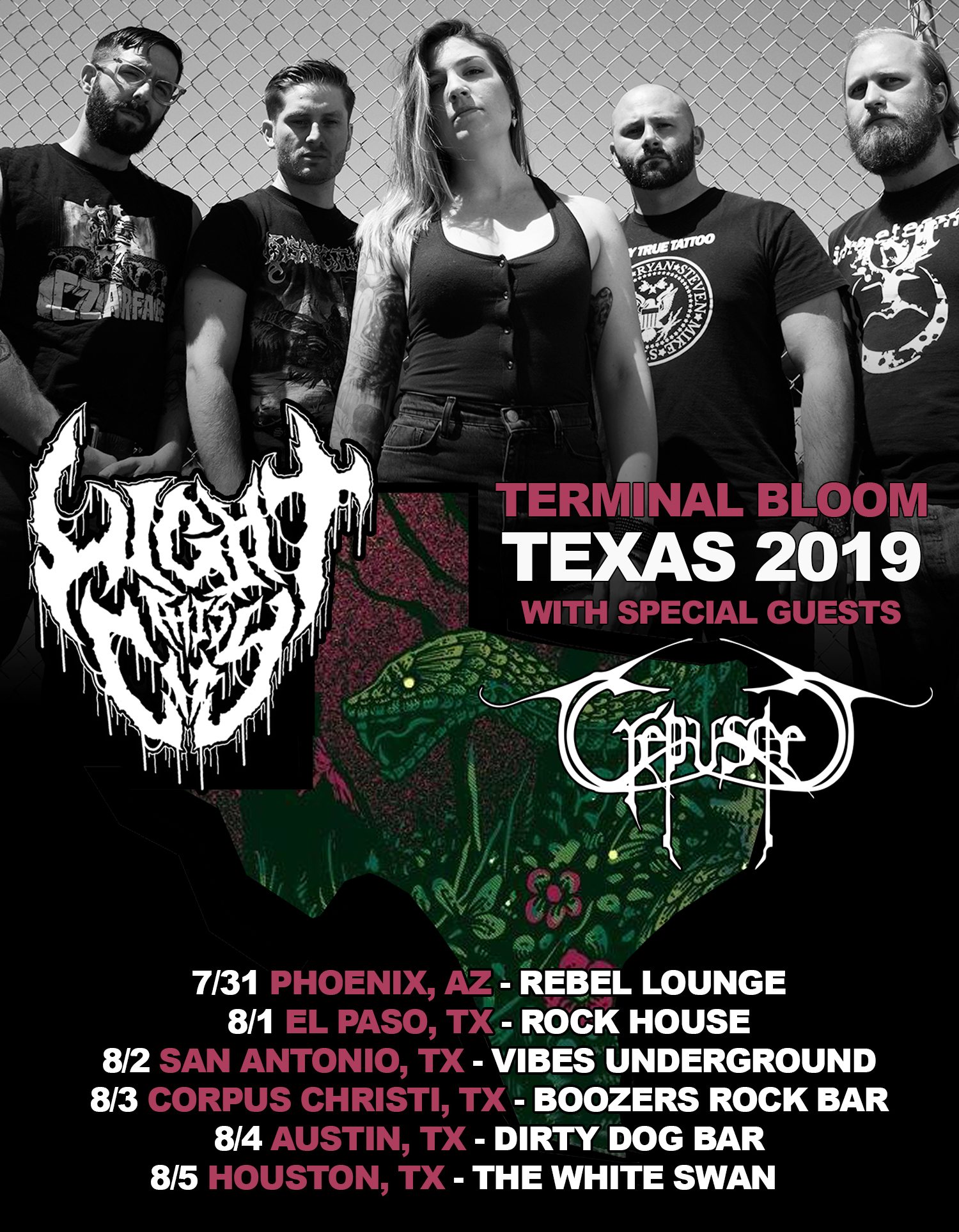 CREPUSCLE:
Eligio Tapia – guitar, vocals
Cameron Stucky – guitar
Aaron Robitsch – keyboard, backing vocals
Gavin DeVaughn – bass
JB Schuler – drums
https://www.facebook.com/Crepuscleofficial
https://crepuscle.bandcamp.com
https://twitter.com/crepuscleband
http://www.creator-destructor.com
http://www.facebook.com/creatordestructorrecords
http://www.twitter.com/CD_Records
http://www.creator-destructor.bandcamp.com