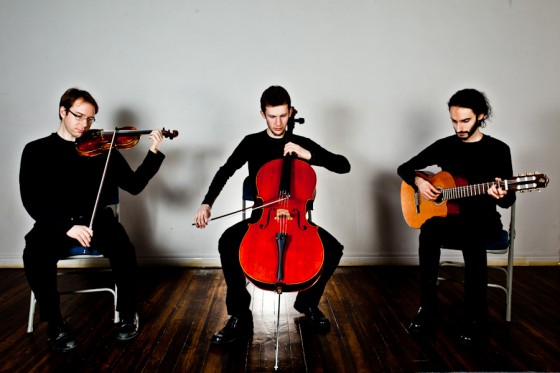 Canadian neofolk trio, MUSK OX, will release their long-awaited new full-length Woodfall on June 17th. Nearly six years in the making, Woodfall is a one-hour, five-part progressive chamber folk epic for classical guitar, cello, and violin which sees MUSK OX push their sound to soaring new heights. Expressing the essence of Canada's vast, magnificent landscapes through sound, MUSK OX is a forlorn journey through natural realms where darkness and light, substance and void, sorrow and joy, exist as a single entity.
Woodfall Track Listing:
Part 1 – Earthrise (9:24)
Part 2 – Windswept (10:44)
Part 3 – Arcanum (17:35)
Part 4 – Above the Clouds (10:28)
Part 5 – Serenade the Constellations (17:46)
Formed by classical guitarist Nathanael Larochette, MUSK OX expertly blends the lush acoustic textures of neofolk with the expansiveness of post rock, the intricacies of progressive rock, and the emotional weight of metal. MUSK OX has established itself as one of the brightest prospects in the neofolk genre with their celebrated debut full-length, three self-recorded demos, and two compilation appearances alongside artists such as Ulver, Empyrium, Tenhi and October Falls. MUSK OX has shared the stage with members of Gorguts, Krallice, and Gorgoroth as well as dark metal legends, Agalloch, on two North American tours. Larochette was also selected to compose and perform interludes for Agalloch's recently released fifth full-length The Serpent & The Sphere (Profound Lore).
Woodfall will be released independently on June 17th, 2014. Further info, including track premieres and preorder links, to be unveiled in the coming days.
"Now an instrumental trio that includes violin and cello, MUSK OX expertly combines the subtlety of Arvo Pärt with the tension and drive of Clint Mansell. Woodfall is a grand and panoramic sophomore effort that offers the warmth and maturity only hinted at on the debut." — Don Anderson (Agalloch, Sculptured)
"MUSK OX's most ambitious offering to date; rich in harmony, expression, and most notably, the nuanced finesse of Nathanael Larochette's classical guitar stylings. Much like the nature that I imagine has inspired it, Woodfall evokes a sense of calm, stillness, and simplicity, while at once flowing forward and in constant motion." — Kevin Hufnagel (Dysrythmia, Gorguts, Vaura)
http://muskoxofficial.bandcamp.com
http://www.facebook.com/muskoxofficial
Also featuring members of MUSK OX:
The Night Watch – cinematic instrumental/progressive/violin metal
http://thenightwatch.bandcamp.com
The Visit – ethereal cello/vocal duo
http://thevisit1.bandcamp.com