Now under a month before it pummels its way into the public's hands via Relapse Records, another track from MUMAKIL's third album Flies Will Starve surges forth today. "Death from Below," the opening track to the helltorn new album comes at you by way of a featured stream at American Aftermath, lashing out with some of the most relentless grindcore audio persecution of the year, and joined by an exclusive interview with writer and fan-based questions.
Antagonize all in earshot; crush them now with "Death from Below" AT THIS LOCATION.
Relapse previously released additional noise from Flies Will Starve with a lyric video for "Wrong Turn" HERE as well as the track "Army Of Freaks" via a label podcast at Metal Injection RIGHT HERE.
Recorded at Terrier 5 Studio in Geneva, the first album from Geneva, Switzerland-based killers MUMAKIL in four years devastates with twenty-four tracks of precision grindcore teetering on the edge of insanity, the oppressive percussion only lessening to build-up to the next blinding blast, the strings jackhammering forth the band's most death-influenced riffing, all fueled by a razorchoked vocal bloodbath. Flies Will Starve will hit the streets June 25th in North America, preceded by its release June 21st in Germany/Benelux/Finland and June 24th in the UK and abroad — in conjunction with new bursts of touring across Europe, Canada and beyond over the coming months.
MUMAKIL Live:
6/21/2013 F̻te de la musique 2013, stage Post Tenebras Rock РGeneva, Switzerland
6/28/2013 Moloko – Geneva, Switzerland *Flies Will Starve release party
7/05/2013 Obscene Extreme Festival 15 – Trutnov, Czech Republic
8/11/2013 Sylak Open Air Fest @ Stade Regis Perrin – St Maurice de Gourdans, France w/ Haemorrhage
8/30/2013 La Neuville @ Festival des arts bourrins 2013 – Chant d'Oisel, France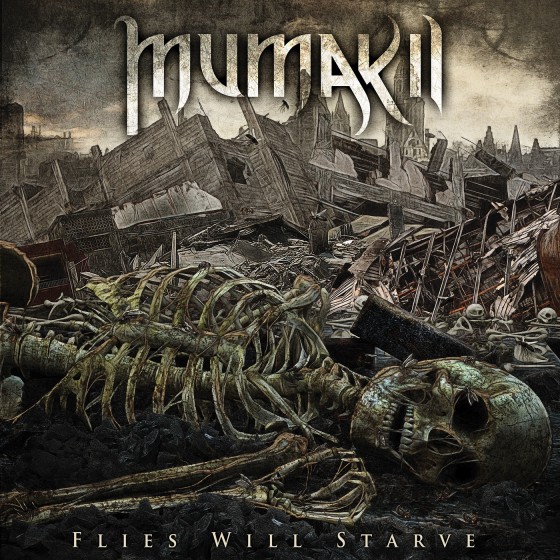 https://www.facebook.com/Mumakil
http://www.relapse.com
http://relapserecords.bandcamp.com
http://www.facebook.com/RelapseRecords