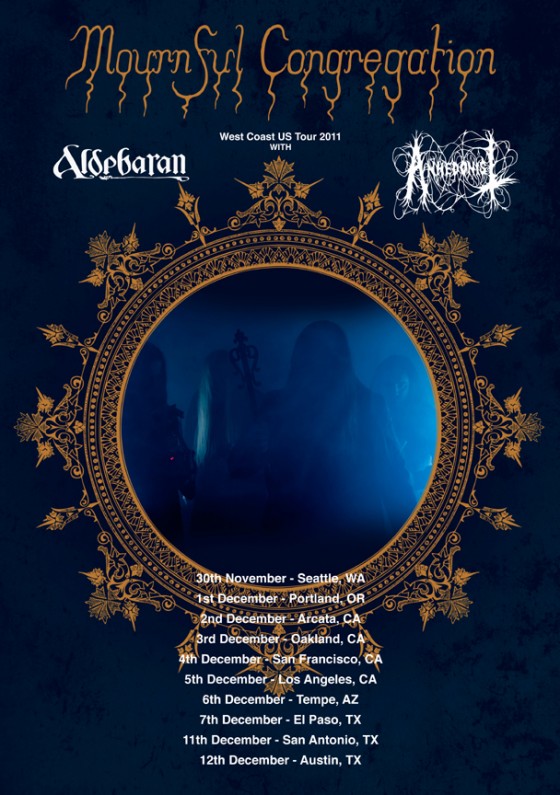 Australian funeral doom deities MOURNFUL CONGREGATION will embark on their first American tour today in Seattle, with support from Aldebaran and Anhedonist on all dates! The tour will wind down the West Coast over the next two weeks, making stops in Oregon, California, Arizona and Texas, including a headlining performance at the upcoming Rites Of Darkness III festival alongside Zemial, Stargazer, Cruciamentum, Pallbearer, Pagan Altar, Weapon and many more. Check out a new feature in Seattle's weekly rag The Stranger to hear the band's thoughts on the tour at this location.
In addition to the major festival appearance for MOURNFUL CONGREGATION the band are also presently riding high on playlists from the incredible response from both fans and media worldwide on their recently released fourth full-length, The Book of Kings, which just claimed spots on year-end/best of 2011 lists for both Decibel Magazine and Pitchfork.com this week! Serving not only as a pinnacle release for MOURNFUL CONGREGATION dating back through their nearly 20 year history, the album can be considered a landmark release in the extreme doom subgenre as a whole. Consuming nearly 80 minutes of material, The Book of Kings takes the listener on a turbulent journey through both imperial nobility and crestfallen, tarnished hope. The entire opus is presently still streaming at 20 Buck Spin's website here.
Interviews with MOURNFUL CONGREGATION are available at the shows. Please send all live coverage requests to Earsplit right away if you plan on checking out this mammoth tour, which is undoubtedly one of the most anticipated American underground metal tours of the entire year!
MOURNFUL CONGREGATION West Coast U.S. Tour w/ Aldebaran, Anhedonist:
11/30/2011 Highline Bar – Seattle, WA w/ Samothrace
12/01/2011 Rotture – Portland, OR w/ Merkstave
12/02/2011 Alibi – Arcata, CA
12/03/2011 The Metro – Oakland, CA w/ Laudanum, Lycus
12/04/2011 Hemlock Tavern – San Francisco, CA w/ Vastum
12/05/2011 Five Star Bar – Los Angeles, CA w/ Destroy Judas, Harassor, Pendulous
12/06/2011 Yucca Taproom – Tempe, AZ w/ Rituals, Fanapth
12/07/2011 M's Lips Lounge – El Paso, TX w/ Impetuous Ritual, Grave Upheaval, Ritual Necromancy, Satanik Goat Ritual
12/08-11/2011 Rites of Darkness III Festival – San Antonio, TX [info]
12/12/2011 Mohawk – Austin, TX w/ Cruciamentum, Pallbearer, Ritual Necromancy [no Aldebaran]
"In time for 2012, the soundtrack to the apocalypse has been released." – Decibel
"Funeral doom services are meant to provide comfort: a suitable ambiance for morose contemplation, a perfect cathedral in which to worship." – Chronicles Of Chaos
"Their Chopin-meets-Wagner sense of harmonic construction and melodrama sets them apart from the rest of the normally dull and uninspired genre of funeral doom metal." – The Inarguable
"…over 70 minutes of majestically depressive music that is perfectly composed to transmit depressive emotions into the listener." – Infernal Masquerade
"…the perfect soundtrack for the depressive autumn season this time of year; this is really music you can lose yourself in." – Sea Of Tranquility
http://www.myspace.com/mournfulcongregation
http://www.facebook.com/MournfulCongregation
http://www.20buckspin.com
http://www.facebook.com/20buckspin
http://twitter.com/20buckspinlabel