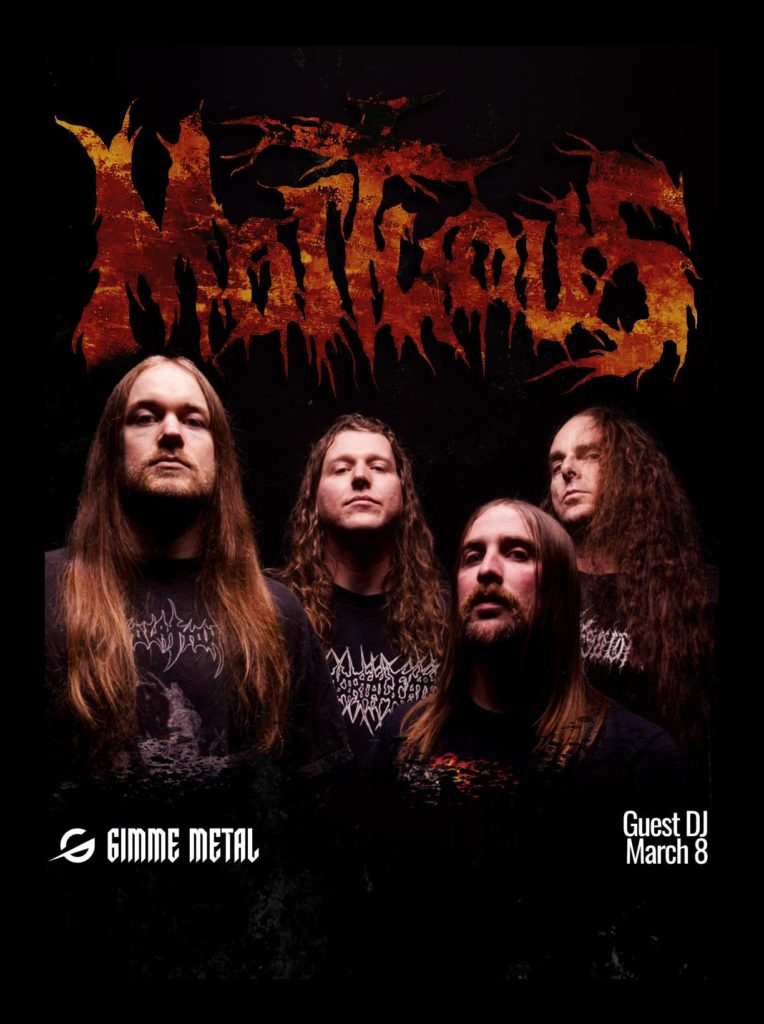 San Jose death metal practitioners MORTUOUS will host a two-hour Gimme Metal Guest DJ special Wednesday, March 8th at 1:00pm EST / 10:00am PST.
Don't miss it! Join the band in the live chat! Find more info at gimmemetal.com.
MORTUOUS released their Upon Desolation studio offering last Fall via Carbonized in the United States and Extremely Rotten Productions in Europe. Boasting eight new tracks of sheer, twisting brutality, Upon Desolation was recorded, mixed, and mastered by Greg Wilkinson at Earhammer Studios in Oakland, California in December 2021. The recording features violin performances on "Nothing" and "Defiled By Fire" by Andrea Morgan (Exulansis) and album artwork by Marald Van Haasteren (Necrot, After the Bombs, Baroness).
Upon Desolation is available on CD, LP, cassette, and digital formats. Find preorders at the Carbonized webshop HERE and Bandcamp HERE.
"The combination of gracefulness, groove, and sheer heaviness that the band achieves on Upon Desolation is rare." — Decibel Magazine
"Death metal's main album-of-the-year contender…" – MetalSucks
"…one of the most savage, atomic releases death metal has seen this year." – The Razor's Edge
"If you can't get enough of that early '90s foulness delivered by the likes of Incantation, Rottrevore, Baphomet (The Dead Shall Inherit—guuuhhhh) et al, and your idea of perfect evening involves sipping formaldehyde from swanky snifters while discussing the finer points of horrifically decomposed throwback bands such as Funebrarum, Static Abyss, and any of the recent Danish invaders (Phrenelith, Undergang, Chaotian, etc.), you will surely find an endless load of fun buried in the guts of Upon Desolation." – Last Rites
"…absolutely rancid, in a good way…a reeking tome of truly festering old school morbidity at the heart of things. If you want excellent death metal, this'll satisfy those cravings for certain." – Nattskog
"…cavernous, raving death metal…" – Metal Bite
"There's no doubt that after listening to Upon Desolation, one feels, for a lack of better terminology, desolated. MORTUOUS have managed to create a well-rounded death metal album that, while displaying a small array of influences, never leans to one extreme or the other. One could argue this to be a death/doom release, with all its slow, pseudo-atmospheric doom passages, but it's not. They are MORTUOUS and they play death metal." – Defenders Of The Faith Metal
http://www.facebook.com/Mortuous
http://www.instagram.com/mortuous
http://www.carbonizedrecords.com
http://www.facebook.com/Carbonized-Records
http://www.twitter.com/Carbon_Forms
http://www.instagram.com/carbonizedrecords
http://www.carbonizedrecords.bandcamp.com