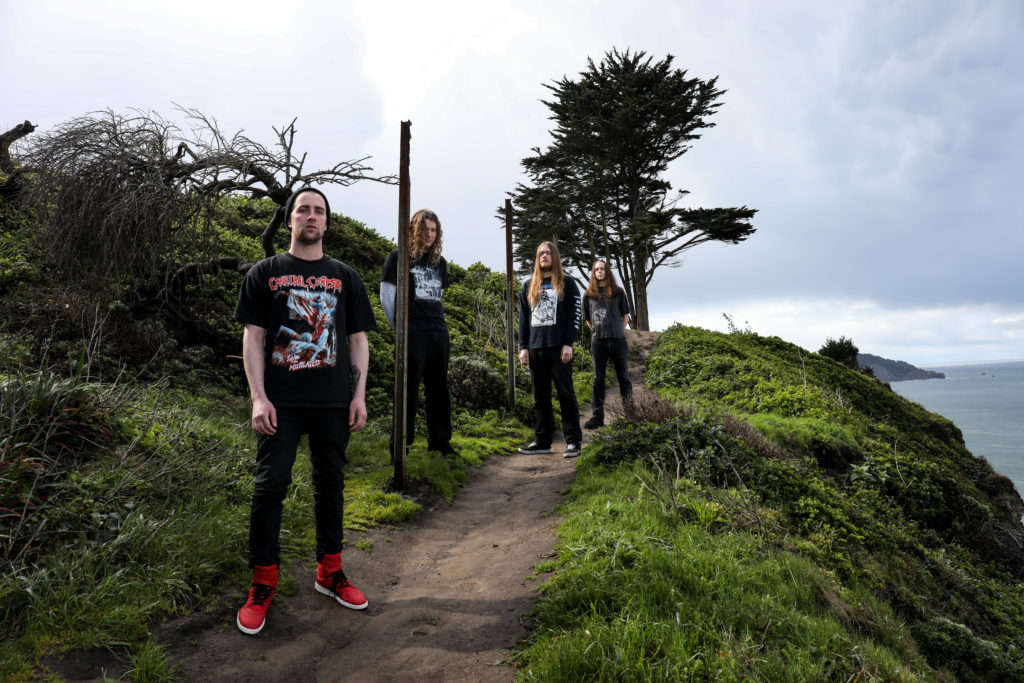 "…pure pulverizing death…" — Revolver
In just two short days, San Jose-based death/doom unit MORTUOUS — featuring within its ranks past and present members of Exhumed, Repulsion, Necrot, and Atrament, among others — will unleash the decaying fruits of its Through Wilderness debut upon the masses.
Revolver Magazine is streaming the record before you can buy it noting, "The quartet… rolls through eight tracks of pure double-bass death assault like a flame-throwing tank, incinerating everything with a pulse and leaving the remains to be crushed into powder by tank treads weighed down by steel. Forget the morgue truck, the only thing needed to clean up the bodies after Through Wilderness is a dustbuster. This is pure pulverizing death."
Adds drummer Chad Gailey, "We travel to the depths of hell and Through Wilderness to drop this album from our rotten souls. You've never heard anything as fetid and rancid as these riffs which came from a past life. Death metal? We're already dead!"
Witness the decaying sounds of Through Wilderness, courtesy of Revolver, at THIS LOCATION.
MORTUOUS' Through Wilderness was captured at Earhammer Studios with Greg Wilkinson (Brainoil, Vastum, Necrot, etc.) and pays its respects to the likes of My Dying Bride, Paradise Lost, Rottrevore, and Disembowelment. The album includes guest appearances by Chris Reifert and Danny Coralles of Autopsy, Derrel Houdashelt, formerly of Exhumed, and Teresa Wallace of Dreaming Dead, and comes swathed in the cover art of Marald Van Haasteren (Bolt Thrower, Baroness, Necrot).
Through Wilderness will see release in North America on June 22nd on CD, limited LP, cassette, and digitally via Tankcrimes and newly-launched Carbonized Records spearheaded by Gailey. Dawnbreed Records will handle the CD and LP release in Europe while Extremely Rotten will handle the European cassette edition.
For digital preorders visit THIS LOCATION. Find physical preorders HERE and HERE where the CD edition can be nabbed for a cool $6.66.
MORTUOUS will taking on a short West Coast tour this August. The trek will commence on August 2nd and run through August 11th with additional dates to be announced in due time. See all confirmed dates below.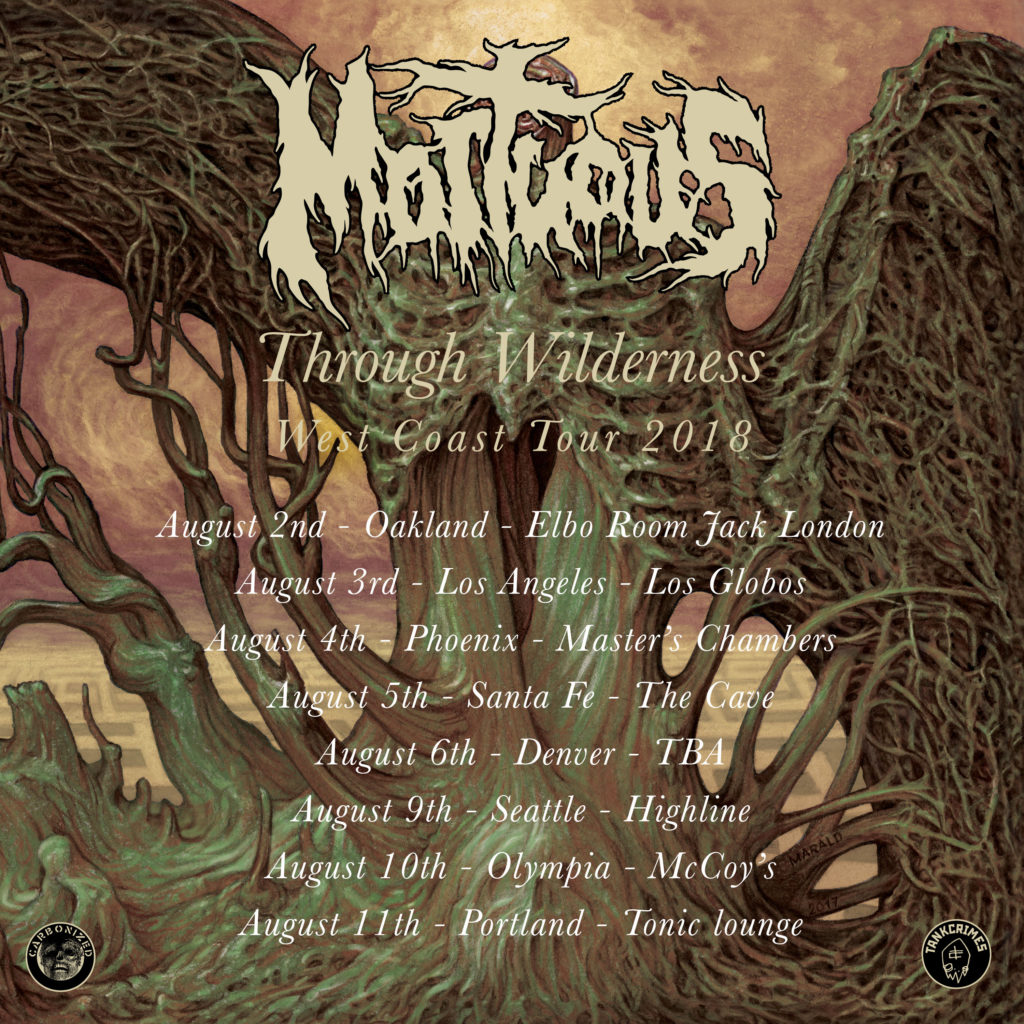 MORTUOUS:
8/02/2018 Elbo Room Jack London – Oakland, CA
8/03/2018 Los Globos – Los Angeles, CA
8/04/2018 Master's Chambers – Phoenix, AZ
8/05/2018 The Cave – Santa Fe, NM
8/06/2018 TBA – Denver, CO
8/09/2018 Highline – Seattle, WA
8/10/2018 McCoy's – Olympia, WA
8/11/2018 Tonic Lounge – Portland, OR
MORTUOUS was forged in San Jose, California in 2009 from the ashes of Colin Tarvin's previous project Funerealm. Tarvin began writing music in the vein of Incantation, Autopsy, and Viogression, with lyrics centered heavily on philosophical views on death and anti-technological themes. Later that year he released the Mors Immortalis demo on Skeleton Plague Records which received praise and recognition throughout the underground death metal community. By 2010, MORTUOUS had a full lineup which included former Exhumed members Col Jones and Mike Beams as well as Al Tarvin-Kibler, and Nick Scarboro. In 2013, the band parted ways with Tarvin-Kibler, and Scarboro and recruited bassist Clint Roach. Drummer Chad Gailey of Necrot joined the fold that following year completing the band's current incarnation.
"…filthy death metal of the highest order…" — Decibel
"…dynamically paced, vocally monstrous, melodically memorable, and both gruesome and fiery in its execution (the soloing alone should heat your blood to the boiling point)." — No Clean Singing on "Bitterness"
"…a superb first album by a band that has only released a few demos at this point. The guitar work is heavy and unrelenting, the leads and solos are blistering, the drumming is tight and hard-hitting, and the vocals are in the classic, guttural death metal growl." — No Echo
"…an admirable debut well worth hearing." — Grizzly Butts
"…rotting death metal done by rotters who understand how important it is to have rotten things in your life." — Last Rites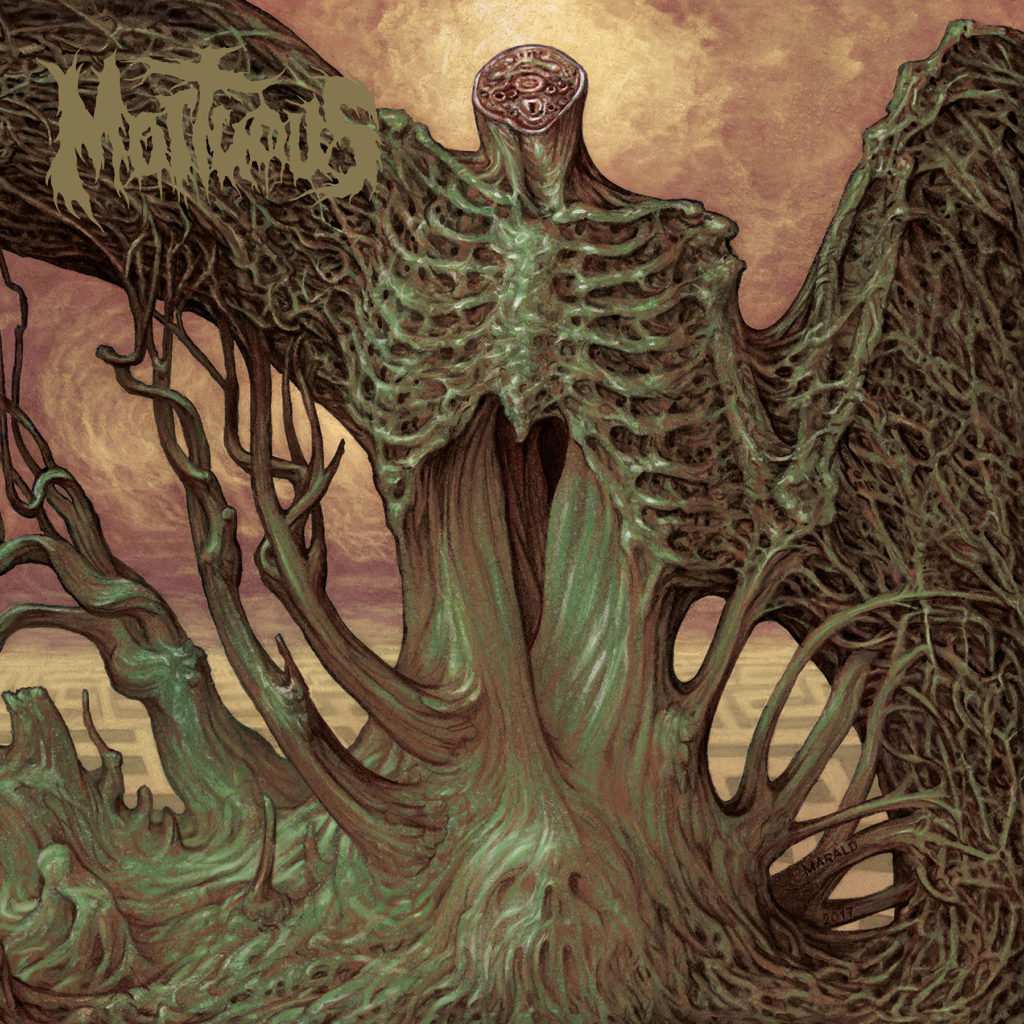 http://www.facebook.com/Mortuous
http://www.tankcrimes.com
http://www.facebook.com/tankcrimes
http://www.twitter.com/tankcrimes
http://tankcrimes.merchtable.com
http://www.facebook.com/Carbonized-Records
http://www.carbonizedrecords.bandcamp.com
http://www.carbonizedrecords.storenvy.com