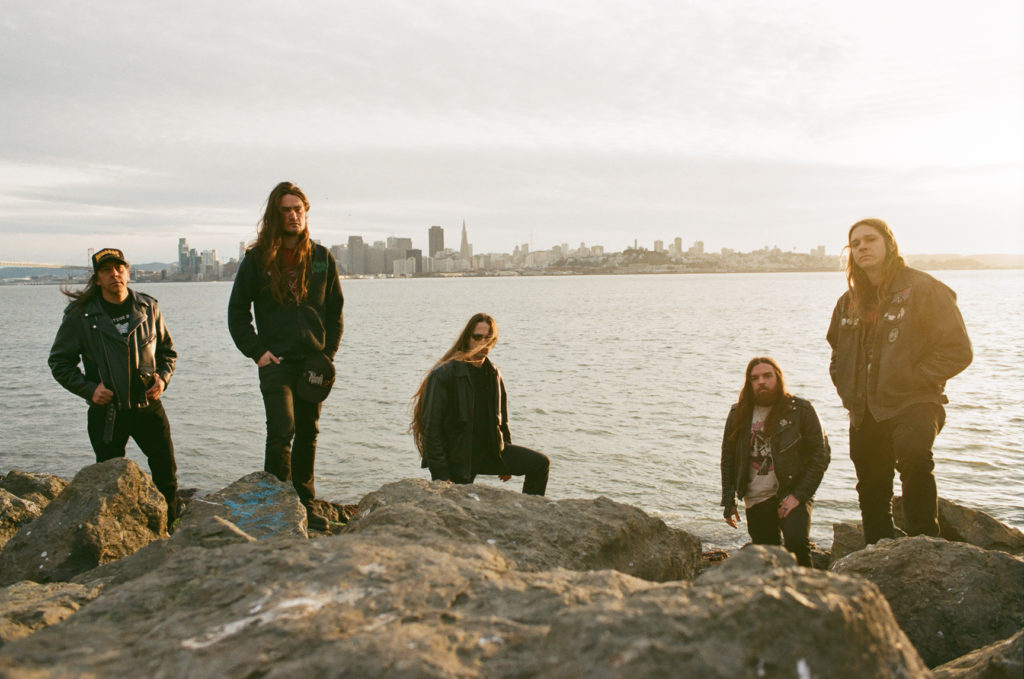 photos by Brian Pritchard
Bay Area thrash/death metal quintet MOLTEN will release their Greg Wilkinson-produced debut album, Dystopian Syndrome, this Friday. No Clean Singing has volunteered their domain to host an advance stream of the record to give the masses a chance to hear the entire ripping album early.
Offer's MOLTEN's Brandon Bristol, "The main focus on Dystopian Syndrome was to produce a darker sound while still exploring the vast plain of extreme music. Combining our interests in '70s hard rock/prog, '80s metal, hardcore, and classical music, this album captures the sound of a modern world in decline. The lyrics reflect the grim realities that have consumed the globe since the dawn of time."
Adds the band's Herman Bandala, "Dystopian Syndrome is about decadence, repression, the marginalization of society and grief that comes with it. From corrupt politicians, disease, wildfires, and war, it seems our planet is doomed, and humans are the ones to blame."
No Clean Singing writes in part, "…MOLTEN are a Bay Area band and thrash is a vital part of their DNA, their new album Dystopian Syndrome is very much worth all the time you can give it… The songs are packed with fret-melting (yet also mood-changing) dual-guitar solos, hammering drum rhythms, growling bass lines, and various forms of vocal barbarity…"
Stream MOLTEN's entire Dystopian Syndrome early, only at No Clean Singing, RIGHT HERE.
MOLTEN will independently release Dystopian Syndrome digitally this Friday, January 15th. Find preorders at Bandcamp HERE.
A vinyl version of the album will see release later in the year. If you missed it, see MOLTEN's "Zombie's Curse" mini movie/official video HERE.
Formed in the Bay Area underground, the heavy quintet MOLTEN includes members from Hazzard's Cure, Hellfire, and more, delivering a straightforward assault which incorporates elements of death, doom, and black metal into their wholly thrash-fueled sound. The follow-up to their 2019-issued eponymous EP, their crushing Dystopian Syndrome album was recorded and mixed by Greg Wilkinson at Earhammer Studios (Ulthar, Vastum, Deathgrave), mastered by Justin Weis at Trakworx, and completed with artwork by Pedro Felipe Oliveira.
https://www.facebook.com/Molten666
https://molten666.bandcamp.com
https://www.instagram.com/moltenmetalband