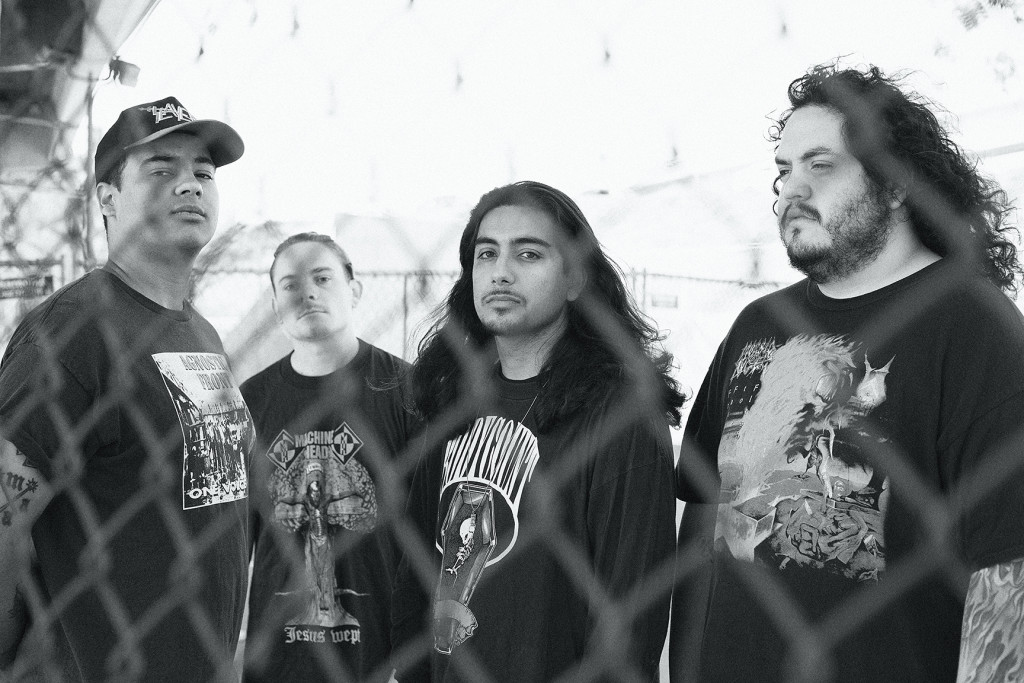 [photo by Nic Samayoa]
San Diego-based metallic hardcore outfit, MIZERY, has completed their brazen debut LP, Absolute Light, which is being finalized for a July release.
Absolute Light will appropriately see release alongside the likes of Manipulate, Backtrack, Friend Or Foe, and others on the roster of Flatspot Records, the label also responsible for recently re-releasing MIZERY's Survive The Vibe 7″, originally released by Lions Share Records in 2014. Issues MIZERY on the upcoming release of the album, "We chose Flatspot because it just felt right. We knew it was a hardcore label, run by hardcore kids that we trust to put out the best record possible."
In February 2016, MIZERY – comprised of guitarists Anthony Quiroz and Taylor Parker, vocalist Jose Gonzales, drummer Cayle Sain, and bassist Mike Salazar — took over The Pit Studios in Van Nuys with Taylor Young (Nails, Twitching Tongues, Rotting Out), to record Absolute Light, the album delivering ten bruising and infectious tunes, where the hard edge of the band's music contrasts tastefully with the poetic lyrics, influenced by spiritual topics and philosophical questions. Featuring guest vocals by David Wood (Down To Nothing, Terror), Dan Weinraub (Downpresser), and Anthony Herrera (Take Offense), Absolute Light was mixed and mastered by Arthur Rizk (Power Trip, War Hungry) at Solomon's Gate's in Philadelphia, and features cover artwork by Sam Octigan (Iron Mind, Warbrain, Outsiders Code).
Flatspot Records will release Absolute Light on July 22nd, the album licensed to Reality Records for a European pressing as well. Stand by for audio previews of the album and more in the coming days.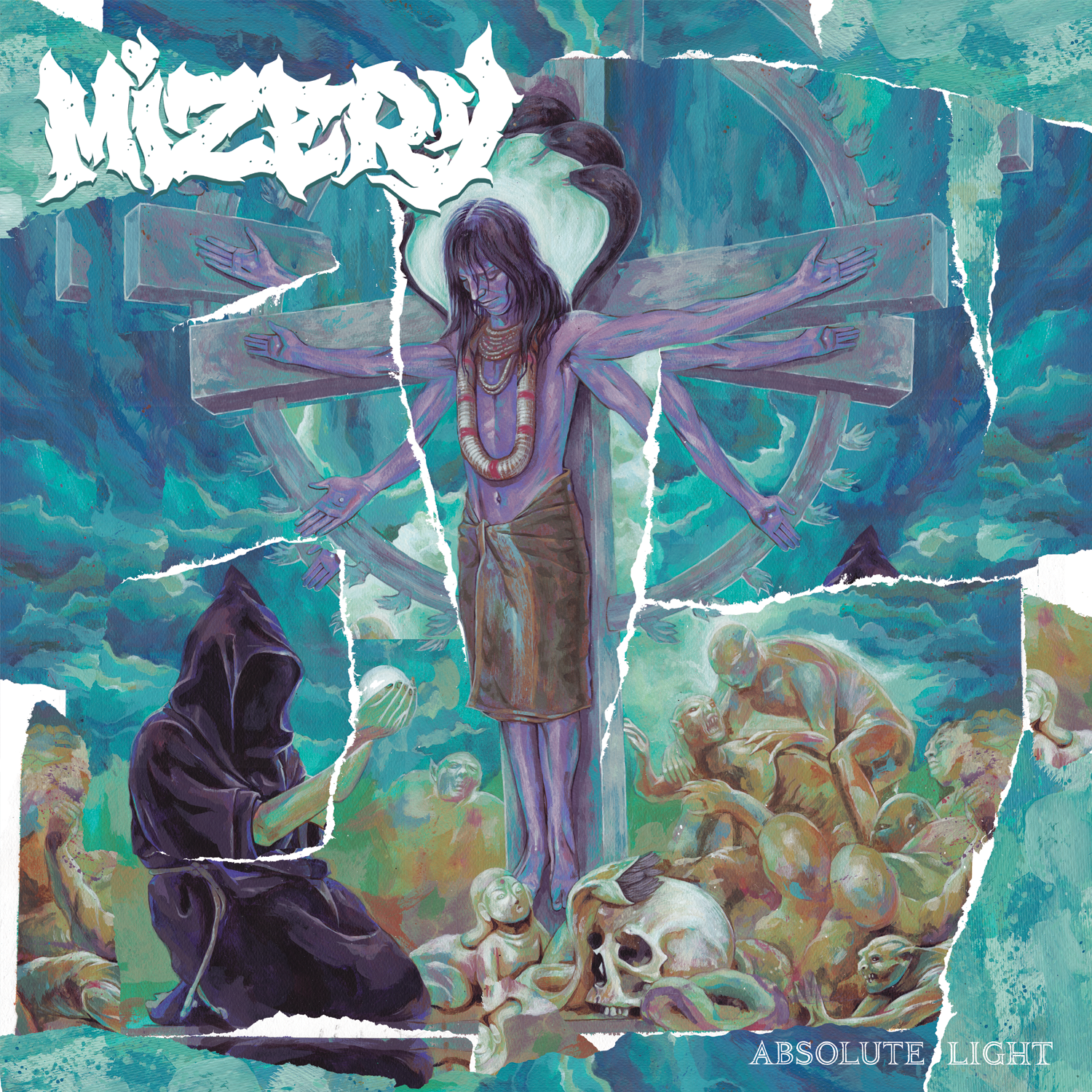 Absolute Light Track Listing:
1. Paramatman
2. One Kiss
3. Mizery
4. Absolute Light
5. The Bvtcher
6. Execution Style
7. Discrimination Of Eye
8. Power Of Peace
9. Injustice 4 All
10. The Hard Goodbye
Having previously toured with the likes of Madball, Turnstile, Power Trip, Crown Of Thornz, Backtrack, Bane, and others, and performed at fests including United Blood, Black N Blue Bowl, Rain Fest, and more, MIZERY has already confirmed several tours in support of Absolute Light. The band is slated to play at Sound And Fury Festival 2016 in Los Angeles June 10th and 11th, joining American Nightmare, Nails, Soul Search, Angel Du$t, Downpresser, Forced Order, Twitching Tongues, and many others. From there, the band will tour across the country on Nuke The Nation 2016, featuring MIZERY alongside Response, Lock, Gag, Unified Right, Society Abuse, Skourge, and others throughout the cross-country trek, returning back to the West Coast on the Mama We Coming Home Tour including shows with Will To Die. And in August, MIZERY will head back out on the road, this time supporting Merauder on their final US tour, which doubles as a twentieth anniversary run for their classic Master Killer album. The tour runs from August 20th through September 2nd, and circles the Eastern half of the US.
With a cast of Southern California area musicians currently/formerly involved in Twitching Tongues, Downpresser, Gods Hate, Xibalba, The Beautiful Ones, and others, MIZERY is a driven and direct metallic hardcore band with eclectic influences that encompass a diverse musical and intellectual concept. The band's sound falls somewhere in between the direct energy and grit of the NYHC scene, citing the likes of Cro-Mags, Leeway, Crown Of Thornz, with the cutting edge of West Coast thrash metal acts Megadeth, Suicidal Tendencies, and the like, retaining vintage tones and classic styles yet delivering them with a modernized approach. This incredibly hard-working band is quickly managing to stir quite a buzz around their craft, humbling working towards the goal of putting San Diego Hardcore on the map and playing music that they would genuinely like to listen to themselves.
MIZERY Tour Dates:
6/10-11/2016 Regent Theater – Los Angeles, CA @ Sound And Fury
6/12/2016 Programme – Fullerton, CA *
6/13/2016 51 West – Tempe, AZ *
6/15/2016 Barracuda – Austin, TX *
6/16/2016 RBC – Dallas, TX *
6/17/2016 Walter's – Houston, TX *
6/19/2016 Transitions – Tampa, FL *
6/20/2016 The Granary – Miami, FL *
6/21/2016 The Birdhouse – Jacksonville, FL *
6/22/2016 529 – Atlanta, GA *
6/23/2016 Strange Matter – Richmond, VA *
6/24/2016 Longbranch Saloon – Knoxville, TN w/ Will To Die
6/25/2016 house show – St. Louis, MO w/ Will To Die
6/26/2016 Flux Capacitor – Colorado Springs, CO
7/03/2016 The Industry – Chula Vista, CA w/ Blistered, Eternal Sleep
8/20/2016 Strange Matter – Richmond, VA **
8/21/2016 Drunk Horse Pub – Fayetteville, NC **
8/22/2016 Rockin' Hard Saloon – Myrtle Beach, SC **
8/23/2016 The Local 662 – St. Petersburg, FL **
8/24/2016 Cloud Springs Deli – Ringgold, GA **
8/25/2016 The High Note – Birmingham, AL **
8/26/2016 Walter's – Houston, TX **
8/27/2016 TBA – Dallas, TX **
8/28/2016 Jackpot Music Hall – Lawrence, KS **
8/30/2016 Beat Kitchen – Chicago, IL **
8/31/2016 The Sanctuary – Detroit, MI **
9/01/2016 4th Street Bar – Mansfield, OH **
9/02/2016 Cattivo – Pittsburgh, PA **
* w/ Response, Lock, Gag, Unified Right, Society Abuse, Skourge
** w/ Merauder, Malfunction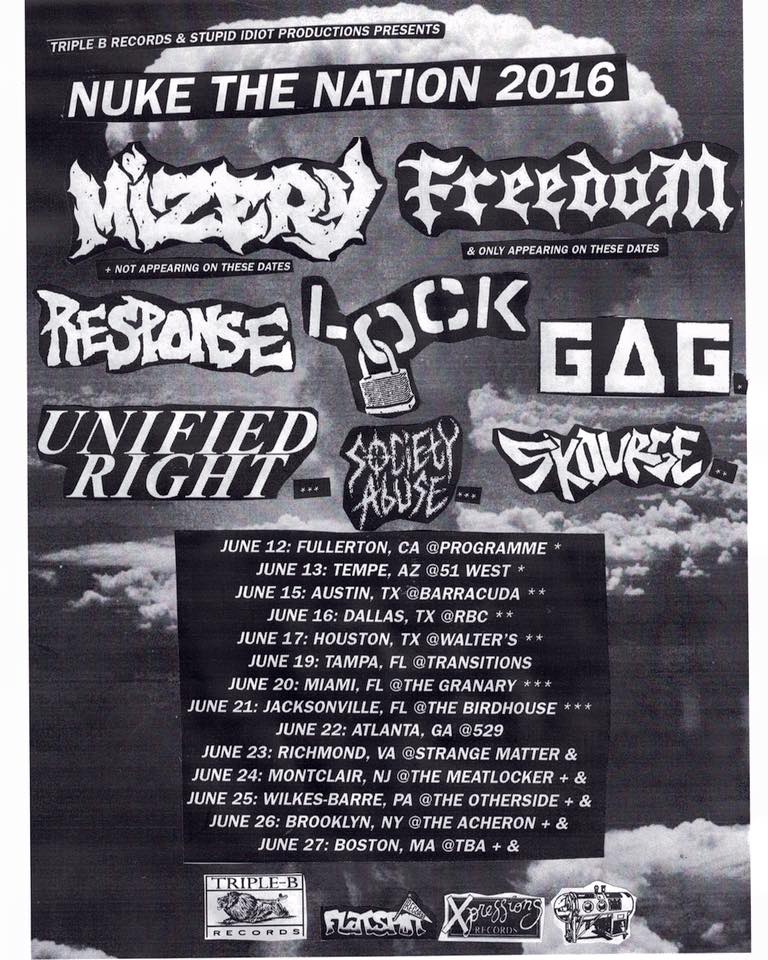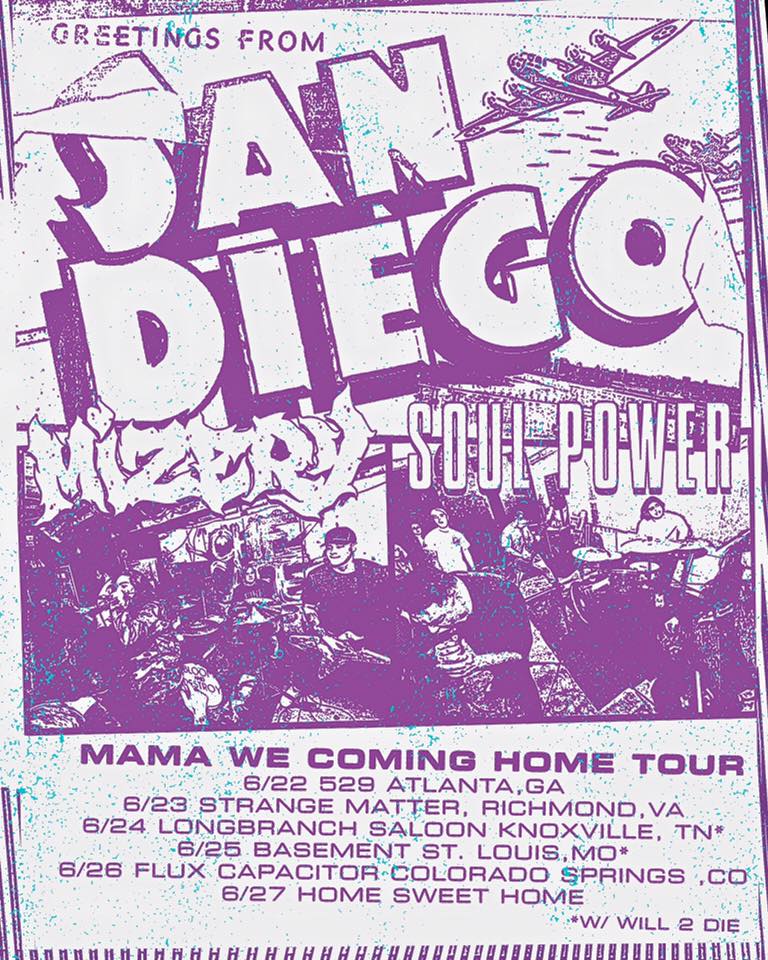 http://www.facebook.com/mizeryhardcore
https://mizeryhardcore.bandcamp.com
http://www.twitter.com/mizeryhardcore
http://www.instagram.com/mizeryhardcore
http://www.flatspotrecords.com
https://www.facebook.com/flatspotrecords
https://flatspotrecords.bandcamp.com