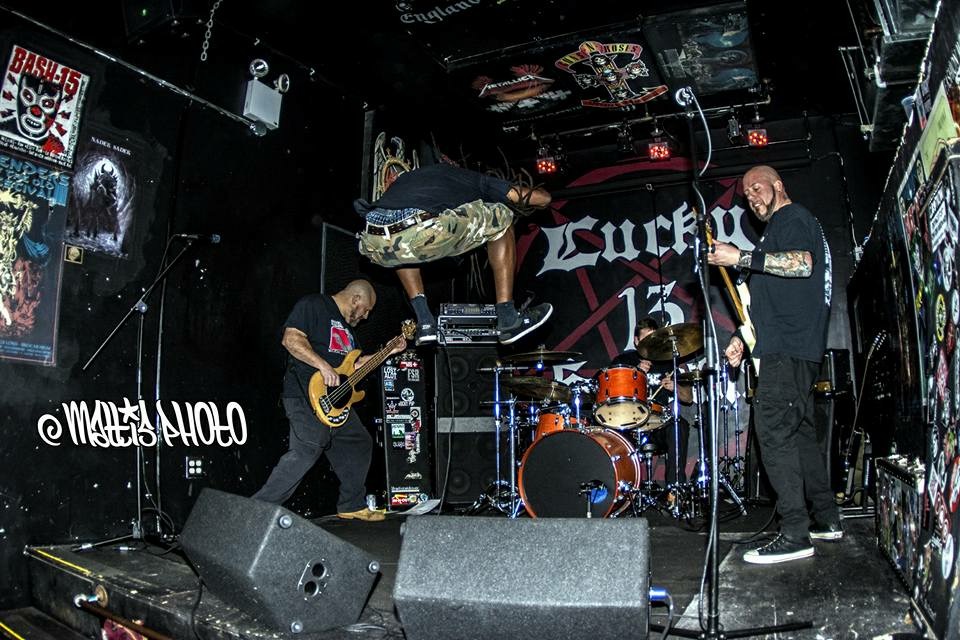 [photo by AJ Montague]
Recently signed to Eulogy Recordings, FULL SCALE RIOT is currently set-up at famed New Jersey-based Trax East Recording Studio (Misfits, Turmoil, Hatebreed) laying down the tracks for their impending self-titled debut album. The band will finalize the recordings in the coming days and put the final touches on the album for September release. Full Scale Riot is also slated to feature a guest guitar contribution from Mark Rizzo of Soulfly.
Issues FULL SCALE RIOT from the studio this week, "The music on this album is somewhat different from the Depopulation EP, so we decided to go a different route as far as recording goes, recording everything to two-inch tape then bouncing it through ProTools. We've also done a few other things to try to capture our live sound. While the new material has a very old-school hardcore/crossover feel, we're shaping the forthcoming direction of the band's sound."
Stand by for studio footage, a final September street date, cover art, audio samples, and more from FULL SCALE RIOT's first release for Eulogy Recordings in the coming weeks.
FULL SCALE RIOT launched a new website in recent weeks; check it out RIGHT HERE, stream Depopulation HERE, and see their "Betrayus" video RIGHT HERE.
FULL SCALE RIOT is a Northern New Jersey/New York City-area hardcore quintet founded by Tim Mc Murtrie former original guitarist of the legendary band M.O.D. The band was formed in 2006 when McMurtrie, fresh from disbanding Rhythm Trip, met BJ Allen, the two forming an instant musical bond and concept for the band. After keeping in touch about it for several years, in 2014 the two fleshed out a lineup, recruiting Jeff Wood (Shat, Murder League All-Star, ex-The Dillinger Escape Plan live, ex-M.O.D.) on bass, and Evan Rossiter for drums, with McMurtrie handling guitars, and Allen handling vocals. The band released their Depopulation debut EP in February 2015, and have since played live steadily throughout the New York City metropolitan area and beyond.
http://www.facebook.com/fullscaleriot
http://www.fullscaleriot.bandcamp.com
http://www.instagram.com/full_scale_riot
http://www.twitter.com/fullscaleriot
http://www.eulogyrecordings.com
http://www.twitter.com/eulogyrecords
http://www.youtube.com/user/eulogyrecordings