MIRRORS FOR PSYCHIC WARFARE will return to Europe next month, following their recent US tour. MIRRORS FOR PSYCHIC WARFARE member Sanford Parker will also be performing his solo experimental electronic set. The trek begins January 12th in Hamburg, Germany and runs through February 4th in Poznan, Poland.
View the trailer below.
MIRRORS FOR PSYCHIC WARFARE is the collaboration between Neurosis' Scott Kelly and Buried At Sea's Sanford Parker. The band released their self-titled debut – a sonic manifestation of insomnia, complete with the tossing, turning, and perennial dread that comes with facing a new day – earlier this year via Neurot Recordings. The five songs that comprise Mirrors For Psychic Warfare lurch and pulsate across a sullen, desolate landscape with an almost curious obsessiveness. You can hear the record in full at their official Bandcamp page.
Anyone who has lowered their ear into the chasm of sound between metal and industrial in the last couple of decades will most likely have come into contact with Sanford Parker's work. Perhaps through the bands and projects in which he is or has been involved as a musician: the doom-prophesying powerhouse Buried At Sea, the extreme-sound fraternization, Corrections House, or perhaps the doom/post-metal shamans Minsk. Or maybe via the sheer volume of the releases to which he skilfully brought his very own toxic sound as a producer or sound technician. In this capacity, the name-dropping begins with Pelican, Eyehategod, Rwake, and Voivod and carries on far beyond Yob, Lair Of The Minotaur, and Wovenhand. In many cases (Minsk, Corrections House, Twilight, Yob, Blood Ceremony), he even combined the two areas of activity in an interdisciplinary radicalization of sound both through the amps and behind the mixing desk.
In a way, this material is the translation of doom into the methods of electronic music. A concept work of cross-genre, dystopian music that builds on the loops and sequencer programs of industrial, but shuns purely linear song structures in favor of instrumental storytelling, the development of which expands a track into an entire world of sound. In the process, Parker knowingly invokes American and British industrial traditions, but equally, his microscopic detail work – primarily observable in the harmonics – could easily have come from German avant-garde electro institutions such as Raster-Noton or Mille Plateaux. These ideas manifested themselves in his solo album of this year, Lash Back, which imposes itself on the contemporary extreme music scene like the black monolith in Kubrick's Space Odyssey – unassailable, incomparable, and perfect in form. Listen to the record in full at his Bandcamp page.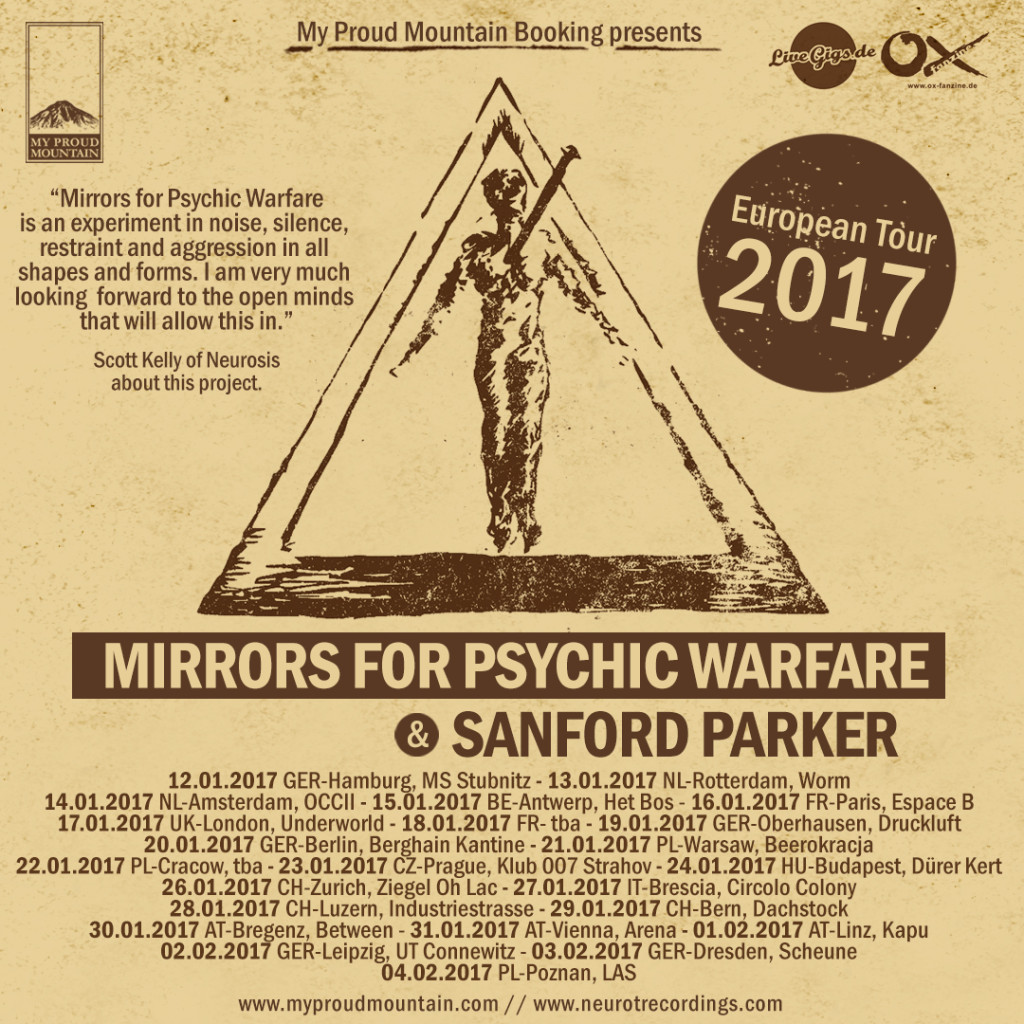 MIRRORS FOR PSYCHIC WARFARE w/ Sanford Parker:
1/12/2017 MS Stubnitz – Hamburg, DE
1/13/2017 Worm – Rotterdam, NL
1/14/2017 OCCII – Amsterdam, NL
1/15/2017 Het Bos – Antwerp, BE
1/16/2017 Espace B – Paris, FR
1/17/2017 Underworld – London, UK
1/19/2017 Druckluft – Oberhausen, DE
1/20/2017 Berghain Kantine – Berlin, DE
1/21/2017 Beerokracja – Warsaw, PL
1/23/2017 Klub 007 Strahov – Prague, CZ
1/24/2017 Dürer Kert – Budapest, HU
1/26/2017 Ziegel Oh Lac – Zurich, CH
1/27/2017 Circolo Colony – Brescia, IT
1/28/2017 Industriestrasse – Luzern, CH
1/29/2017 Dachstock – Bern, CH
1/30/2017 Between – Bregenz, AT
1/31/2017 Arena – Vienna, AT
2/01/2017 Kapu – Linz, AT
2/02/2017 UT Connewitz – Leipzig, DE
2/03/2017 Scheune – Dresden, DE
2/04/2017 LAS – Poznan, PL
"Parker's ability to invoke foreboding tones and textures enhances the ritualistic features, bringing MFPW closer in line with Jef Whitehead's defunct project Lurker Of Chalice than Corrections House…the psyche rattling tension they maintain is as unnerving as it gets." – Metal Hammer
"Imagine a broken mirror on the floor, one shard catching your eye, reflecting a warped, spectral veil emanating from those motherships when at rest, like exhaust pipes slowly bellowing, and a mist created by gradually subsiding engine heat." – Zero Tolerance
"Kelly and Parker deal in a form of debased, defeated industrial future-folk, a zoned-out space cluttered with crunching metallic debris. Some of the quieter moments skirt the dreaded dark ambient category – but that subgenre always seems to suggest hokey cyberdelic techno-sabbats or the Hellraiser sequel in which chief Cenobite Pinhead sashays around on a spaceship. By contrast Mirrors For Psychic Warfare seed concerns about depleted stocks of tinned food and the likelihood of typhoid." – Wire
"Ambient(-esque?), but tense and brooding…" – Decibel
"MIRRORS… dwells into dark ambient and power electronics, resulting in a death industrial setting, reminiscent of the Cold Meat Industry roster, in the likes of Deutsch Nepal and In Slaughter Natives." – Cvlt Nation
"Alternating between sedate brood and agonized howl, Kelly spurts a flowing river of distorted guitar, his manly moodiness resting comfortably atop Parker's steady beats and atmospheric programming." – Austin Chronicle
"If you are a fan of either man involved, then you'll know that the sheer emotional weight their self-titled debut carries could crush the casual listener and suck the air out of a room… it's like waking in a cold sweat in the middle of the night from a fevered dream that leaves you restless and unsettled, not quite sure whether that feeling was real or imagined." – The Sleeping Shaman
http://www.mirrorsforpsychicwarfare.bandcamp.com
http://www.sanfordparker.com
http://www.neurotrecordings.com
http://www.facebook.com/neurotrecordings