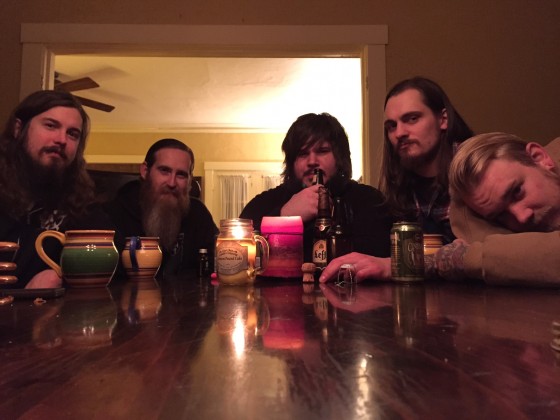 With the official unveiling of The Crash & The Draw, the imminent new full-length from Illinois avant sound exhibitionists, MINSK, now less than one month away, today the ear-reapers at Steel For Brains present eighth movement, "The Way Is Through," for communal ingestion.
Slated to drop via Relapse Records this Spring, MINSK's The Crash & The Draw follows the eclectic collective's six-year hiatus and delivers eleven arresting movements that transcend far beyond the boundaries of post-metal, sludge and psychedelia. Crushing, hallucinatory, at times, spiritually illuminating, tracks ebb, flow and reverberate with a pastoral elegance and tangible urgency; each cascading movement a crucial sonic passage through dark and light. A thematic continuation of the group's long-standing attraction to alchemical and esoteric ideologies, with marked nods toward the thought and writings of perennial inspiration, Kahlil Gibran, and the espoused words of Hermes Trismegistus, the fabled author of the Corpus Hermeticum and other sacred texts, The Crash & The Draw serves as a fitting audio journey for those souls devoted to the conjurings of Neurosis, Rwake, Yob, Isis and the like.
Comments MINSK guitarist/vocalist Christopher Bennett of latest teaser, "The Way Is Through:" "To seek and discover, to die and become. Forever in a circle. There exists treasures waiting for our search. All of these are within our reach. They are a part of us all. Awaken to begin. No circumventing here. Come along, do not hesitate. The world will be built again. 'The Way Is Through' is a reminder to stay the course. The desire to gain knowledge and understanding of the world around us, of the past, present and future, must be accompanied by the Will. Thought without action is useless. This song is our offering and our translation of the experience on the path; an experience that can be at once understated and tranquil, yet outlandish and overwhelming."
Adds Steel For Brains: "Of the album's eleven tracks, 'The Way Is Through' is perhaps the song most likely to draw the line of familiarity from what MINSK sounded like just six years ago to where the sound has evolved now with hazed and muted electronics and a variance of atmospheric nuance. It would have been undoubtedly easier for the group to appeal to former comforts by playing it safe with what had worked before, but The Crash & The Draw is a pointed movement forward and not the lateral safety net of formulaic musicianship."
In related news, MINSK will bring their sonic rituals to the stages of Europe next month commencing with an appearance at this year's Roadburn Fest with additional live ceremonies to be announced in the months to come.
MINSK:
4/09/2015 Roadburn Festival – Tilburg, NL
4/10/2015 Doom Over Leipzig – Leipzig, DE
4/11/2015 Hafenklang – Hamburg, DE
4/12/2015 Cassiopeia – Berlin, DE
4/13/2015 Hydrozagadka – Warsaw, PL
4/14/2015 007 – Prague, CZ
4/15/2015 P.M.K. – Innsbruck, AU
4/16/2015 Feierwerk – Munchen, DE
4/17/2015 Freakout – Bologna, IT
4/18/2015 Lo Fi Club – SoloMacello Fest – Milano, IT
4/19/2015 Le Romandie – Lausanne, CH
4/20/2015 Escape B – Paris, FR
4/21/2015 La Scene Michelet – Nantes, FR
4/22/2015 La Peniche – Lille, FR
4/23/2015 FZW – Dortmund, DE
4/24/2015 Desertfest – London, UK
4/25/2015 Kavka – Antwerp, BE
The Crash & The Draw was captured by the band alongside Sanford Parker (Twilight, Voivod, Eyehategod, Yob etc.), mixed by Parker and MINSK at Hypercube and mastered by Collin Jordan (Eyehategod, Indian, Wovenhand, Voivod etc.) at The Boiler Room with additional vocal tracking by Scott Evans (Kowloon Walled City, Old Man Gloom, Floor etc.) at Antisleep Audio and further tracking, editing, and mixing by Kevin Rendleman at Trash Rocket Audio and Aaron Austin at We Know Who You Are.
An instant contender for one of the most forward-thinking metal records of the year, MINSK's The Crash & The Draw will be released via Relapse Records in North America on April 7th, 2015, April 3rd, 2015 in Germany, Benelux and Finland and April 6th, 2015 in the UK and rest of the world and come available on CD, double LP and digitally. Preorder your copy today at THIS LOCATION. For digital orders, go HERE.
For MINSK coverage in North America contact liz@earsplitcompound.com, in the UK contact pip@relapse.com, in the rest of Europe contact frank@pettingzoo.nl, elsewhere contact bob@relapse.com.
http://www.facebook.com/Minsk
http://www.thesoundofminsk.com
http://www.relapse.com
http://www.facebook.com/relapserecords