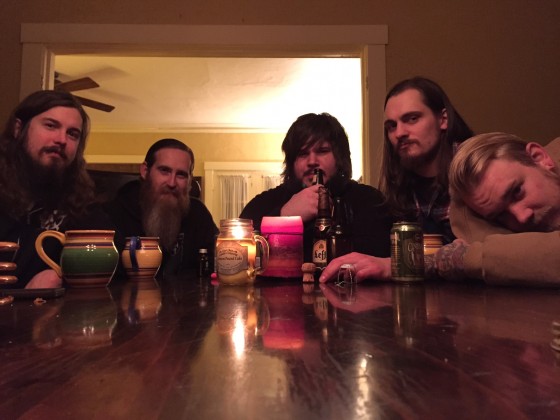 The Crash & The Draw is the long-anticipated new full-length from Midwest avant sound voyagers, MINSK. Set to drop via Relapse Records next month, The Crash & The Draw follows the enigmatic collective's six-year hiatus and delivers eleven stunning movements that transcend far beyond the boundaries of post-metal, sludge and psychedelia.
As its official release day draws near, today Stereogum offers up closing track "When The Walls Fell," for public intake noting, "The Crash And The Draw revisits and expands upon the features that made this band appealing in the first place, from their meticulously layered vocals to their masterful dynamic sensibility. Post-metal bands always get saddled with wave/tide metaphors, but the way that 'When The Walls Fell' gradually rotates between restraint and aggression until it reaches its emotional climax really does evoke some cyclical force of nature – a force that remains as powerful as it's ever been."
Feel what it was like "When The Walls Fell," courtesy of Stereogum, at THIS LOCATION.
And if you missed it, you can still sample eighth psalm, "The Way Is Through," playing at Steel For Brains at THIS LOCATION and "To The Garish Remembrance of Failure" via YouTube HERE or SoundCloud HERE.
Crushing, hallucinatory, at times, spiritually illuminating, The Crash & The Draw reverberates with a pastoral elegance and tangible urgency; each cascading movement a crucial sonic passage through dark and light. A thematic continuation of the group's long-standing attraction to alchemical and esoteric ideologies, The Crash & The Draw serves as a fitting audio journey for those souls devoted to the conjurings of Neurosis, Rwake, Yob, Isis and the like. In an early 4/5 review of the record, Revolver notes, "On its first full-length album in six years, this Illinois band still specializes in sprawling post-metal that ebbs, flows and pummels in a Neurosis and Pelican sort of way," crowning the four-part "Onward Procession" in particular, "an extreme-metal mega-statement that's both ferocious and haunting (especially when the chanting begins)." In a 9/10 rating, Metal Storm applauds MINSK's ability to "craft songs that are unrelenting and crushing," calling The Crash & The Draw, "thoroughly engrossing," while MetalSucks adds of "The Way is Through," specifically, "it's arresting, gorgeous, brutal and mesmerizing all the same; a full journey throughout the song's nine-plus minutes."
In conjunction with the release, MINSK will bring their audio conjurings to stages throughout Europe next month commencing with an appearance at this year's Roadburn Fest with additional live ceremonies to be announced in the months to come.
MINSK:
4/09/2015 Roadburn Festival – Tilburg, NL
4/10/2015 Doom Over Leipzig – Leipzig, DE
4/11/2015 Hafenklang – Hamburg, DE
4/12/2015 Cassiopeia – Berlin, DE
4/13/2015 Hydrozagadka – Warsaw, PL
4/14/2015 007 – Prague, CZ
4/15/2015 P.M.K. – Innsbruck, AU
4/16/2015 Feierwerk – Munchen, DE
4/17/2015 Freakout – Bologna, IT
4/18/2015 Lo Fi Club – SoloMacello Fest – Milano, IT
4/19/2015 Le Romandie – Lausanne, CH
4/20/2015 Escape B – Paris, FR
4/21/2015 La Scene Michelet – Nantes, FR
4/22/2015 La Peniche – Lille, FR
4/23/2015 FZW – Dortmund, DE
4/24/2015 Desertfest – London, UK
4/25/2015 Kavka – Antwerp, BE
The Crash & The Draw was captured by the band alongside Sanford Parker (Twilight, Voivod, Eyehategod, Yob etc.), mixed by Parker and MINSK at Hypercube and mastered by Collin Jordan (Eyehategod, Indian, Wovenhand, Voivod etc.) at The Boiler Room with additional vocal tracking by Scott Evans (Kowloon Walled City, Old Man Gloom, Floor etc.) at Antisleep Audio and further tracking, editing, and mixing by Kevin Rendleman at Trash Rocket Audio and Aaron Austin at We Know Who You Are.
An instant contender for one of the most forward-thinking metal records of the year, MINSK's The Crash & The Draw will be released via Relapse Records in North America on April 7th, 2015, April 3rd, 2015 in Germany, Benelux and Finland and April 6th, 2015 in the UK and rest of the world and come available on CD, double LP and digitally. Preorder your copy today at THIS LOCATION. For digital orders, go HERE.
http://www.facebook.com/Minsk
http://www.thesoundofminsk.com
http://www.relapse.com
http://www.facebook.com/relapserecords