[photo by Janette Valentine]
Having inked a blood pact with underground overlords, Relapse Records, Miami, Florida's unhinged deathgrind maniacs, MARUTA, will declare war on society by unloading their charged label debut, Remain Dystopian LP, now set to disrupt early June.
It is inarguable that MARUTA's Relapse debut, Remain Dystopian, is their most punishing and focused album to date. Recorded in various studios including drums with Pig Destroyer's Scott Hull and vocals with Torche's Jonathan Nuñez, Remain Dystopian is a vicious, seventeen-song blast of relentless and infectious deathgrind mayhem. Featuring guest vocals from the legendary Tomas Lindberg (At The Gates, Disfear) and Pig Destroyer's J.R. Hayes, plus layers of noise from Agoraphobic Nosebleed's Jay Randall, Remain Dystopian raises the bar for what 21st Century grind can accomplish! Seekers of top-tier extreme metal punishment in the tradition of Napalm Death, Nasum, Pig Destroyer, Misery Index, Nails, Discordance Axis and the like should keep Remain Dystopian on their radar as tracks from the record and more are released onto the masses. While you suffer in anticipation for more, Relapse has issued the full info for the album including the cover artwork by Alex Eckman-Lawn, the track listing, preorders, along with the track, "Stand In Defeat."
The tenth track to MARUTA's Remain Dystopian, "Stand In Defeat," is now playing via YouTube RIGHT HERE and Soundcloud HERE.
Remain Dystopian will see release on CD, LP and digital platforms June 2nd in North America, preceded by May 29th in Germany, Benelux and Finland, and June 1st in the UK and the rest of the planet. Preorders for the physical versions are available HERE and digital preorders HERE.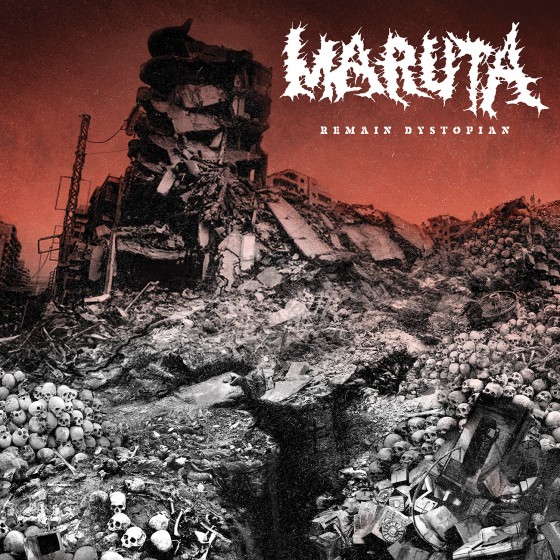 Remain Dystopian Track Listing:
1. Genocide Interval
2. Hope Smasher
3. The Void Within
4. Minimal Progress
5. Protocol For Self Immolation
6. Absolutist
7. Stride Endlessly Through Scorched Earth
8. Submergence aka Barren Oceans Of Infinity
9. Erode
10. Stand In Defeat
11. Remnants Of Failed Utopia
12. I, Usurper
13. Durandal
14. Psalm For The Withered
15. Return To Zero
16. Slaying Jehova
17. Immune
Named after a special project during World War II in which the Imperial Japanese Army used human beings for torturous scientific experiments, MARUTA has pummeled eardrums abroad through grueling tour ventures and inundated the masses with their bludgeoning, death-infused, grindcore concoction over the past decade. As organized as it is a clusterfuck of blinding rage, the band's malicious dedication and potent material has gained them a dedicated fanbase, on stage as well as through the release of their In Narcosis debut full-length through Willowtip Records in 2008, followed by the critically lauded Forward Into Regression full length in 2011. Previous band actions have earned accolades such as, "You won't like this, but you need to hear it immediately," courtesy of Decibel Magazine. Blabbermouth said, "Vitriolic in delivery and misanthropic in message, MARUTA are grind enough for the grindcore fans and deathly enough for the death metal fans, bridging the gap between the two styles with precision and skill," and MetalSucks sums it up as succinctly as possible: "This band will tear you a new asshole." For the next phase of their extinction protocol, MARUTA signed with Relapse Records in August of last year, and the task of creating their next full-length atrocity began, now to rear its head as Remain Dystopian.
MARUTA:
Mitchell Luna – vocals
Eduardo Borja – guitar
Mauro Cordoba – guitar
Danny Morris – drums
http://www.facebook.com/Marutagrindcore
http://twitter.com/marutagrindcore
http://maruta.bandcamp.com
http://www.relapse.com
http://relapserecords.bandcamp.com
http://www.facebook.com/RelapseRecords