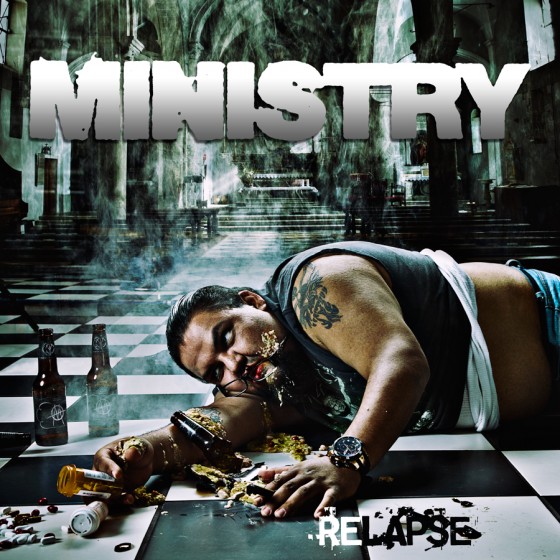 As we approach the official street date for the thirteenth album from industrial metal purveyors MINISTRY this Monday, March 26th, fans worldwide can stream all eleven tracks of the mutinous album via Metal Injection all weekend RIGHT HERE.
Following a dozen full-length releases over the past thirty years, and recently ending a four-year hiatus, from deep in the heart of Hell Paso Texas, Al Jourgensen's MINISTRY rises against the political machine one more time with the release of Relapse, the album boasting some of the band's heaviest and fastest material in years, fueled by Jourgensen's disgust at the world that surrounds us. The album strikes out with the no-holds-barred album opening track "Ghouldiggers" aimed directly at the pitfalls of the industry he has survived over the years, from there segueing directly into one of the heaviest MINISTRY anthems in years with the crushing "Double Tap" attack. Jourgensen has rallied with the Occupy Wall Street movement over the past year and recently released the riotous video for the raging "99 Percenters," speaking out for the majority of the world's oppressed populations against corporate corruption.
Cited as the driving force behind a cross-section of metal genres from industrial Nine Inch Nails to thrash artists Static X and Nu Metal's Korn, Linkin Park, Slipknot, Limp Bizkit, and receiving six Grammy Nominations for Best Metal Performance, multi-platinum selling artist Jourgensen returns with his greatest achievement to date with Relapse. The album will see worldwide release via Jourgensen's own Thirteenth Planet Records and AFM Records in conjunction with DisManic via E1 Distribution this "Metal Monday," March 26th, 2012.
Following the release of Relapse, MINISTRY will perform five major North American concerts this June — Denver, Los Angeles, New York and two shows in Chicago — as part of the DeFibRiLlaTouR 2012 World Tour. The band's touring lineup includes Al Jourgensen (Frontman/vox/guitars), Mike Scaccia (Ministry/Rigor Mortis) guitars, Casey Orr (Rigor Mortis) bass, John Bechdel (Ministry/Killing Joke/Fear Factory) keyboards, Aaron Rossi (Ministry/RevCo) drums and Sin Quirin (Ministry/RevCo) guitars. Soulfly bassist Tony Campos will not performing due to scheduling conflicts. Tickets for these first five shows are on sale now; check out the official MINISTRY Facebook for more info on tickets and VIP packages HERE.
MINISTRY 2012 DeFibRilLaTouR US Dates:
6/17/2012 Ogden Theatre – Denver, CO [tickets]
6/21/2012 Club Nokia – Los Angeles, CA [tickets]
6/23/2012 Best Buy Theater – New York, NY [tickets]
6/28/2012 The Vic Theatre – Chicago, IL [tickets]
6/29/2012 The Vic Theatre – Chicago, IL [tickets]
https://www.facebook.com/Ministry
http://www.thirteenthplanet.com
http://www.afm-records.de