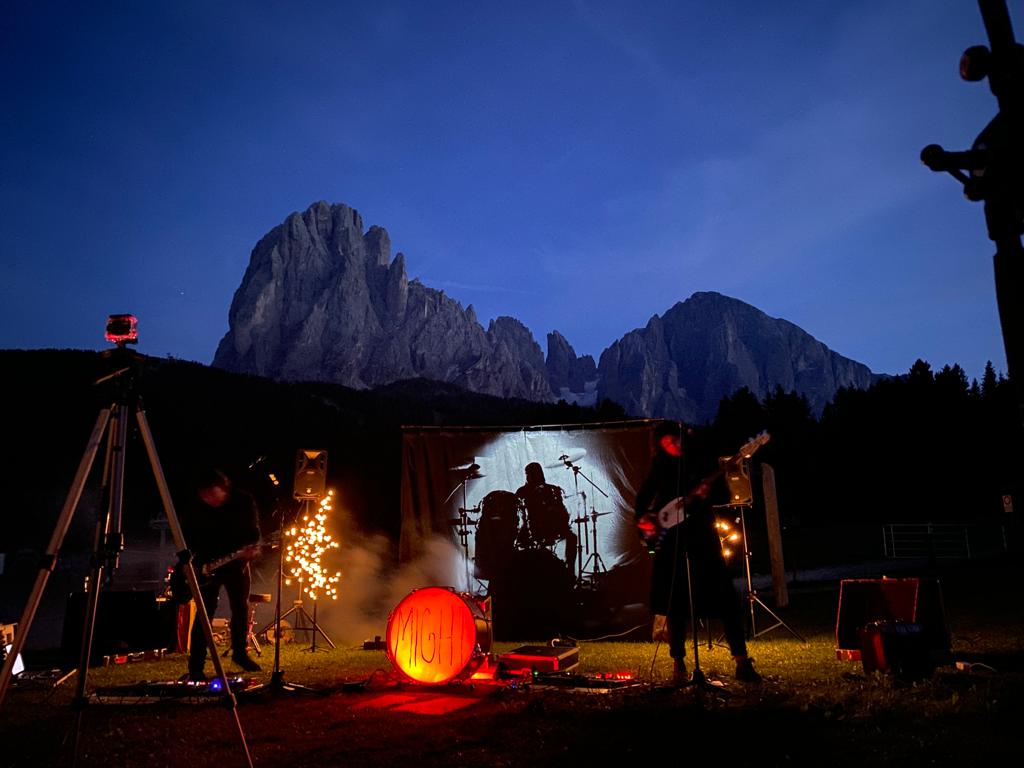 photo by Verena Stufflesser
Hannover, Germany-based ethereal post-rock/doom duo MIGHT presents a new video for "Abysses," a track from their Abyss LP, which was released in August through Exile On Mainstream. The new video has been exclusively premiered through Everything Is Noise.
MIGHT is vocalist/ bassist/pianist Ana Muhi and vocalist/guitarist/drummer Sven Missullis. Delicate piano sounds are being buried under thick, viscous lava of distorted guitars and a mean bass. Hovering above it, Ana's subtle, yet haunting voice connects tragedy with hope in a world gone haywire. Recorded, mixed, and mastered by Muhi and Missullis, the cover for Abyss is fitted with a 1976 oil painting by Polish artist Zdzisław Beksiński. The impression of the painting, as oppressive as it may seem at first glance, nevertheless radiates a warming confidence and security. This makes the image a fantastic visualization of MIGHT's music, which is a mandatory listen for fans of Chelsea Wolfe, Emma Ruth Rundle, Jarboe, Dolch, Treedeon, Neurosis, Ides Of Gemini, and Black Mare.
One of the most intriguing features of MIGHT on stage is the duo's ability to "become a trio" live. This is achieved by Missullis pre-filming the drums for the set and projecting them onto a backdrop live while he plays guitar. This method is implemented in the new video for "Abysses," which was filmed/edited by the band and treated with post-effects by David Brenner/Gridfailure.
Muhi states about the track: "Abysses, everywhere. A fragmentary ride on fears that surface like ice floes, swim, pass on pressure, dive up and down. Responsibility that catches up with us and abysses wherever we thought we were. Karma is not the bitch here."
Everything Is Noise writes with their premiere of the new video, "Conceived behind walls of massive noisy, distorted guitars and thick layers of bass to generate a dense doomy atmosphere, accompanied by Muhi's elusive piano parts and evocative vocal lines, MIGHT's sound produces a seamless link between sentimental tragedy and impending anguish… the album demonstrates MIGHT's extremely versatile and experimental approach to songwriting, which highlights a number of sonic characteristics that can be accessible for an assortment fans of music such as The Smashing Pumpkins, Emma Ruth Rundle, Chelsea Wolfe, Neurosis, and Jarboe."
Watch MIGHT's "Abysses" first now through Everything Is Noise RIGHT HERE.
Also watch the previously released videos for "Tightrope Walk" HERE, "How Sad A Fate" HERE, and "Shrine" HERE.
Abyss is out now through Exile On Mainstream on LP and CD via the label webshop HERE and Bandcamp where the album is streaming in its entirety HERE, as well as through all digital platforms.
MIGHT continues to support the album live, among other performances having just performed as part of Exile On Mainstream's own South Of Mainstream Festival and special outdoor Bliss Mountain event. The band has several impending gigs booked for November and December and is already booking for 2023. See confirmed dates below and watch for additional updates to post soon.
MIGHT Tour Dates:
11/05/2022 Bei Chez Heinz – Hannover, DE
11/19/2022 Osco – Hannover, DE
12/28/2022 Subterrain – Kassel, DE
12/29/2022 Monsters Of Psych Festival – Nürnberg, DE
12/30/2022 TBA
1/20/2023 Beatbox Festival – Hannover, DE
7/08/2023 Obernair Festival – Walsrode/Bommelsen, DE
http://www.might.earth
https://might.bandcamp.com
https://www.facebook.com/might.earth
http://www.mainstreamrecords.de