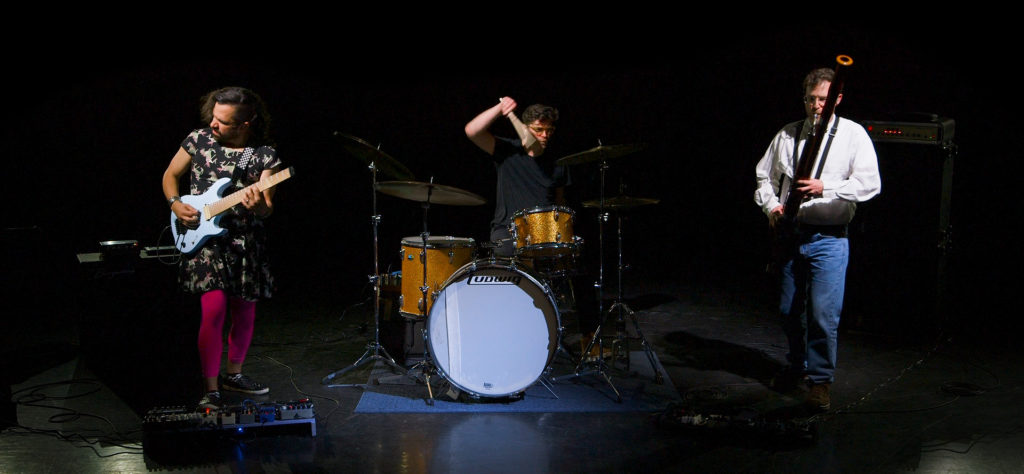 photo by WellSaidMedia
Treble is currently hosting an exclusive stream of The Cataclysmic Engine, the fifth LP from Ithaca, New York-based experimental rock trio, BRIAN!, ahead of the record's release through Nefarious Industries this Friday.
Bassoon driven avant-garde trio BRIAN! covers a variety of introspective themes and sonic concepts on The Cataclysmic Engine. Nine angular and heavy compositions blend whole-tone, non-western, modal scales with frenzied meter and tempo while taking inspiration from finding queer identity ("Rose"), the awe of passionate relationships blossoming out of childhood trauma ("Intemperate to Death") and embracing brevity when dealing with vulnerability ("Smol"). In the past decade since their formation, BRIAN! has shared the stage with Guerilla Toss, Kayo Dot, Giraffes? Giraffes!, Tyondai Braxton, Behold The Arctopus, Upsilon Acrux, Bangladeafy, Desertion Trio, Les Rhinoceros, Many Arms, Charlie Looker, Amirtha Kidambi/Elder Ones, Sarah Hennies, Powerdove, Too Many Zooz, Zevious, and many more.
The Cataclysmic Engine was recorded, mixed, mastered by Matthew Saccuccimorano at Electric Wilburland Studio, and completed with artwork by Sam "Skullboy" Mameli.
BRIAN's Bubba Crumrine states, "We're thrilled to unleash this beast of a record on the world and change the perspective of what the bassoon can do in a heavy music setting. It's been a three-year labor of love, collaboration, and unexpected pivot to zoom rehearsals and shared digital scores!
"We've been a bit of a best-kept secret nestled in Central New York, known by those in the experimental and metal communities who've passed or toured through Ithaca. I feel this record is going to be a real treat for the open-minded listeners out there looking for something fresh. It's a perfect time of year for this record. I'd say throw on 'Grotto' at your upcoming spooky party and it'll be unlike anything you've heard before – a massive, effects-laden bassoon solo, supported by minimalist guitar and percussion. It's a highlight of a cinematic side B of the record along with 'Cascade' and vocal-centric 'Intemperate To Death.'"
With their stream of the record, Treble writes, "The band's music is otherworldly and cacophonous, merging progressive rock with noise rock and a taut, complex rhythmic sensibility. Theirs is a hybrid of King Crimson's knottiest compositions with the explosive rush of a band like Lightning Bolt. It's thrilling stuff, and totally bonkers."
Stream BRIAN!'s The Cataclysmic Engine in its entirety first through Treble RIGHT HERE.
Nefarious Industries will release The Cataclysmic Engine on Royal Blue vinyl LP and all digital platforms this Friday, October 28th. Find preorders including merch options, the video for "Rose," and more HERE.
BRIAN! has also booked a hometown record release show for The Cataclysmic Engine on the day of the LP's release, with additional shows across Upstate New York and Ohio, and New York City in early November. More shows are already being scouted for early 2023 as well.
BRIAN! Tour Dates:
10/28/2022 The Cherry – Ithaca, NY *The Cataclysmic Engine release show w/ Motherwort, La Llorona [tickets]
11/04/2022 Zephyr Pub – Kent, OH w/ Obnox, Hiram-Maxim, St. James & The Apostles
11/05/2022 Duende at Silo City – Buffalo, NY w/ Garden Closet, Personal Style, Dolly Sods [tickets]
11/06/2022 The Spirit Room – Rochester, NY w/ Faraday Ribcage [info]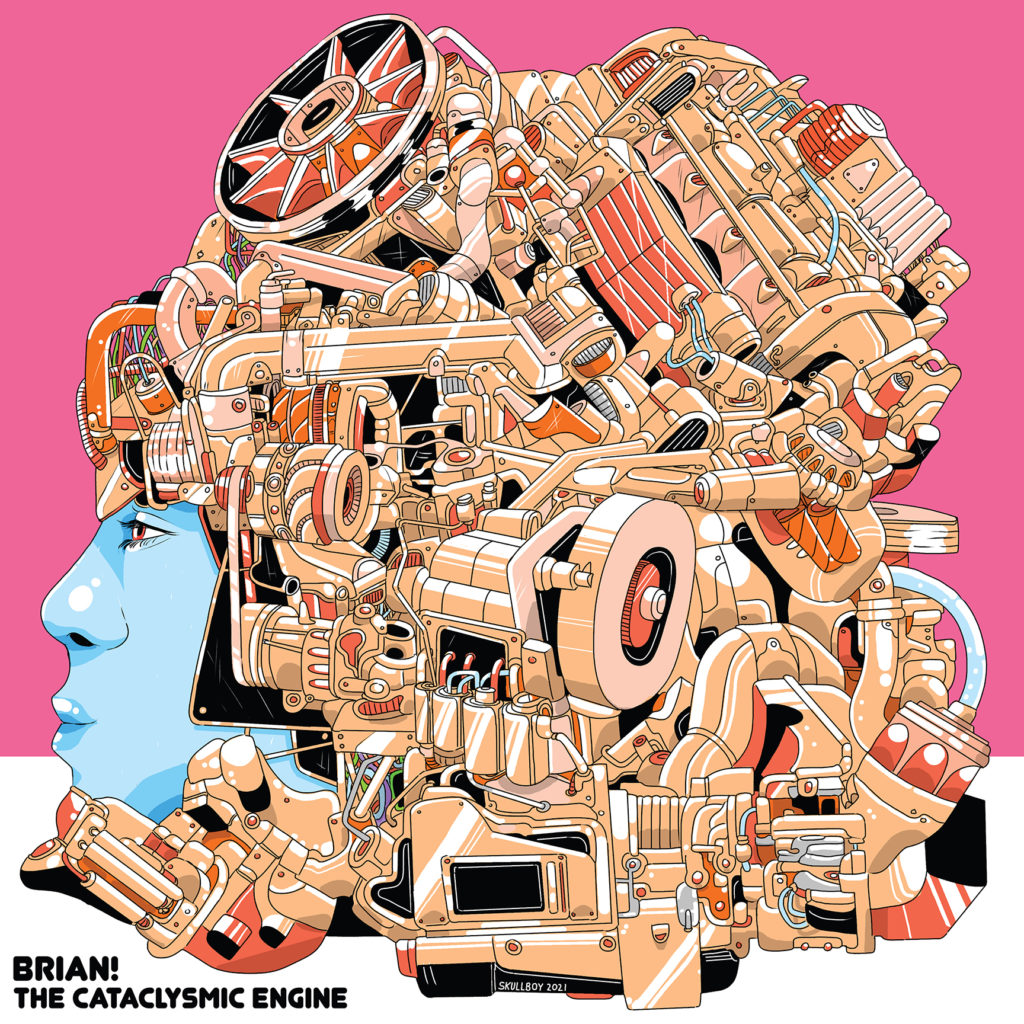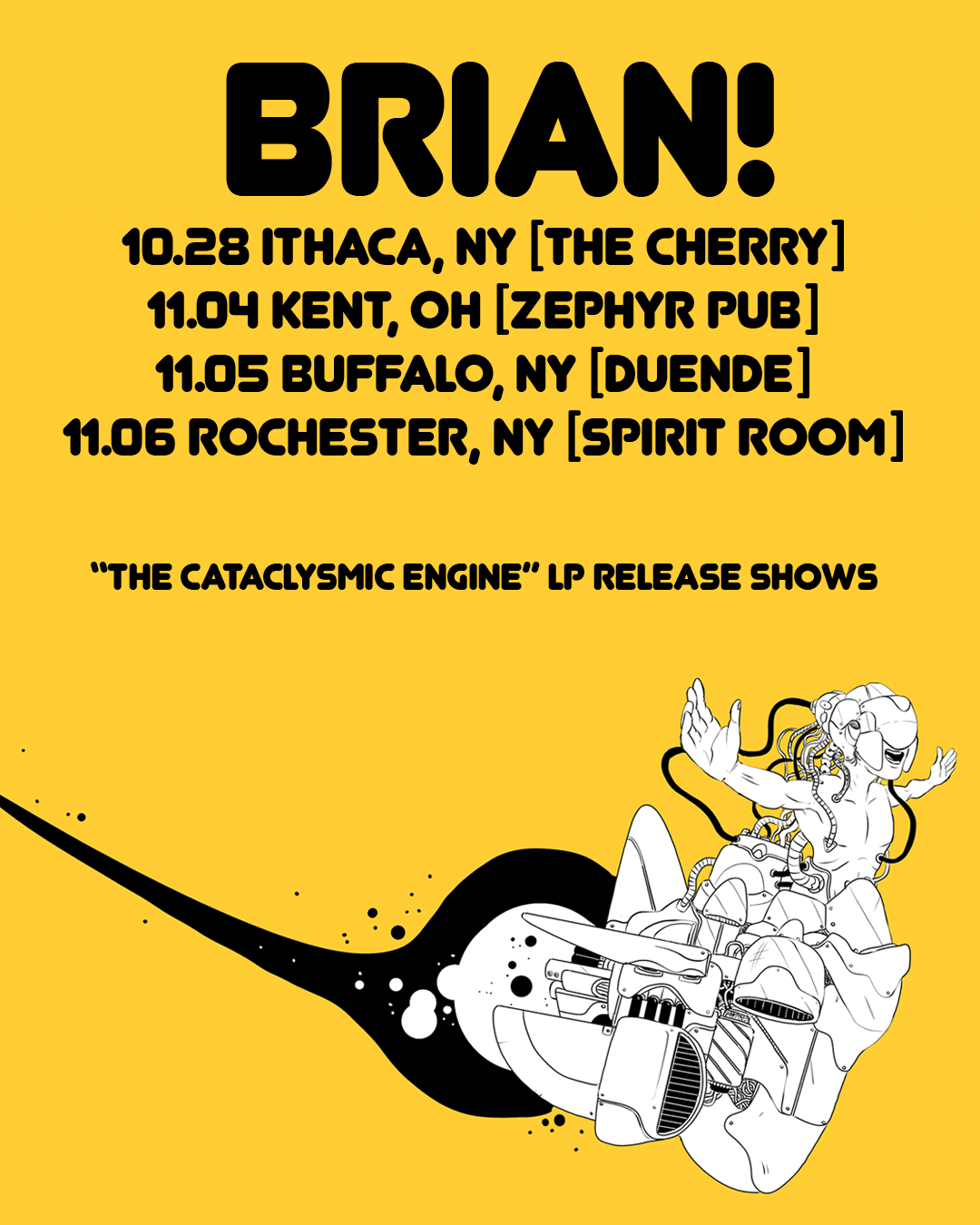 https://brianbassoon.bandcamp.com
https://instagram.com/brianbassoon
https://facebook.com/brianbassoon
https://nefariousindustries.com
https://nefariousindustries.bandcamp.com
https://facebook.com/nefariousIndustries
https://instagram.com/nefarious_industries
https://twitter.com/nefariousInd