Acolyte, the debut LP by Tucson-based lunatic sludge duo, METHRA, is now rupturing all in earshot, streaming in its entirety courtesy of The Obelisk just days ahead of its release on Monday, the 4th of July.
Recorded at Arcane Digital (North Side Kings, Unruh, Landmine Marathon) with Ryan Butler who complained of physical and mental anguish due the bands' unorthodox recording demands, Acolyte is an auditory beast in every way. Drummer Andy Kratzenberg (Godhunter) and guitarist Nick Genitals (Limbless Torso) used only incredibly large speakers to record a behemoth load of sixty-nine guitar tracks on the ten tracks, including 15″ and 18″ speakers, and a 21″ subwoofer.
Issues Battleground Records on behalf of their eccentric cohorts, "You know, I'm not even sure what is going on with this band. It's the weirdest album from the weirdest dudes. I don't ask about the process. I don't want to know. Would you ask Lisa Frank why everything is fluorescent? No. Would you ask Matt Pike where his shirt is? No. No way, man. No way."
The Obelisk delves into this band's damaging psychosis, the detailed review accompanying the full stream of Acolyte offering in part, "For all the fuckall METHRA proffer in the ten songs on their Acolyte debut full-length, it's not like they haven't put in any thought to their presentation. The Tucson-based duo of guitarist Nick Genitals and drummer Andy Kratzenberg (the latter also of Godhunter) reportedly recorded an overwhelming, and in my limited understanding of modern recording methods completely unnecessary, sixty-nine guitar tracks, likely just so they could say they did it, and from their Peavey-style logo and art and the self-aware, tongue-in-cheek nature of many of the songs, from the falsetto chanting at the end of 'Hartley's Cult' – another Peavey reference – to the way opening duo 'Silverbar' and 'If Everything is Terrible, then Nothing Is' take on Electric Wizard, 'Creeper' Pentagram and 'Pike Warship' High on Fire, the Battleground Records release ends up as much about personality and quirk as its sonic impact, though that's not to be understated either."
Stream METHRA's Acolyte in its flattening entirety at THIS LOCATION.
The noncompliant choice of releasing Acolyte on a national holiday fits the band's overall unpredictable and utterly bizarre nature, the day chosen in deference to the great glory of this nation and the announcement of a sequel to the game-changing blockbuster film Independence Day. The rough concept of Acolyte is based on persistent online rumors that a cabal of top amplifier manufacturers had Hartley Peavey killed and replaced with a doppelganger in the late '80s to stop the company from collapsing the industry due to low price points on the highest quality original amplifiers in the world. This theory is the central theme of METHRA's video for the LP's "Hartley's Cult."
View the conspiracy-ridden "Hartley's Cult" video at Gear Gods RIGHT HERE.
Stand by for a new video for the track "Dead Ram" to be issued in the coming days. Preorders for Acolyte on colored 12″ LP are available via Battleground Records HERE.
METHRA has a local record release show for the album planned where they'll share the stage with their Battleground brethren in Destroyer Of Light on the Tucson stop of DOL's ongoing US tour on July 8th. Additional live demonstrations are in the plotting stages.
METHRA Live:
7/08/2016 191 Toole – Tucson, AZ w/ Destroyer Of Light, Chronovorous, Daughters Of Zion [info]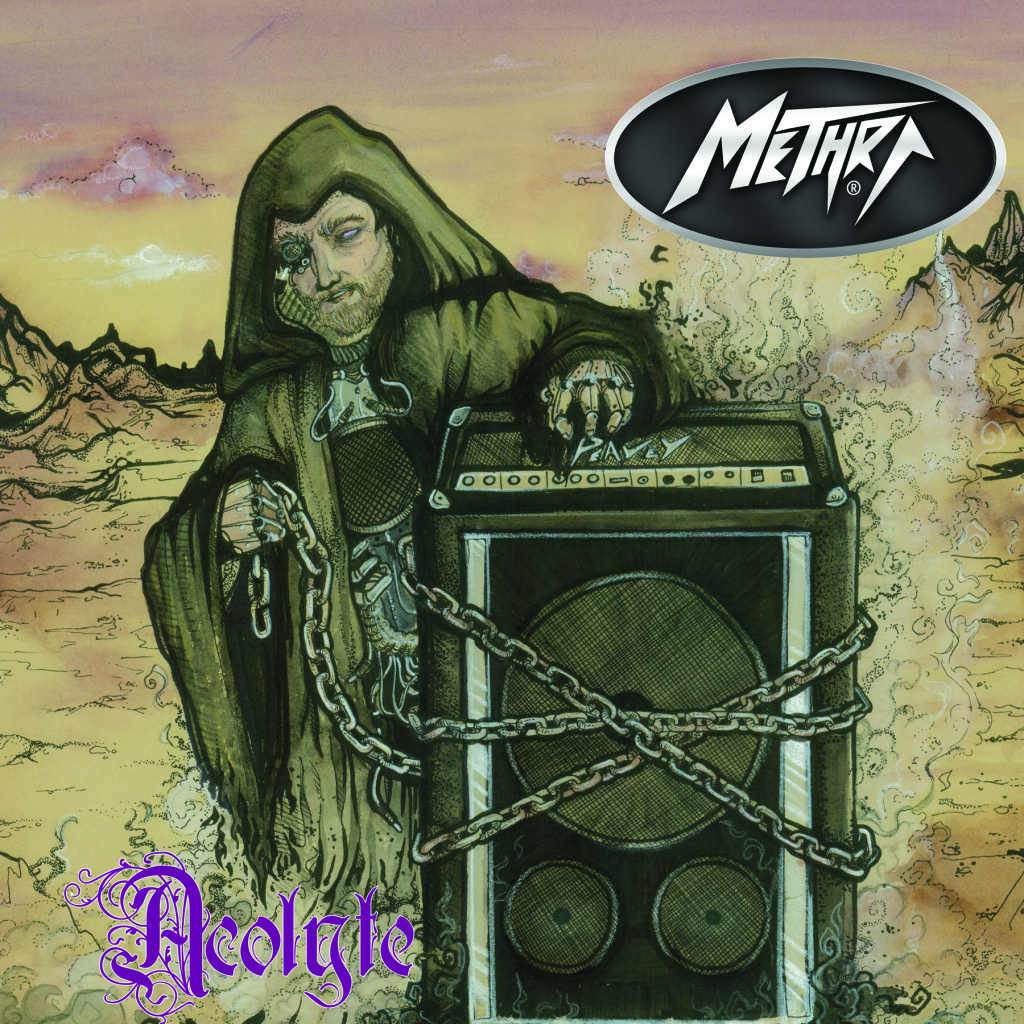 http://www.facebook.com/methratucson
http://methra.bandcamp.com
http://www.facebook.com/battlegroundrecords
http://www.battlegroundrnr.com
http://www.twitter.com/battlegroundrnr
http://battlegroundrecords.bandcamp.com