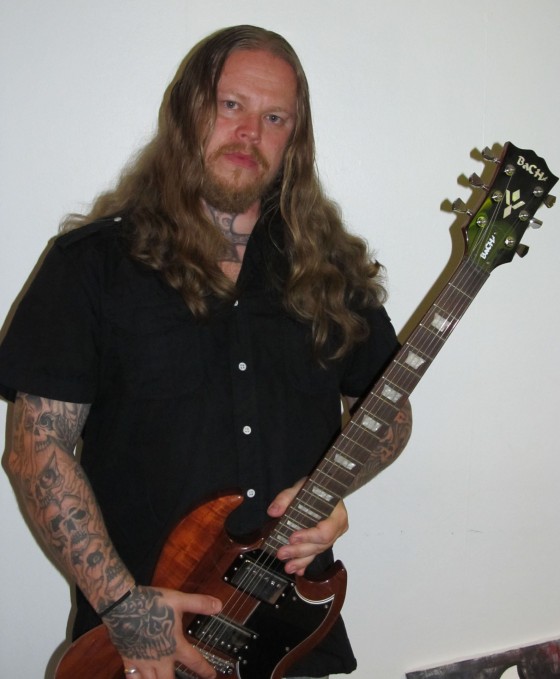 After releasing his Songs Of Flesh (Part I) 7″ EP in early 2012, inexhaustible Swedish maniac Rogga Johansson (Paganizer, Ribspreader, Demiurg, The Grotesquery, Bone Gnawer, Revolting and so on…) strikes back with the debut album of his most recent project: MEGASCAVENGER.
Out now via Selfmadegod Records, Descent Of Yuggoth consists of nine Swedish-style death metal songs that will definitely appeal to all fans of Rogga's music and Scandinavian metal in general. More than that, with MEGASCAVENGER Johansson spews out his death metal dreams by recruiting the talents of some legendary death metal figureheads including guest vocals by Dan Swano (Edge Of Sanity, Bloodbath), Marc Grewe (Morgoth, Insidious Disease), Jörgen Sandström (ex-Grave, Krux, Torture Division) and Paul Speckmann (Master, Death Strike, Abomination) as well as guest solos by Patrick Mameli (Pestilence), Jonas Lindblood (Puteraeon), Eric Daniels (ex-Asphyx, Soulburn).
Today, internationally-based metal webzine This Is Not A Scene is hosting a stream of Descent Of Yuggoth in its entirety. Go forth and blast all thirty-six minutes of this devastating album HERE.
Descent Of Yuggoth Track Listing:
1. Nihilisticon
2. Descent Of Yuggoth
3. Smokescreen Armageddon
4. Catapulted Through Aeons
5. Void Of Damnation
6. Funerals And Ceremonies
7. Death Obsessed
8. No Haven For The Sane
9. To Revel With Vermin
http://www.myspace.com/roggajohansson
http://www.selfmadegod.com
http://www.selfmadegod.bandcamp.com
http://www.facebook.com/selfmadegod
http://www.twitter.com/selfmadegodrec