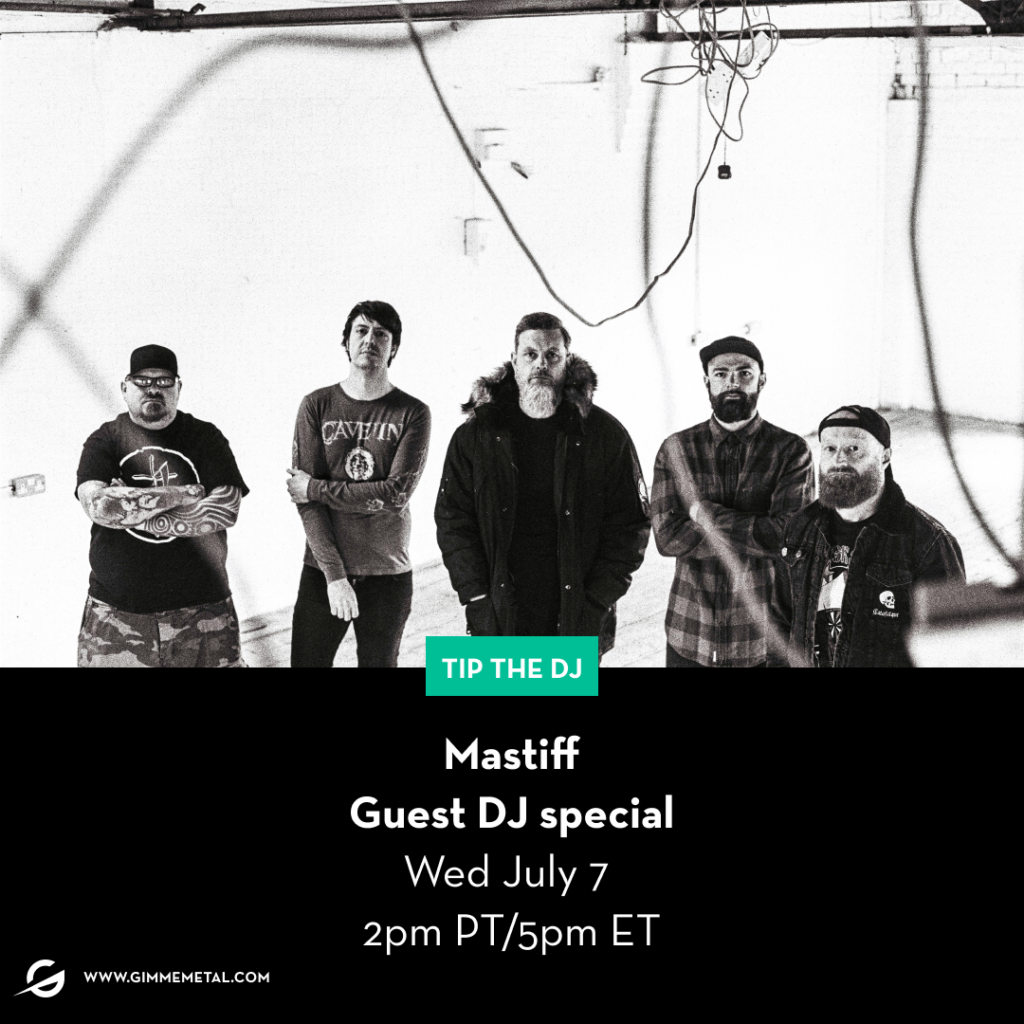 UK blackened sludge bringers MASTIFF will host their first ever Gimme Metal guest DJ special this Wednesday, July 7th at 5:00pm ET / 2:00pm PT. It's free! Don't miss it. Visit gimmemetal.com and join band members in the Live Chat.
MASTIFF's Gimme Metal special comes in advance of the release of their soul-crushing Leave Me The Ashes Of The Earth full-length via Entertainment One. Crafted in just five days at No Studio with producer Joe Clayton (Pijn, Wren, Leeched), the band's third full-length is a true misanthropic masterpiece. The sorrow-filled souls of every miserable cretin it reaches will stir in basements, hovels, pubs, and darkened alleyways.
View MASTIFF's recently released video for first single, "Endless," at THIS LOCATION.
Leave Me The Ashes Of The Earth will be released September 10th on CD, LP, and digital formats. Find preordering options at THIS LOCATION.
Forged in 2014, MASTIFF's unique combination of blackened sludge, grindcore, and powerviolence creates a bleak and chaotic atmosphere, sounding as if the spawn of Crowbar, This Is Hell, and Napalm Death composed an album inside the Lake Of Fire. The unrelenting, brutish curmudgeon aura of MASTIFF can be deceptive however, as bright sparks of nuance and jarring adventurousness lurk behind every riff, rumble, and anguished, painstaking bellow stitching together a soundtrack suitable for betrayal, depression, self-loathing, and total despair, with winking, devilish glee. The bulldozing din of MASTIFF is akin to the catharsis in setting something aflame just to watch it burn.
"The band's new song, 'Endless,' is one of the more immediately blackened songs on the record, but still brings in the hardcore energy. It's a blend that's reminiscent of bands like All Pigs Must Die, but with a more overt influence of bands like Converge, and if you listen closely, some Botch, Cave In and Coalesce sneaks in there as well." — Decibel Magazine on "Endless"
"….an intense, furious dose of grindy, blackened metalcore." — BrooklynVegan on "Endless"
"A finely sculpted mess of fury…" — Metal Injection
http://www.mastiff-hchc.com
http://www.facebook.com/mastiffhchc
http://twitter.com/mastiffhchc?lang=en
http://www.instagram.com/mastiffhchc
http://eoneheavy.com
http://www.facebook.com/eOneHeavy
http://twitter.com/eOneHeavy
http://www.instagram.com/eone_heavy