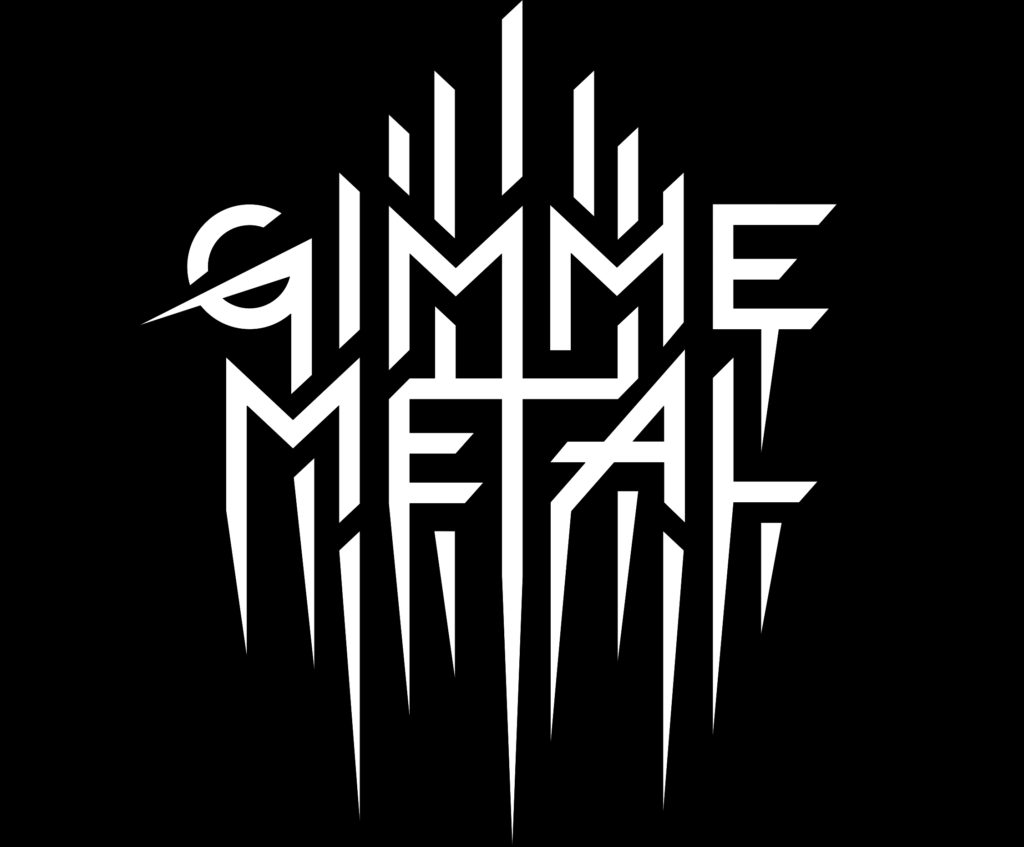 Each week, GIMME METAL publishes its radio chart listing the top 40 tracks played on the station. Already the best metal discovery service online, the GIMME METAL chart is a powerful tool for listeners, labels, and artists for staying up to date on the best new metal released by established greats and up-and-coming underdogs, all handpicked by GIMME's knowledgeable DJ roster and editorial team.
GIMME METAL Chart – July 6th, 2021:
Gorephilia – "Ouroboran Labyrinth"
Wolves In The Throne Room – "Mountain Magick"
Alien Weaponry – "Tangaroa"
Amenra – "Voor Immer"
Alustrium – "Join The Dead"
Hooded Menace – "Chime Diabolicus"
At The Gates – "The Fall Into Time"
Withered – "Dissolve"
Crypta- "Starvation"
Skepticism – "Calla"
Click HERE for the full Top 40 List.
This week on GIMME METAL Radio:
The Slaughterhouse w/ Rob Thorne (Sacred Oath) + Charlotte Wessels – Vocalist/guitarist Rob Thorne of Connecticut power/thrash harbingers Sacred Oath pays a visit to the Slaughterhouse to extol the virtues of the band's ninth full-length album, Return Of The Dragon. While sticking to the power/thrash template for which they're known, the power thrash veterans offer up their most varied album of their career. Additionally, Charlotte Wessels checks in to discuss the newest chapter in her sonic journey. Wessels, a Dutch singer-songwriter and multi-instrumentalist best known as the former lead vocalist for the Dutch symphonic metal band Delain, will release her Tales From Six Feet Under full-length this September. Captured in her home studio — aptly monikered "Six Feet Under" — the record is an electrifying collection with gems ranging from melancholic indie pop to synth-infused rock and includes Wessels' rendition of goth classic "Cry Little Sister," as well as a beautiful synergy of the stunning voices of Wessels and Arch Enemy's Alissa White-Gluz on "Lizzie" and so much more.
Autopsy Guest DJ Special – GIMME METAL welcomes Autopsy co-founding vocalist/drummer Chris Reifert to his third guest DJ takeover! Autopsy formed in 1987 in San Francisco, and was among the early breed of death metal bands to emerge, releasing four albums on Peaceville before disbanding in 1995. After a fifteen-year hiatus, Autopsy officially returned from the grave with the 2010's The Tomb Within EP. This was followed by the release of the band's fifth studio album, Macabre Eternal one year later, spearheading a resurgence of the legends with multiple subsequent albums and EPs. Autopsy recently released Live In Chicago, their first ever official live album. Recorded at Reggie's Rock Club March 7th, 2020, the record boasts 66 minutes of classics spanning the band's 30+ year career. Live In Chicago also includes brand new track "Maggots In The Mirror," giving fans something to chew on while the impending next studio release takes shape.
Mastiff Guest DJ Special – UK five-piece Mastiff will release their Leave Me The Ashes Of The Earth full-length September 10th via eOne and in celebration of the impending release, GIMME METAL is pleased to welcome them to their first ever guest DJ special! The band's unique combination of blackened sludge, grindcore, and powerviolence creates a bleak and chaotic atmosphere, sounding as if the spawn of Crowbar, This Is Hell, and Napalm Death composed an album inside the Lake Of Fire. The unrelenting, brutish curmudgeon aura of Mastiff can be deceptive however, as bright sparks of nuance and jarring adventurousness lurk behind every riff, rumble, and anguished, painstaking bellow stitching together a soundtrack suitable for betrayal, depression, self-loathing, and total despair, with winking, devilish glee. Don't miss what's sure to be a soul crushing episode and be sure to join the band in the Live Chat!
Between The Lines Vinyl Club Spotlight w/ YOB's Mike Scheidt – Oregon-based trio YOB has ascended to being a favorite among fans of mystical, spirituality-infused doom and their 2014 LP Clearing The Path To Ascend stands among their most universally adored releases of their catalog. GIMME is now offering its own repress of this record as part of the GIMME METAL Vinyl Club this month. This gatefold, 2xLP will come in an exclusive translucent gold/silver/aqua-blue-splatter vinyl. Visit shop.gimmeradio.com to get yours now as quantities are limited. On the radio end, GIMME's got a whole lotta YOB brewing through the month of July beginning with Jim Santanella's Between The Lines Vinyl Club Spotlight episode where he'll dissect the record alongside guitarist/vocalist Mike Scheidt. Additionally, you can catch several of YOB's past guest DJ takeovers on GIMME throughout the month on the GIMME METAL 1 and 2 channels. Check the online calendar for details.
This week on GIMME METAL TV: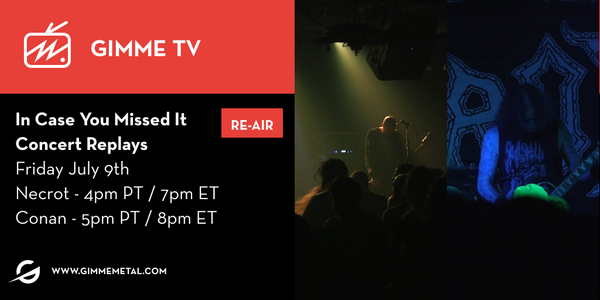 Necrot Live at The Brooklyn Bazaar + Conan Live at Saint Vitus Bar Replay – In case you missed it, GIMME METAL TV will be hosting back-to-back re-airings of Bay Area death metal trio Necrot's pounding live performance from the Brooklyn Bazaar and Conan's soul-crushing performance at the renowned Saint Vitus Bar! Both from Brooklyn, New York, and both captured by Max Volume Silence. Don't miss it! And come get lost in the Live Chat for some extra special fun.
Upcoming on GIMME METAL:
7/13 Powerwolf
7/13 The Lion's Daughter
7/16 Amenra
7/19 Fulci
7/21 Memoriam
7/22 Crypta
7/23 Tee Pee Records Label Special
7/27 Ophidian I
7/28 Ingested
7/29 Wizardthrone
7/30 No Clean Singing Site Special
8/02 Gost
8/03 King Fowley
8/10 Trial
8/14 High Tone Son Of A Bitch
8/17 Possessed
8/18 Hooded Menace
8/20 Wolves In The Throne Room
8/21 Full Terror Assault Festival Preview
8/24 King Woman
8/27 Wormwitch
9/22 Wraith
10/1 Ghost Cult Site Special
10/13 Exhumed Tour Preview on Malpractice
Don't miss it! Visit GIMME METAL: http://gimmemetal.com.
About GIMME METAL:
Founded by digital music veterans from Apple Music, Google Play, Beats Music, and Napster, parent company GIMME Radio builds highly engaged communities for the passionate fan on a genre-by-genre basis. The company launched its first community in June of 2017: the world's first 24/7 metal-focused service. Fans tune in to hear world class DJs playing metal they can't hear anywhere else – for free. The GIMME METAL app and streaming radio service allows the fans and the DJs/artists to communicate directly with one another in a live feed, in real-time, while they listen. Its roster of 70-plus DJs includes Dave Mustaine of Megadeth, Jessica Pimentel, star of Orange Is The New Black, Brian Posehn, and Randy Blythe of Lamb Of God, among many others.
http://gimmemetal.com
http://www.facebook.com/gimmemetal
http://twitter.com/gimmeradio
http://www.instagram.com/gimmeradio