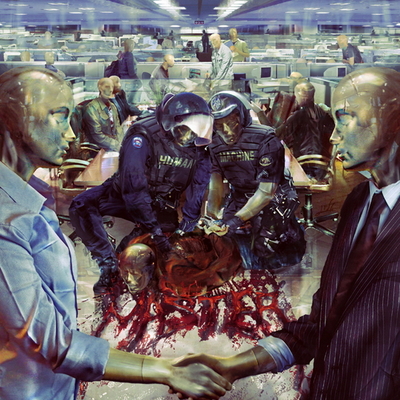 Death metal legends MASTER will release their long-anticipated tenth studio album entitled The Human Machine in North America on May 25th… but you can listen to it its entirety now thanks to the fine folks at Revolver Magazine. Check it out here:
http://www.revolvermag.com/music/detail/listen-to-masters-new-album-the-human-machine-in-its-entirety/
The Human Machine is an inexorable train ride of old-fashioned jarring death/thrash riffs and crust-inspired attitude with the leathery gargle of mainman Paul Speckmann leading the charge. Recorded at Shaark Studios (Root, Fleshless, etc) in Bzenec, Czech Republic with Speckmann at the producing helm, The Human Machine heeds to no trends or rules and finds the shamefully unsung outfit at their most devouring.
In addition, the disc features stunning cover art by Eliran Kantor (Testament, Sigh, Anacrusis et.) and will be available in a standard version and an alternate slipcase version with different artwork. Said Kantor of the decision to do two covers: "The basic idea is to have a continuation of the story told in the real front cover, after the two policemen picked up the criminal from the floor. It's a lot simpler; it's a brand new image that will add value to this limited edition, and at the same time it reacts naturally with the real cover and the overall theme carried throughout the album, as this album has a specific subject matter and the 'arrest' scene is based on Paul's original idea." (Both covers can be viewed via the Revolver link above.)
The Human Machine will be released via Pulverised Records.
"Dragging its venomous oldschool intent like a caveman with his club, MASTER are proudly living up to their name and taking their place among death metal's founding fathers." – Terrorizer
"For all those who like their daily dose of death metal raw and without frills – here's your breakfast. Paul Speckmann and his boys deliver once more a good portion of straight forward Death Metal, stripped to the bone, without any fripperies. Well done!" – Rock Hard
"In an era where so much 'death metal' is overproduced, sanitized or mixed with something that ends in 'core,' it's nice to have something as ugly and nasty as MASTER. It'll put hair on your chest. It'll scare all the kiddies in the Suicide Silence shirts." – Metal Maniacs
MASTER is:
Paul Speckmann – Vocals, Bass
Alex Nejezchleba – Guitars
Zdenek Pradlovsky – Drums

http://www.myspace.com/masterspeckmann
http://www.myspace.com/pulverisedrecords