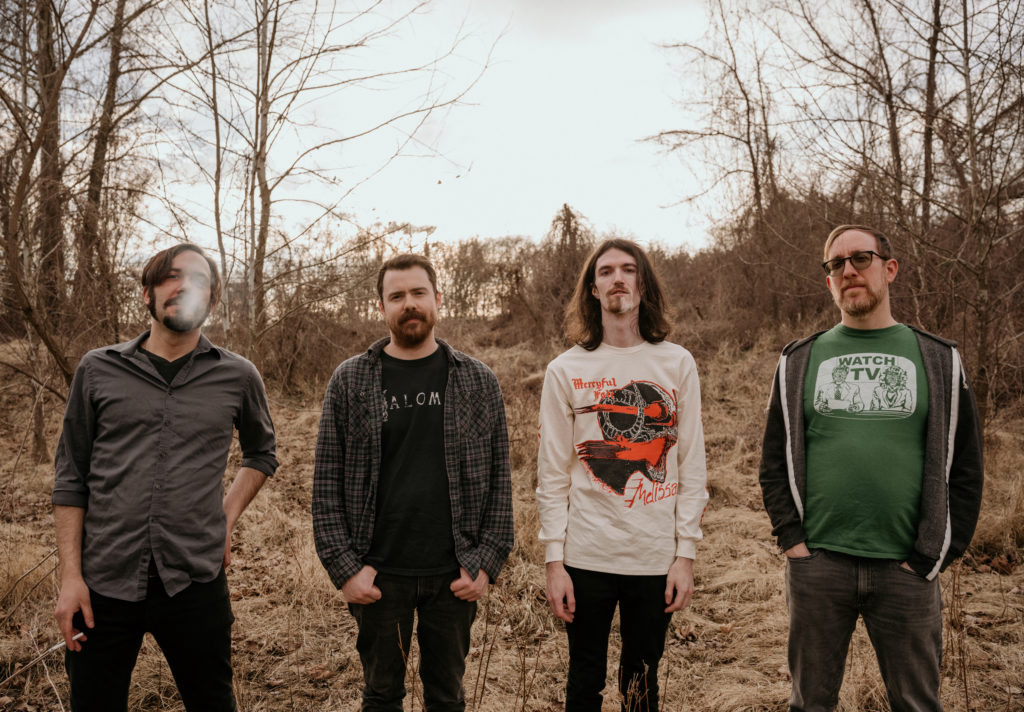 photos by Ben Price
As Baltimore-based post-hardcore/noise rock quartet MAST YEAR prepares to release their debut album, Knife, through Grimoire Records in early April, No Echo today premieres the record's new single, "In Tandem."
MAST YEAR was formed by bassist Darin Tambascio (Thought Eater, National Sunday Law) and guitarist Noel Mueller (Questioner, Grimoire Records), who started trading riffs online during the first months of lockdown in the Spring of 2020, after which they were joined later that Summer by Ben Price (At The Graves, Immiseration, Foehammer) on drums, and in the Fall of 2021, they released a digital-only demo and performed live as an instrumental three-piece. In the Spring of 2022, Eric Rhodes (Genevieve) joined the band on vocals, bringing a jaunty and chaotic front-man vibe, placing the band's genre-fluid sound in the realm of noise rock with metallic dregs of post-hardcore in the mix.
The Summer of 2022 saw MAST YEAR performing live, honing the material as a four-piece, and they recorded the twenty-five-minute debut Knife in Mueller's Tiny Castle studio (Yatra, Myopic, At The Graves). The album was later mastered by Brad Boatright at Audiosiege (Obituary, Sunn O))) -16-) and completed with cover art by Rhodes and Mueller.
With the premiere of "In Tandem," Mueller reveals, "In my early collaboration with Darin in 2020, harmonic dissonance and shifting meters were areas where we immediately found common ground. This song, originally titled 'Hammer,' was a song that started as one of Darin's acoustic guitar experiments in an unconventional tuning. I remember digging it so much that I immediately demo'd it the day I heard it on every instrument and built the song around the A and B riff ideas. I then tacked on a totally alien C section that ended up being one of my favorite riffs once Ben put a blast beat on it. Now titled 'In Tandem,' according to Eric it's about riding a bike with your lover."
No Echo writes with the advance track premiere, "The musical maze MAST YEAR funnel their arrangements through everything from post-hardcore rhythmic shifts to noise rock-laced guitar riffs to sludgy metal, and other points between."
Hear MAST YEAR's "In Tandem" first courtesy of No Echo now at THIS LOCATION.
Grimoire Records will release Knife digitally and in a limited CD run on April 7th. Find preorders where "Knife" is streaming HERE and stand by for new audio previews to post over the weeks ahead.
To celebrate the completion of this phase of the band's journey, MAST YEAR is performing Knife live on April 8th at Baltimore's The Ottobar, with support from Consumer Culture, Psyop, and Knub. Watch for additional live news to post over the months ahead.
MAST YEAR Live:
4/08/2023 The Ottobar – Baltimore, MD w/ Consumer Culture, Psyop, Knub
While much of Knife came from Noel Mueller and Darin Tambascio's collaboration in 2020, Eric Rhodes and Ben Price are both incredibly prolific in the vein of dissonant and dark music, and their contributions to MAST YEAR are currently in the works. In the Winter of 2021, Price contributed a 10+ minute epic to the band's catalog that will be included on a future release.
https://www.facebook.com/mastyearband
https://mastyear.bandcamp.com
http://www.grimoirerecords.com
https://grimoirerecords.bandcamp.com
https://twitter.com/grimoiremetal
https://www.facebook.com/GrimoireRecords
https://www.instagram.com/grimoirerecords