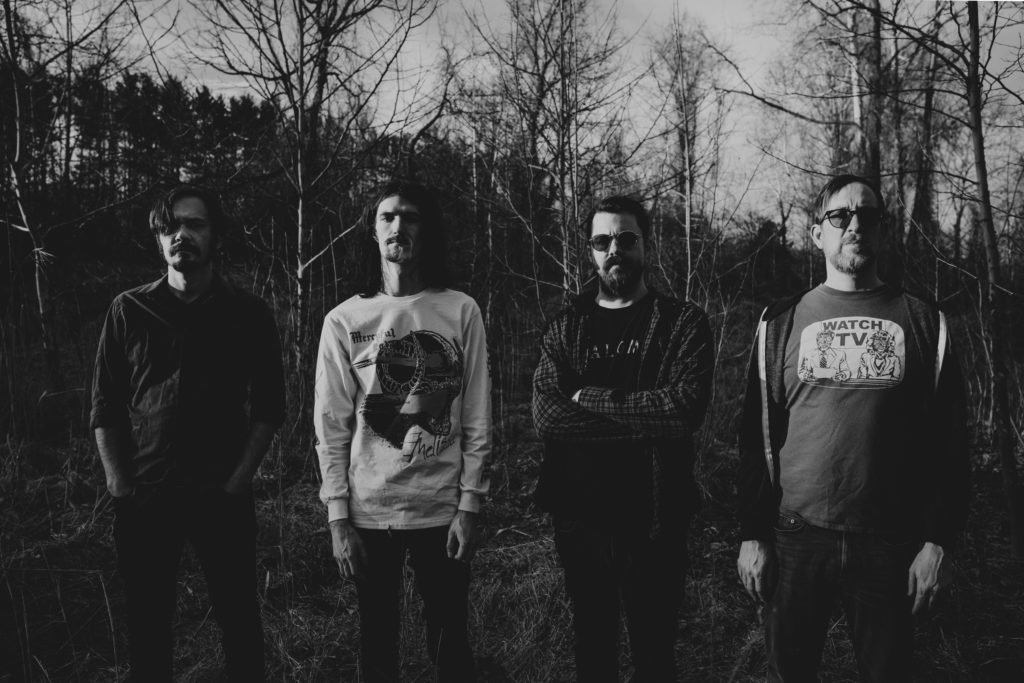 "It offers Unsane brutality with a smidge of post-hardcore melody and a dash of Sonic Youth experimentalism." – Decibel Magazine
Decibel Magazine is hosting an exclusive stream of Knife, the debut album from Baltimore post-hardcore/noise rock quartet MAST YEAR, in advance of its release this Friday on Grimoire Records.
MAST YEAR was formed by bassist Darin Tambascio (Thought Eater, National Sunday Law) and guitarist Noel Mueller (Questioner, Grimoire Records), who started trading riffs online during the first months of lockdown in the Spring of 2020, after which they were joined later that Summer by Ben Price (At The Graves, Immiseration, Foehammer) on drums, and in the Fall of 2021, they released a digital-only demo and performed live as an instrumental three-piece. In the Spring of 2022, Eric Rhodes (Genevieve) joined the band on vocals, bringing a jaunty and chaotic front-man vibe, placing the band's genre-fluid sound in the realm of noise rock with metallic dregs of post-hardcore in the mix.
The Summer of 2022 saw MAST YEAR performing live, honing the material as a four-piece, and they recorded the twenty-five-minute debut Knife in Mueller's Tiny Castle studio (Yatra, Myopic, At The Graves). The album was mastered by Brad Boatright at Audiosiege (Obituary, Sunn O))) -16-) and completed with cover art by Rhodes and Mueller.
With Knife about to be unveiled, Tambascio reveals,  "In Spring of 2020, Noel texted me about trading riffs back and forth, while stuck at home during the early days of the pandemic. Harmonic dissonance and shifting meters are songwriting tools for both of us, so we instantly had common ground. When we had enough song ideas recorded, I reached out to Ben Price. Ben is an accomplished multi-instrumentalist and songwriter, so Noel and I were extra pumped to have a drummer who could do much more. While practicing with Noel and Ben, I also started jamming with Eric Rhodes. After maybe two practices, it was immediately apparent that not only was Eric the guy to sing in MAST YEAR, but his mere presence added a bit of levity and comedy to our group. With four multi-instrumentalists and songwriters in this band, there is a huge potential for MAST YEAR to expand our sound and material. Knife is just the beginning."
With their stream of the record, Decibel writes how the group, "bonded over a love of 'harmonic dissonance' during the pandemic and have crafted an angular, ear-scraping album, Knife, that invokes '90s-era Amphetamine Reptile skree. This is a record that Steve Albini or Wharton Tiers would have recorded back in the day. It offers Unsane brutality with a smidge of post-hardcore melody and a dash of Sonic Youth experimentalism."
Listen to MAST YEAR's entire Knife early only at Decibel Magazine RIGHT HERE.
Grimoire Records will release Knife digitally and in a limited CD run this Friday, April 7th. Find preorders HERE.
To celebrate the completion of this phase of the band's journey, MAST YEAR will perform Knife live at hometown shows on April 8th and May 4th, with more shows being booked for the rest of Spring and into the Summer months.
MAST YEAR Live:
4/08/2023 The Ottobar – Baltimore, MD w/ Consumer Culture, Psyop, Knub
5/04/2023 Metro Gallery – Baltimore, MD w/ Blind Girls, Heavenly Blue, Distend, No Thanks To You
https://www.facebook.com/mastyearband
https://mastyear.bandcamp.com
http://www.grimoirerecords.com
https://grimoirerecords.bandcamp.com