The long-awaited vinyl edition of The Uprising, the debut EP from Heavy As Texas guitarist MARZI MONTAZERI featuring TIM "RIPPER" OWENS on vocals, is out NOW and streaming via MONTAZERI's recently-launched Crunchy Western Records.
Order your copy today HERE.
Stream The Uprising at THIS LOCATION.
Watch a live rendition of "A Monster Within" captured at the BFE Rock Club in Houston, Texas below.
Released earlier this year, The Uprising continues to reap critical accolades nationwide. KNAC.com crowned the record, "pure meat and potatoes metal. Lean, mean, and without an ounce of fat," adding, "MARZI himself is a badass shredder, and can damn sure hold his own with anyone out there." Sea Of Tranquility writes, "Heavy groove is paramount on The Uprising and MONTAZERI's guitar tone is thick and unrelenting, as are the fantastic vocal that Ripper Owens lays down… " Of the track "A Monster Within" specifically, Decibel Magazine notes, "MONTAZERI drives the song with distorted riffs and intricate soloing, while OWENS employs his trademark glass-shattering screams to great effect." Noise Beneath The Snow gushes, "The solos are just plain out of this world… TIM 'RIPPER' OWENS hasn't lost it a bit. He uses every bit of his range from top to bottom. There is not ONE single bad second on this album… This is straight ahead heavy metal and of the highest quality." Metal Nexus declares The Uprising, "an absolute fantastic album… The pure art coming from The High Priest Of Distortion is a gift in its own but to add the commanding vocals of TIM 'RIPPER' OWENS makes for a really great time for all involved. The grit coming from the guitars with a bit of harmonic touch slipped in here and there do stand out. The three solos on here really are the definition of quality over quantity with each one so masterfully placed and executed."
Maximum Threshold Radio concurs, "The Uprising fuels the need and want for more sounds of The South. The musicianship is top notch, and sets the bar for the new groove coming out of Texas. 'RIPPER' delivers the vocal chops that has made him a household name in metal. Now that the word is out, tell everyone you know that the next guitar legend they've been waiting for has been found. Worship in the riffs and solos that have been bestowed upon you…" AXS notes, "The new record features OWENS' soaring vocals on 'Monster Within,' 'Without Warning,' and 'Who Is Alive' with MONTAZERI's punishing licks. However, the guitarist also displays more than a heavy side on the EP's outro instrumental 'Viento del Espiritu.'" Adds Riff Relevant, "The entire EP is an amazing vehicle for enjoying the astounding talents of MARZI MONTAZERI. It establishes the wide field that his playing fully encompasses, the simple creativity that he wields so masterfully. Enthralling utter bliss to the ears of metal fans, MARZI leaves no doubt about his guitar-god-in-the-making status."
Known for his groundbreaking musicianship and energetic showmanship, MARZI MONTAZERI is a guitarist, producer, and songwriter from Houston, Texas. In the mid '90s, MONTAZERI joined Superjoint Ritual and in 2010 rejoined forces with Philip H. Anselmo to work on Anselmo's first solo project, Philip H. Anselmo & The Illegals. MONTAZERI's collaborations as a guest artist include Prong, Doug Pinnick (Razr 13), Defiatory, and the Judas Priest tribute record Hell Bent Forever, also featuring TIM "RIPPER" OWENS.
OWENS is a Grammy-nominated American hard rock singer who first gained attention as the vocalist for Judas Priest (1996-2003) followed by stints with Iced Earth and Yngwie Malmsteen. OWENS currently tours the world as a solo artist and performs as the lead singer of Charred Walls Of The Damned alongside drummer Richard Christy (The Howard Stern Show, Death, Control Denied, Burning Inside et al). OWENS has also started a supergroup called Project Rock with James Kottak (Scorpions), Keri Kelli (Alice Cooper, Slash's Snakepit, John Waite), Rudy Sarzo (Whitesnake, Quiet Riot, Ozzy Osbourne, Dio), and Teddy "Zig Zag" Andreadis (Guns N' Roses, Carol King). Additionally, the movie Rockstar (Mark Wahlberg, Jennifer Aniston) was loosely based on OWENS' time in Judas Priest.
"A while ago I was asked to play a couple of solos on the Judas Priest tribute album Hell Bent Forever and the track was, 'Exciter,'" recalls MONTAZERI of first meeting OWENS. "When I arrived, TIM was walking out of the vocal booth for the evening. I was blown away by his performance and personality. He's a super cool and funny dude. So when it came to this EP where I knew I wanted a powerful metal vocalist, I just made a call to him and here we are with some original music."
Together, this extraordinary pair offer up the fiery sounds of The Uprising. The Uprising was recorded at Matherne Studios by Kevin Matherne in Houston, Texas, and mixed and mastered at CMC21 Productions by Chris Collier in Los Angeles, California.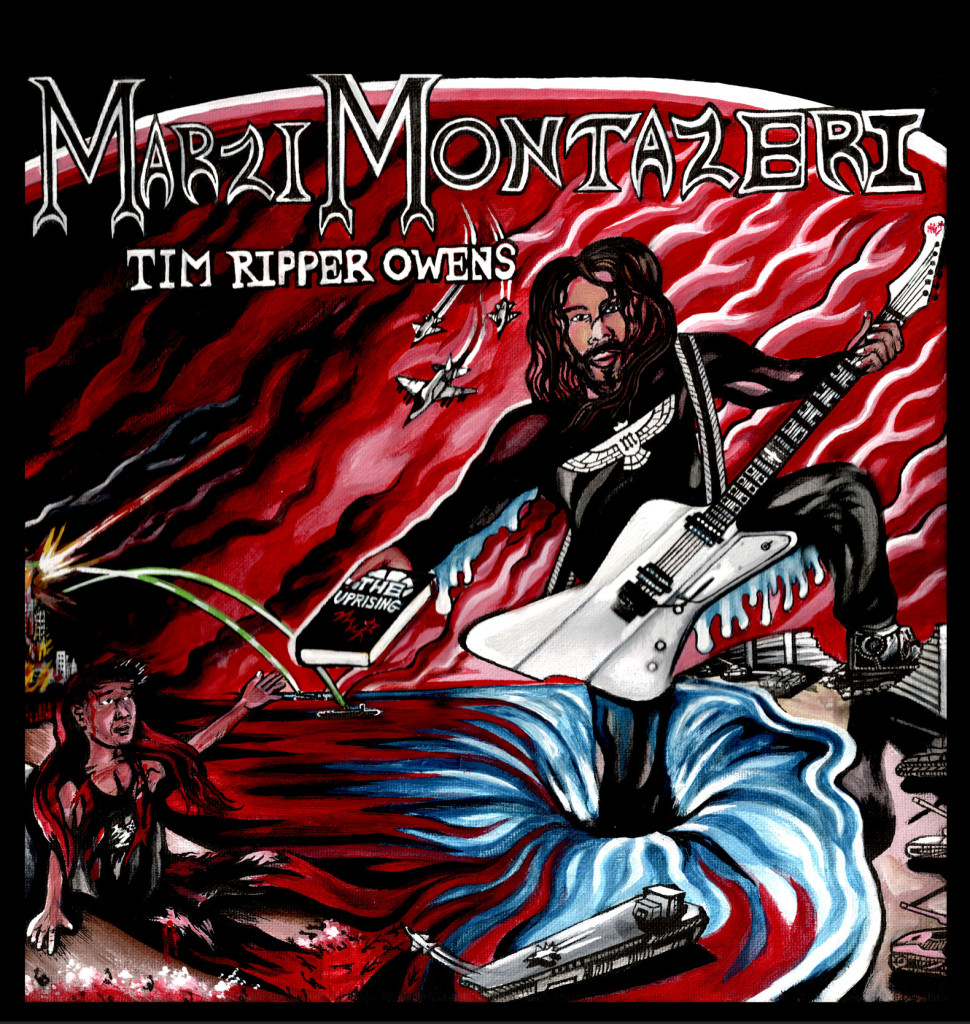 http://www.marzimontazeri.com
http://www.facebook.com/marziarmy
http://www.twitter.com/marziarmy
http://www.instagram.com/marziarmy
http://www.Timripperowens.com
http://www.facebook.com/TimRipperowens
http://www.twitter.com/Timripperowens
http://www.facebook.com/CrunchyWesternRecords