[photo by Janette Valentine]
The Miami grind machine, MARUTA, unloads an intimidating new single from their Remain Dystopian LP, delivering "Stride Endlessly Through Scorched Earth" with an exclusive premiere at Revolver Magazine, the track featuring a vocal outburst from Tomas Lindberg of At The Gates.
Blasting with mega infectious death-infused grindcore, Remain Dystopian delivers MARUTA's seventeen most demanding and damaging works to date, the album recorded in various studios, including drums with Pig Destroyer's Scott Hull and vocals with Torche's Jonathan Nuñez. Several outside mercenaries were contracted to take part in the action, including Pig Destroyer's J.R. Hayes, Agoraphobic Nosebleed's Jay Randall, and on the new track, bearing possibly one of the most appropriate titles, the legendary Tomas Lindberg of At The Gates, Disfear and the like on "Stride Endlessly Through Scorched Earth." While passersby should be wary of every volatile second of MARUTA's first LP for Relapse, this song in particular delivers especially scathing qualities. Here, the band's generally full-on blazing blast assault gives way mid-track to half-speed guitars and tension-filled dissonance, while the guest vocal tirade of Lindberg rubs an extra dose of corrosive salt into your wounds.
"Stride Endlessly Through Scorched Earth" with MARUTA as your soundtrack via Revolver Magazine RIGHT HERE.
Remain Dystopian's "Hope Smasher" is also playing at Lambgoat at THIS LOCATION, "Stand In Defeat" is streaming HERE, and a video from the recording sessions playing HERE.
MARUTA has also locked up a record release show in Miami for Remain Dystopian, setting their hometown ablaze on June 6th with support from Orbweaver and Sacridose. This is the first of many live incursions from the outfit to be announced.
MARUTA Live:
6/06/2015 Churchill's Pub – Miami, FL — Record Release Show w/ Orbweaver, Sacridose
Remain Dystopian will see release on CD, LP and digital formats June 2nd in North America, May 29th in Germany, Benelux and Finland, and June 1st in the UK and elsewhere. Preorders for the physical versions are available HERE and digital preorders HERE.
Innovating classic foundations forged by early offensives by Napalm Death, Extreme Noise Terror and Brutal Truth, MARUTA joins the likes of audio warmongers Nasum, Pig Destroyer, Misery Index, Nails, Discordance Axis and Cephalic Carnage in the upper ranks of contemporary death/grind. Named after a special project during World War II in which the Imperial Japanese Army used human beings for torturous scientific experiments, the band has pummeled the masses for the past decade, including two prior LPs via Willowtip Records, several tracks hitting Relapse's "This Comp Kills Fascists Vol 1" compilation and more. For the next phase of their extinction protocol, MARUTA signed with Relapse Records in August of last year, and the task of creating their next full-length atrocity began, now to rear its head as Remain Dystopian, an album which raises the bar for what 21st Century grind can accomplish!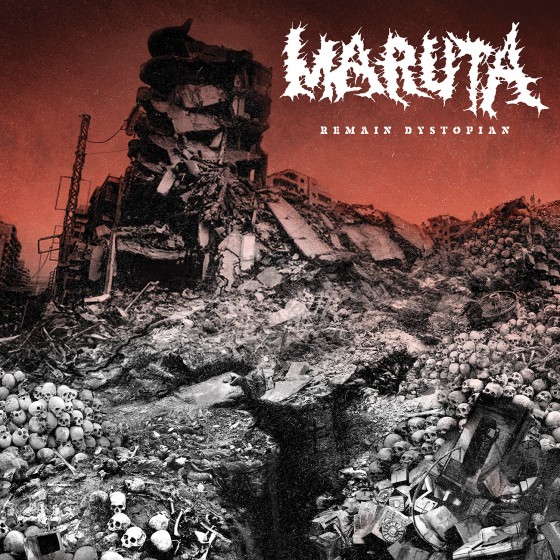 http://www.facebook.com/Marutagrindcore
http://twitter.com/marutagrindcore
http://maruta.bandcamp.com
http://www.relapse.com
http://relapserecords.bandcamp.com
http://www.facebook.com/RelapseRecords