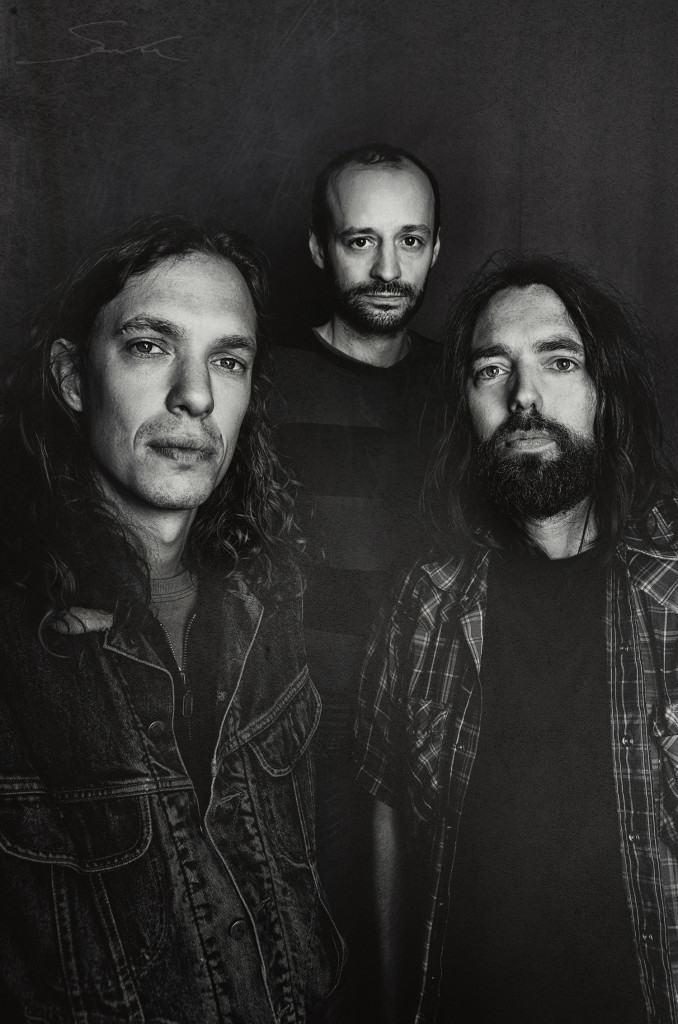 Bordeaux, France-based psychedelic stoner doom trio, MARS RED SKY, will make their way to North America on a run of live dates later this Summer. With several performances already announced last month, the full journey, sponsored by The Obelisk, is now finalized, running from August 19th in Boston, Massachusetts through September 3rd in Seattle, Washington. The fifteen-date trek includes stops at The Obelisk's All-Dayer at Saint Vitus Bar in Brooklyn, New York, Doom Over Toronto Festival at The Smiling Buddha in Toronto, Ontario and Psycho Las Vegas At The Hard Rock Hotel And Casino in Las Vegas, Nevada. Tickets for all shows are on sale now.
MARS RED SKY will be touring in support of their Apex III (Praise For The Burning Soul) full-length, recently issued worldwide via Listenable Records. Said Decibel Magazine of the offering, "France's doom vagabonds, MARS RED SKY, deliver that peculiar but exhilarating tonic of innovation and anachronism on their new album Apex lll (Praise For The Burning Soul). One sip of their Om/classic Melvins punch laced with Syd Barrett and The Electric Prunes will rock your head back." In an 8/10 score, Metal Injection calls the record the band's "finest release yet," noting, "The deeper you dig into Apex III…, the more you'll understand the band is less of a down-tuned jam fest, but rather an exploration of classic rock moods and atmospheres. A constant battle between the thunderous riffs and the whimsical nature creates an enjoyable duality." The Obelisk names Apex III… MARS RED SKY's, "most accomplished release," adding, "It demonstrates clearly that their creative evolution is matched in its sweep by its drive, and that far from settling into a sound, [vocalist/guitarist Julien] Pras, [bassist/vocalist Jimmy] Kinast, and [drummer Matieu "Matgaz"] Gazeau are continuing to challenge themselves to present new ideas and new styles that add to the context of what they've done before. Since their first record, MARS RED SKY's progression has been among the most satisfying the world over to witness, and their third album yet again surpasses its predecessors. Recommended." In an 8/10 rating, Metal Assault concurs, "MARS RED SKY already accomplished a lot and went places based on the strength of their first two albums, but Apex III… is all set to become their passageway into broader pastures, as it has what it takes to form a longlasting vice-like grip on fans of the genre." Glacially Musical observes, "MARS RED SKY has been inspired by the greats before them, but they sound like no one else. That's the key to making great art. Learn from the masters, but sound like yourself." Adds Hellbound, "Apex III… strikes just the right balance between musical virtuosity and song-writing, and is, as all good music should be, a pleasure to listen to."
Sample the band's recently released, trippy new video for "Friendly Fire" below.
MARS RED SKY:
8/19/2016 O'Brien's Pub – Boston, MA [info]
8/20/2016 Saint Vitus Bar @ The Obelisk All-Dayer – Brooklyn, NY [info]
8/21/2016 Kung Fu Necktie – Philadelphia, PA [info]
8/22/2016 Strange Matter – Richmond, VA [info]
8/23/2016 Spirit – Pittsburgh, PA [info]
8/24/2016 Cherry St Station – Wallingford, CT [info]
8/25/2016 La Vitrola – Montreal, QC [info]
8/26/2016 The Smiling Buddha @ Doom Over Toronto Festival – Toronto, ON [info]
8/27/2016 Reggies – Chicago, IL [info]
8/28/2016 Hard Rock Hotel And Casino @ Psycho Las Vegas – Las Vegas, NV [info]
8/29/2016 Brick By Brick – San Diego, CA
8/30/2016 The Viper Room – Los Angeles, CA [info]
9/01/2016 Starlight Lounge – Sacramento, CA
9/02/2016 Panic Room – Portland, OR [info]
9/03/2016 The Funhouse – Seattle, WA [info]
MARS RED SKY's Apex III (Praise For The Burning Soul) was captured by Gabriel Zander – who also engineered the band's lauded Stranded In Arcadia offering – and Jacob Dennis in Studio Cryogene in Bègles, France, and truly pushes the boundaries of the band's already monolithic sound. With Apex III (Praise For The Burning Soul), MARS RED SKY delivers grandiose and hypnotizing hymns rooted in a far wider range of musical influences stretching from Robert Wyatt, The Beatles, Nick Drake, and Neil Young, to Electric Wizard, Acid King and, naturally, Black Sabbath. To purchase your copy, visit THIS LOCATION.
http://www.marsredsky.net
http://www.facebook.com/marsredskyband/?fref=nf
http://www.marsredsky.net
http://www.twitter.com/MarsRedSky1
http://www.listenable.net
http://www.facebook.com/listenablerecs