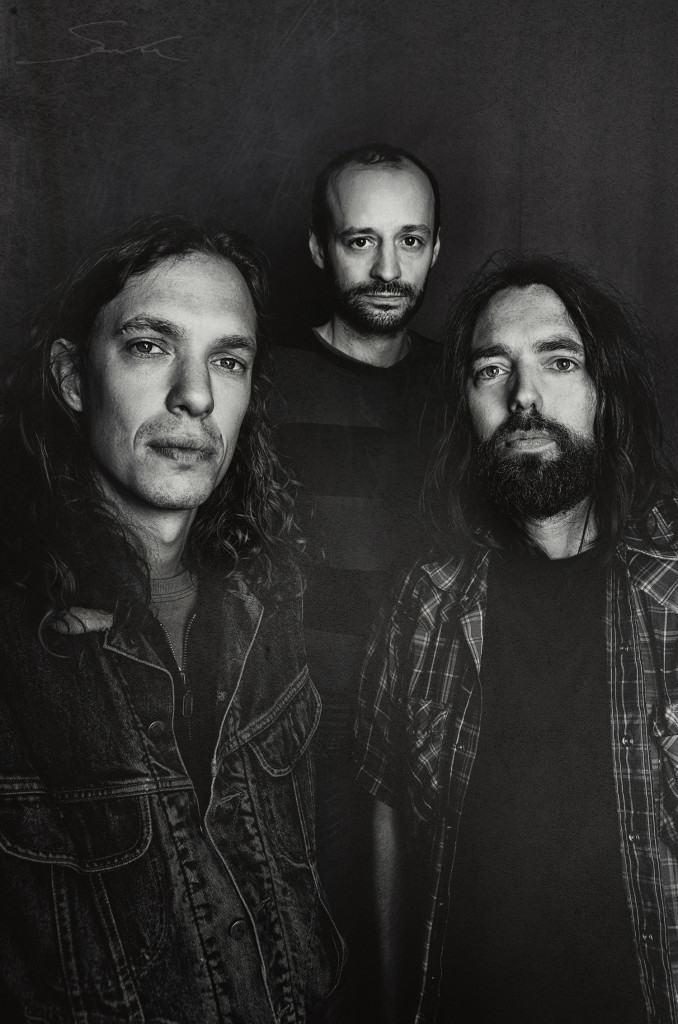 Bordeaux, France-based psychedelic stoner doom trio, MARS RED SKY, will release their stunning new album Apex III (Praise For The Burning Soul) in North America this May via Listenable Records.
Already available to European audiences, Apex III (Praise For The Burning Soul) was captured by Gabriel Zander, who also engineered the band's lauded Stranded In Arcadia offering, and Jacob Dennis in Studio Cryogene in Bègles, France and truly pushes the boundaries of the band's already monolithic sound. With Apex III (Praise For The Burning Soul), MARS RED SKY delivers grandiose and hypnotizing hymns rooted in a far wider range of musical influences stretching from Robert Wyatt, The Beatles, Nick Drake and Neil Young to Electric Wizard, Acid King and, naturally, Black Sabbath.
Peep the band's latest video for fourth movement, "Mindreader" below:
Issues Team Rock of the record, "Apex III reveals a heavier, darker MARS RED SKY, further refining that serene-cum-menacing balance that they strike so well through 'The Whinery' and the crushing dirge of 'Mindreader,' while the indie-tinged vocals of Julien Pras once again lend a '70s psychedelic flavor to fuzz- driven tracks such as 'Under The Hood.'" The Sludgelord gushes, "Apex III (Praise For The Burning Soul) is a crazy psychedelic trip and MARS RED SKY is your tour guide… From the album's plodding bookends to Side B's catchy space rock explorations, there's a gorgeous chemistry at play here. The result is one damn fine psychedelic stoner rock record." Uber Rock concurs, "MARS RED SKY weave like an almost-alien-body transcending you through their world of psychedelic-tinged-stoner-prog, to create a unique universe I can liken only to that of a Rush-meets-Monster Magnet-featuring Tony Iommi experience." The Obelisk names Apex III, "MARS RED SKY's most accomplished release," furthering, "It demonstrates clearly that their creative evolution is matched in its sweep by its drive, and that far from settling into a sound, [vocalist/guitarist Julien] Pras, [bassist/vocalist Jimmy] Kinast and [drummer Matieu "Matgaz"] Gazeau are continuing to challenge themselves to present new ideas and new styles that add to the context of what they've done before. Since their first record, MARS RED SKY's progression has been among the most satisfying the world over to witness, and their third album yet again surpasses its predecessors. Recommended." Adds Outlaws Of The Sun, "The soundscape explored on this record is a vast terrain so eclectic in its land mark influences that attempting to list them almost seems to be a superfluous task. Apex III has so much to offer; from spaced-out psychedelia with hints of The Beach Boys and The Beatles to a devastating sonic might reminiscent of Pelican and Russian Circles, as well as a brooding, fuzzed-out nod to Acid King and Electric Wizard. All knitted together with the kind of astute, dynamic expression of Pink Floyd and Rush… a superb album."
Apex III (Praise For The Burning Soul) Track Listing:
1. (Alien Grounds)
2. Apex III
3. The Whinery
4. Mindreader
5. Under The Hood
6. Friendly Fire
7. Prodigal Sun
8. Shot In Providence
Apex III (Praise For The Burning Soul) will be officially unveiled in North America on May 20th via Listenable Records. To secure your copy today visit THIS LOCATION.
Driven by the colossal success of their eponymous debut record, which was recorded in Spain's mystic Bardenas desert and released in 2011, the Bordelais were quickly invited to perform on some of the the largest European stages at renowned festivals such as Eurockéennes de Belfort, Hellfest, Roadburn, London and Berlin Desertfests and Sziget Festival as well as SXSW in the US and many more. MARS RED SKY would go on to play over three-hundred shows over the next five years, opening for various acts such as Kyuss Lives!, Dinosaur Jr., Sleep, Killing Joke and many others.
The band's second album, Stranded In Arcadia, described a journey in a sapphire vessel to an imaginary place called Arcadia. Masters in cultivating fuzzy, distorted and plainly massive sounding heaviness juxtaposed by ethereal, high range melodic vocals, MARS RED SKY was morphing into an intriguing lot. Classic Rock hailed the record's fusion of, "doom rock and skyscraping, '70s psyche pop," further celebrating a record, "that will put hair on your feet." Worldwide press continues to roar. The Sleeping Shaman champions the band's utter, "charisma and consistency in quality song writing and execution," The Obelisk commends,"one of the best and most distinct acts in or out of heavy psychedelia," and About.com applauds, "a fantastic voyage."
For review links and interview requests in North America contact liz@earsplitcompound.com.
http://www.marsredsky.net/
http://www.facebook.com/marsredskyband/?fref=nf
http://www.marsredsky.net
http://www.twitter.com/MarsRedSky1
http://www.listenable.net
http://www.facebook.com/listenablerecs