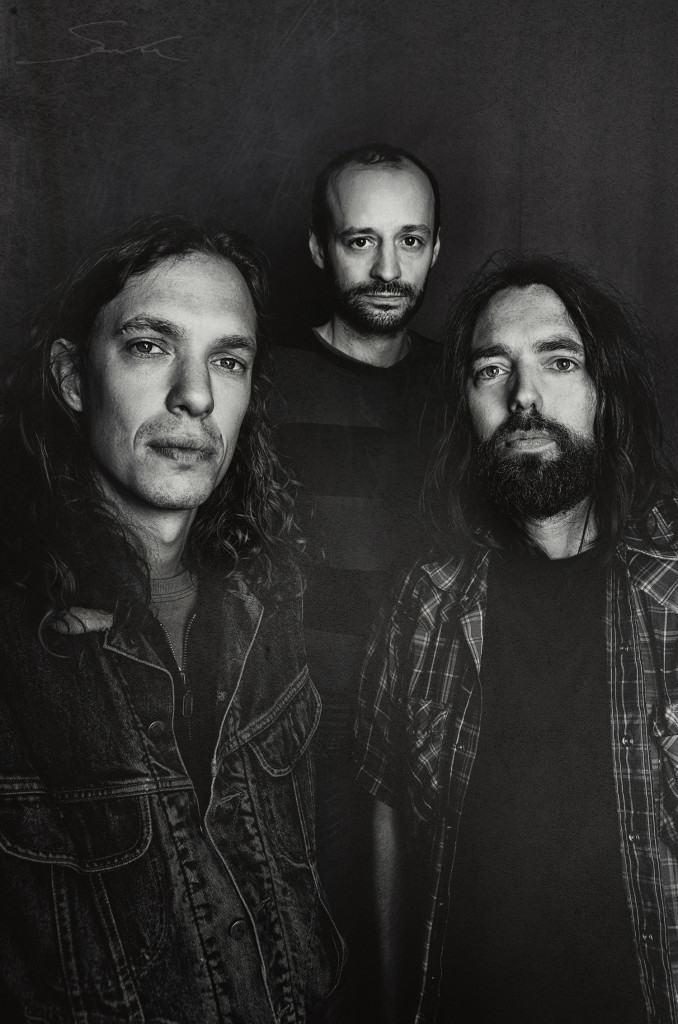 Bordeaux, France-based psychedelic stoner doom trio, MARS RED SKY, will release their brand new album, Apex III (Praise For The Burning Soul), in North America next week via Listenable Records. Already available to European audiences, Apex III (Praise For The Burning Soul) was captured by Gabriel Zander – who also engineered the band's lauded Stranded In Arcadia offering – and Jacob Dennis in Studio Cryogene in Bègles, France, and truly pushes the boundaries of the band's already monolithic sound. With Apex III (Praise For The Burning Soul), MARS RED SKY delivers grandiose and hypnotizing hymns rooted in a far wider range of musical influences stretching from Robert Wyatt, The Beatles, Nick Drake, and Neil Young, to Electric Wizard, Acid King and, naturally, Black Sabbath.
In celebration of its release, today Decibel Magazine is streaming the record in its entirety noting at THIS LOCATION.
MARS RED SKY's Apex III (Praise For The Burning Soul) will available in North America on May 20th. To secure your copy today visit THIS LOCATION.
Currently on tour in the UK, MARS RED SKY will make their way to North America this Summer on a run of live dates through August which will commence in Brooklyn, New York at The Obelisk's All-Dayer and includes an appearance at the Psycho Las Vegas Festival in Las Vegas, Nevada with additional performances to be announced in the coming weeks.
MARS RED SKY:
5/12/2016 The Exchange – Bristol, UK
5/13/2016 The Phoenix – Coventry, UK
5/14/2016 Birthdays – London, UK
5/15/2016 Rebellion – Manchester, UK
5/16/2016 Audio – Glasgow, UK
8/20/2016 Saint Vitus Dar – Brooklyn, NY @ The Obelisk All-Dayer
8/21/2016 Kung Fu Necktie – Philadelphia, PA
8/23/2016 Spirit – Pittsburgh, PA
8/26/2016 The Smiling Buddha – Toronto, CA Doom Over Toronto Festival
8/27/2016 Reggies – Chicago, IL
8/28/2016 Hard Rock Hotel And Casino – Las Vegas, NV @ Psycho Las Vegas Festival
8/30/2016 The Viper Room – Los Angeles, CA
9/01/2016 Starlite Lounge – Sacramento, CA
9/02/2016 Panic Room – Portland, OR
9/03/2016 The Fun House – Seattle, WA
Already adored across Europe, Team Rock issues of the record, "Apex III reveals a heavier, darker MARS RED SKY, further refining that serene-cum-menacing balance that they strike so well through 'The Whinery' and the crushing dirge of 'Mindreader,' while the indie-tinged vocals of Julien Pras once again lend a '70s psychedelic flavor to fuzz- driven tracks such as 'Under The Hood.'" The Sludgelord called the record an, "easy contention for best of 2016," further gushing, "Apex III (Praise For The Burning Soul) is a crazy psychedelic trip and MARS RED SKY is your tour guide… From the album's plodding bookends to Side B's catchy space rock explorations, there's a gorgeous chemistry at play here. The result is one damn fine psychedelic stoner rock record." Uber Rock concurs, "MARS RED SKY weave like an almost-alien-body transcending you through their world of psychedelic-tinged-stoner-prog, to create a unique universe I can liken only to that of a Rush-meets-Monster Magnet-featuring Tony Iommi experience." The Obelisk names Apex III, "MARS RED SKY's most accomplished release," adding, "It demonstrates clearly that their creative evolution is matched in its sweep by its drive, and that far from settling into a sound, [vocalist/guitarist Julien] Pras, [bassist/vocalist Jimmy] Kinast and [drummer Matieu "Matgaz"] Gazeau are continuing to challenge themselves to present new ideas and new styles that add to the context of what they've done before. Since their first record, MARS RED SKY's progression has been among the most satisfying the world over to witness, and their third album yet again surpasses its predecessors. Recommended." Sea Of Tranquility notes, "Without a doubt a weird listen at times, it's safe to say that Apex III (Praise For The Burning Soul) is also at the same time one of the more unique albums you are likely to hear this year. Psychedelia and stoner metal have never sounded this good together." Adds Outlaws Of The Sun, "The soundscape explored on this record is a vast terrain so eclectic in its land mark influences that attempting to list them almost seems to be a superfluous task. Apex III has so much to offer; from spaced-out psychedelia with hints of The Beach Boys and The Beatles to a devastating sonic might reminiscent of Pelican and Russian Circles, as well as a brooding, fuzzed-out nod to Acid King and Electric Wizard. All knitted together with the kind of astute, dynamic expression of Pink Floyd and Rush… a superb album."
For review links and interview requests in North America contact liz@earsplitcompound.com.
http://www.marsredsky.net
http://www.facebook.com/marsredskyband/?fref=nf
http://www.marsredsky.net
http://www.twitter.com/MarsRedSky1
http://www.listenable.net
http://www.facebook.com/listenablerecs