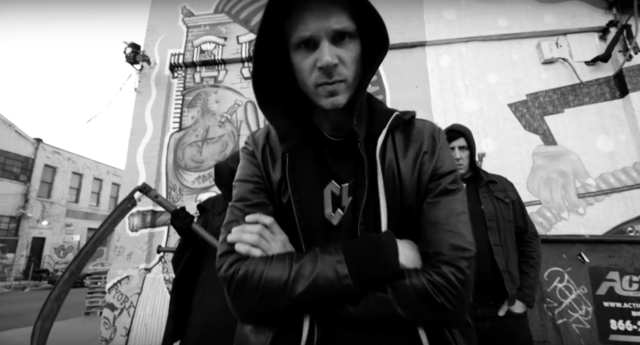 Ode To The Flame is the nihilistic new full-length from Northern Germany-based infernal metal duo, MANTAR. Out now on Nuclear Blast, the record is currently available in CD, vinyl (black and gold – the latter of which is only available from the Nuclear Blast Mailorder), and digital formats HERE.
In conjunction with its release, MANTAR recently issued the video accompaniment to "Cross The Cross." The clip was initially premiered in North America via MetalSucks who hailed "not just any new music video… but a new music video from which is so entertaining as to justify the continued existence of music videos…This clip for 'Cross The Cross' feels like Ingmar Bergman made a hip-hop video. That may sound like an odd aesthetic for MANTAR's bone-vaporizing brand of death 'n' roll, but done with as much droll verve as director Dave Barbaree has displayed here, and it ends up being the perfect showcase for this crushed windpipe of a song."
Don't miss "Cross The Cross," playing at THIS LOCATION.
MANTAR will inundate their native Germany with an exclusive run of shows this month which kicked off this past weekend. The band will also level the stages of several festivals throughout the Summer months and make its way to North America with confirmed appearances at Heavy Montreal, Psycho Las Vegas and California Deathfest. Additional live infiltrations are in the plotting stages.
MANTAR:
4/20/2016 FZW Club – Dortmund, DE
4/21/2016 Schlachthof – Wiesbaden, DE
4/22/2016 B58 – Braunschweig, DE
4/23/2016 Stockrock – Hagen, DE
4/28/2016 Desertfest – Berlin, DE
4/29/2016 Desertfest – Berlin, DE
4/30/2016 Desertfest – London, UK
5/05/2016 Beta – Copenhagen, DE
5/07/2016 Volksbad – Flensburg, DE
5/13/2016 Post Valley – Gießen, DE
5/14/2016 Doomed Gatherings @ Glazart – Paris, FR
5/27/2016 Freak Valley Festival – Siegen, DE
5/28/2016 Visbek Rockt – Visbek, DE
6/03/2016 Metalhead Meeting – Bucharest, RO
6/05/2016 Metalfest Open Air – Plzen, CZ
6/18/2016 Hellfest – Clisson, FR
7/01/2016 Tuska – Helsinki, FI
7/16/2016 Gefle Metal Festival – Gävle, SE
8/07–09/2016 Heavy Montreal – Montreal, QC
8/17–20/2016 Summer Breeze – Dinkelsbühl, DE
8/26–28/2016 Psycho Las Vegas – Las Vegas, NV
10/14-16/2016 California Deathfest – Oakland, CA
Forged in 2013, MANTAR has been recognized as one of the hardest working among the German extreme metal underground. Melding the most sinister elements of styles like black metal, doom and punk, representing unfiltered pure primal rage, MANTAR have proven to be one of a kind. Their extremely intense live shows have been seen all over the world and have blown away unaware audiences with their unconditionally tight and brutal performances. MANTAR is a pure evil elemental force captured by only two passionate artists that strife for ultimate raw sonic power.
"MANTAR have a thing for destroying stuff by fire… 2014's Death By Burning, roasted away all the unnecessary to create a raw, straight-forward stomp of blackened doom punk that made for existential inquiry to the tune of a punchy beat. Sophomore Ode To The Flame spreads that inferno, scorching through forty-plus minutes of atmosphere-drenched vitriol." – Decibel
"…brutally straightforward, rife with ruthlessly catchy riffs and lyrics focused not on Satan or savagery, but on pure chaos, centering on the idea of fire as a guiding theme." – Noisey
"Every track here straight up rips, strapping tank treads on riffs and trampling everything ahead with a trail of smoldering ruins in its rear view. I didn't think anything could be this catchy and simultaneously and unequivocally crushing. Sludgy black 'n' roll with a morbid punk attitude – why say more?" — Loudwire
"MANTAR have a rare ability to be able to straddle the line between dark and sinister and music that you can genuinely move your body to – imagine a halfway point between Midnight and Black Tusk, or better yet, Young And In The Way doing their own interpretations of Blink 182 songs. This is morbid and this is heavy, but it's the most fun you'll have had listening to heavy metal for a long time." – Iron Fist
"…crushing, appropriately melodic, and dynamic sludge metal album that is intelligent and mature." – Metal Wani
"Heavier than a very heavy thing, hookier than an abattoir, and blacker than the blackest black (times infinity), Ode To The Flame is the sound of a band truly coming into their own and stepping up into the big leagues." – No Clean Singing
"…caustic, near-punk take on the crusty black metal/sludge sound (in fact, DR wouldn't be surprised if the pair refer to themselves as a punk band), MANTAR's raw, no-frills approach drips of what modern black metal has become…" – Dead Rhetoric
For MANTAR coverage in North America contact liz@earsplitcompound.com.
http://www.mantarband.com
http://www.facebook.com/mantarband
http://www.nuclearblast.de/mantar