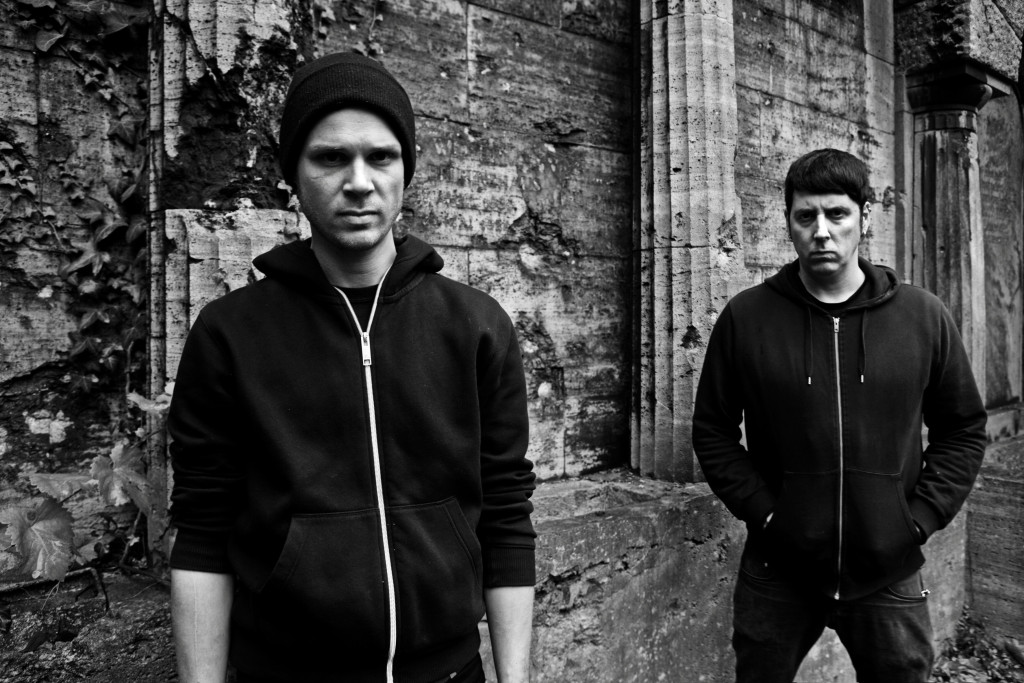 [photo by Tim Klöcker]
"…brutally straightforward, rife with ruthlessly catchy riffs and lyrics focused not on Satan or savagery, but on pure chaos, centering on the idea of fire as a guiding theme." — Noisey
With the release of Ode To The Flame, the upcoming full-length from Northern Germany-based metal duo, MANTAR now less than a week away, today Decibel Magazine delivers the nihilistic offering its scorching entirety noting: "MANTAR have a thing for destroying stuff by fire. Their debut full-length, 2014's Death By Burning, roasted away all the unnecessary to create a raw, straight-forward stomp of blackened doom punk that made for existential inquiry to the tune of a punchy beat. Sophomore Ode To The Flame spreads that inferno, scorching through forty-plus minutes of atmosphere-drenched vitriol. Or, if that sounds like way too much talking and not enough headbanging, ignore our description and stream the full album below to be scorched/crushed back to the primordial muck of prehuman existence."
Ode To The Flame will come available in CD, vinyl (black and gold – the latter of which is only available from the Nuclear Blast Mailorder), and digital formats. Preorders are available HERE.
Reaping the praise of critics both stateside and abroad, Noisey hails a record that's, "brutally straightforward, rife with ruthlessly catchy riffs and lyrics focused not on Satan or savagery, but on pure chaos, centering on the idea of fire as a guiding theme." Iron Fist notes, "MANTAR have a rare ability to be able to straddle the line between dark and sinister and music that you can genuinely move your body to – imagine a halfway point between Midnight and Black Tusk, or better yet, Young And In The Way doing their own interpretations of Blink 182 songs. This is morbid and this is heavy, but it's the most fun you'll have had listening to heavy metal for a long time." Metal Wani concurs, championing a, "crushing, appropriately melodic, and dynamic sludge metal album that is intelligent and mature." "The sense of darkness communicated on this record is potent," gushes Two Guys Metal Reviews, furthering, "There is something almost antediluvian about the crushing might of a riff like the one that introduces 'The Hint.' Meanwhile, the tortured vocals belie an impressive level of control and these songs see the band's frontman Hanno driving the listener forward with a sense of internal torment that only the gods can match." No Clean Singing crowns the record, "Heavier than a very heavy thing, hookier than an abattoir, and blacker than the blackest black (times infinity), Ode To The Flame is the sound of a band truly coming into their own and stepping up into the big leagues. If you only let one album rip off your head and spit down your neck this year… make it this one." Adds The Metal Observer simply and accurately, "Ode to the Flame offers much to enjoy and will definitely be a contender for many year-end best of lists."
MANTAR will inundate their native Germany with an exclusive run of shows this April beginning directly as Ode To The Flame is released, in addition to festivals throughout the Summer months. The band will also make its way to North America with confirmed appearances at Heavy Montreal, Psycho Las Vegas and California Deathfest with additional live infiltrations in the plotting stages.
MANTAR:
4/14/2016 Doom Over Leipzig – Leipzig, DE
4/15/2016 Schaubude – Kiel, DE
4/20/2016 FZW Club – Dortmund, DE
4/21/2016 Schlachthof – Wiesbaden, DE
4/22/2016 B58 – Braunschweig, DE
4/23/2016 Stockrock – Hagen, DE
4/28/2016 Desertfest – Berlin, DE
4/29/2016 Desertfest – Berlin, DE
4/30/2016 Desertfest – London, UK
5/05/2016 Beta – Copenhagen, DE
5/07/2016 Volksbad – Flensburg, DE
5/13/2016 Post Valley – Gießen, DE
5/14/2016 Doomed Gatherings @ Glazart – Paris, FR
5/27/2016 Freak Valley Festival – Siegen, DE
5/28/2016 Visbek Rockt – Visbek, DE
6/03/2016 Metalhead Meeting – Bucharest, RO
6/05/2016 Metalfest Open Air – Plzen, CZ
6/18/2016 Hellfest – Clisson, FR
7/01/2016 Tuska – Helsinki, FI
7/16/2016 Gefle Metal Festival – Gävle, SE
8/07–09/2016 Heavy Montreal – Montreal, QC
8/17–20/2016 Summer Breeze – Dinkelsbühl, DE
8/26–28/2016 Psycho Las Vegas – Las Vegas, NV
10/14-16/2016 California Deathfest – Oakland, CA
Forged in 2013, MANTAR has been recognized as one of the hardest working among the German extreme metal underground. Melding the most sinister elements of styles like black metal, doom and punk, representing unfiltered pure primal rage, MANTAR have proven to be one of a kind. Their extremely intense live shows have been seen all over the world and have blown away unaware audiences with their unconditionally tight and brutal performances. MANTAR is a pure evil elemental force captured by only two passionate artists that strife for ultimate raw sonic power.
For MANTAR coverage in North America contact liz@earsplitcompound.com.
http://www.mantarband.com
http://www.facebook.com/mantarband
http://www.nuclearblast.de/mantar