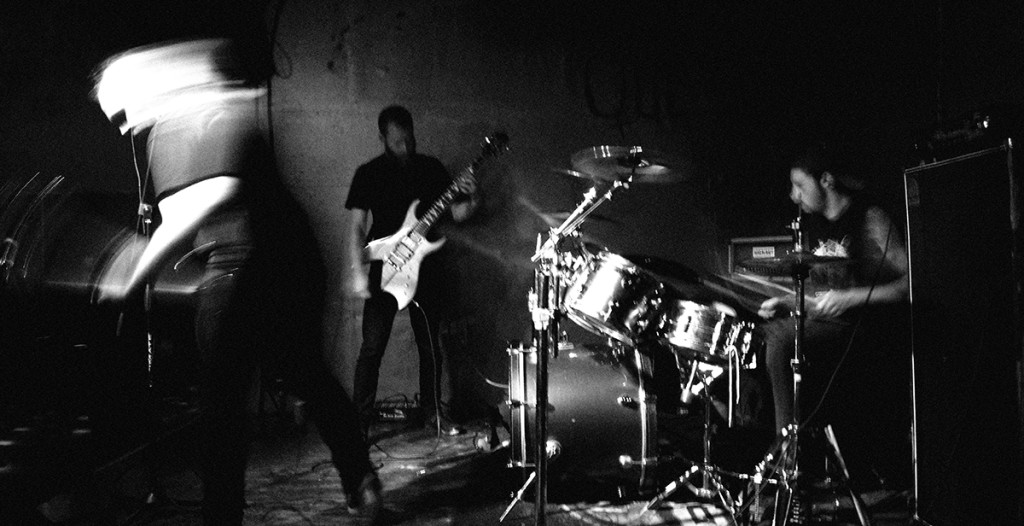 [photo by Ryan Avery]
Southern Lord is preparing the self-titled 7″ EP from traumatizing Seattle-based death metal trio, HISSING, for release this June.
HISSING began in 2014 out of a mutual interest between bassist/vocalist Zach Wise, guitarist Joe O'Malley, and drummer Sam Pickel in exploring dissonant and punishing metal. Having forged a more explosive identity since then, the outfit dispatches a gruesome concoction of death metal with pungent blackened atmosphere and scathing sludge-dredging attributes, outputting gnarled death in the vein of Incantation, Autopsy, and Winter, with attributes inspired by the likes of Portal, Blut Aus Nord, Swans, Coffins, and others permeating from deep within.
Following a self-released a demo and a self-titled EP, which was recently reissued on CD by Disorder Recordings, the new self-titled 7″ from HISSING bears the hymns, "Cairn" on the A-side and "Husk" on the B-side. Hissing was tracked by Rusty Graeff (Bone Sickness) and mixed and produced by the band, with mastering handled by Brad Boatright at Audiosiege, and its cover art by Stefan Thanneur (Chaos EchÅ"s), the lyrics of the new EP thematically centered around the effects of the metropolitan environment on the human psyche and explore themes of agoraphobia, urban decay, and incarceration.
Southern Lord will issue the new HISSING 7″ on June 10th, 2016; stand by for audio samples, preorders, and more to be released in the coming weeks.
HISSING will join labelmates Big|Brave and Sunn O))) on their upcoming runs through the Western and Midwestern US in May, with more widespread tour actions to be announced throughout the year.
HISSING Live:
5/02/2016 Gothic Theater – Denver, CO w/ Sunn O))), Big|Brave [info]
5/03/2016 Sister Bar – Albuquerque, NM w/ Sunn O))), Big|Brave [info]
5/04/2016 Rialto Theatre – Tucson, AZ w/ Sunn O))), Big|Brave [info]
5/06/2016 Regent Theater – Los Angeles, CA w/ Sunn O))), Big|Brave [info]
5/07/2016 Oakland Metro Operahouse – Oakland, CA w/ Sunn O))), Big|Brave [info]
5/28/2016 Substation – Seattle, WA w/ Atriarch, Addaura [info]
6/06/2016 The Ready Room – St. Louis, MO w/ Sunn O))), Big|Brave
6/07/2016 Thalia Hall – Chicago, IL w/ Sunn O))), Big|Brave
6/08/2016 Grog Shop – Cleveland, OH w/ Sunn O))), Big|Brave
6/09/2016 El Club – Detroit, MI w/ Sunn O))), Big|Brave
Hissing 7″ Track Listing:
A. Cairn
B. Husk
http://www.facebook.com/hissingseattle
http://hissingseattle.bandcamp.com
http://sunn.southernlord.com
http://sunn.bandcamp.com
http://www.southernlord.com