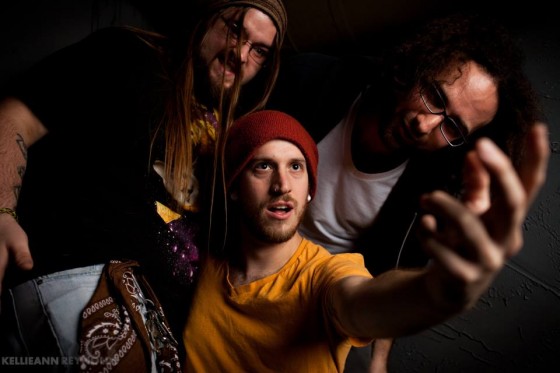 Akron, Ohio-based kaleidoscope rock act, MAID MYRIAD, will release their mesmerizing debut full-length, With Haste On Its Breath, in less than two weeks, and today, the crew who runs MetalSucks' online domain has premiered the album's third track, "Be Careful What You Wish For."
Slowly uncoiling, building from a gentle, theatrical intro into an explosive modern rock masterpiece by the end, "Be Careful What You Wish For" is just an example of MAID MYRIAD's awesome dexterity displayed on the moving twelve-song With Haste On Its Breath. The trio fuses an endless array of genres into a unique, hook-strewn rock amalgam of their own, and on the album, creates an hour-long opus that is as beautiful as it is contagious. Alongside their exclusive stream of "Be Careful What You Wish For," MetalSucks states the track, "might be described as 'Coheed-esque' – it's massive, melodic, introspective, and tortured, like a wonderful dream that quickly metamorphasizes into the kind of nightmare that continues to rattle and haunt you even after you awaken, stuck to your psyche like gum to the bottom of a shoe. Little wonder we became so smitten with the song from the moment we heard it!"
Listen to "Be Careful What You Wish For" now at via MetalSucks at THIS LOCATION.
American Aftermath is also hosting the album-opening "Encircled" right HERE.
With Haste On Its Breath will see a six-panel digipak CD and digital release October 7th via Nefarious Industries, the independent label founded by members of MAID MYRIAD, A Fucking Elephant, El Drugstore and more, and the home of a bunch of big, dumb noise. Preorders for the album are available, with several different bundles, all of which include an instant download of "Encircled". Check it out HERE.
MAID MYRIAD's record release show for With Haste On Its Breath is scheduled to take place in Kent, Ohio next Saturday, October 4th, at which the band will perform the entire new album just days before its release on the 7th. Additional live and tour actions from the band will be announced for the coming months shortly.
MAID MYRIAD Live:
10/04/2014 The Kent Stage – Kent, OH *CD RELEASE w/ Simeon Soul Charger [info]
JCK solo:
9/26/2014 Southgate House Revival – Newport, KY w/ Nate Dodge & Andra Taylor [info]
MAID MYRIAD was founded by guitarist, singer, and songwriter, Jeff Klemm (ex-Via Lotus) and drummer Greg Meisenberg (A Fucking Elephant), the duo now joined by bassist Mario Tonathy. Bursting with influences from a gamut of rock subgenres, the band's sound unifies elements of Thursday, Sunny Day Real Estate the late 1990s post-hardcore/emo circuit, massive alternative rock elements of Dredg, later Cave In and the mellowest aspects of the Dillinger Escape Plan's more recent works, creative drive which brings to mind The Mars Volta, A Perfect Circle and Mike Patton, all seamlessly honed and brought to vibrant life with a passionate, dynamic, clean vocal delivery. Recorded in both Akron, Ohio, and Keyport, New Jersey, produced and engineered by guitarist Jeff Klemm at Free Truman Productions, and then mixed and mastered by Kevin Antreassian at Backroom Studios in Rockaway, New Jersey (The Dillinger Escape Plan, Adrenaline Mob, Foxy Shazam, etc.), the artwork and layout for With Haste On Its Breath was handled by Eric Nyffeler at Doe-Eyed (East Of The Wall, A Fucking Elephant).
https://www.facebook.com/maidmyriad
http://maidmyriad.bandcamp.com
https://twitter.com/MaidMyriad
http://www.facebook.com/NefariousIndustries
http://www.nefariousindustries.com
https://twitter.com/NefariousInd