With the release of Imperium, the first new album in over a decade from New York City-based death metal institution, INTERNAL BLEEDING, now less than one week away, the gate keepers at Cvlt Nation are pleased to spew forth the debilitating rumble of the eighth cut, "Placate The Ancients."
Comments bassist Jay Liff of the tune, "'Placate The Ancients' has kind of an old-school INTERNAL BLEEDING vibe to it — I think that's because of how the song flows from one riff to the next. It always reminds me of some of the band's demos from the 1990s. The riff and tempo changes are pretty dramatic in parts, yet they still have that patented IB groove that flows through it all. I think that's the key to this song; the flow."
Get brutal with "Placate The Ancients" at THIS LOCATION.
Produced by the band and Joe Cincotta at Full Force Studio (Suffocation, Dehumanized, Mortal Decay) in Ronkonkoma, New York and engineered by Cincotta and Derek Boyer, Imperium serves as the band's most inexorable and enraged output to date delivering ten sonically pulverizing tracks including a trilogy featuring guest appearances by Suffocation's Terrance Hobbs and Frank Mullen as well as former INTERNAL BLEEDING throat Frank Rini. The Sludgelord hails, "There's a charisma and personality in an album like Imperium and in a band like INTERNAL BLEEDING that is simply absent in so much of the brutal, technical or slamming death metal that's put out there these days…This is an album worth going out of your way to hear," Dead Rhetoric dubs the record, "a massive slab of slamming death metal, but done with some actual intellect," furthering , "time changes, solos? Who knew these could all be accomplished within the slam playbook? Ahh, that's right, these guys are the ones who originally wrote that book," while Angry Metal Guy adds, "It's inspiring to hear one of the bands that pioneered a genre almost a quarter of a century ago stretch it into new and refreshing territories."
In conjunction with the official descent of Imperium, INTERNAL BLEEDING will crumble stages across North America as part of this year's Carnival Of Death gala. Slated to embark on October 3rd, 2014 in New York City, the tour will leave nearly two-dozen cities in ruin, coming to a close on November 3rd, 2014, in Montreal. The band will be joined by with Suffocation, Kataklysm, Jungle Rot and Pyrexia.
Additionally, INTERNAL BLEEDING is currently hosting a "Show Us Your Slam" contest! Simply post a picture of yourself on your FaceBook wall showing off your favorite INTERNAL BLEEDING swag and include the hashtag #SHOWUSYOURSLAM for your chance to win a prize pack including two VIP guest list tickets to a Carnival Of Death tour date of your choice and a music and merch Imperium pack courtesy of Unique Leader Records! Drawing will be held on September 30th, 2014, the day of Imperium's release.
INTERNAL BLEEDING
Carnival Of Death Tour 2014 w/ Suffocation, Kataklysm, Jungle Rot, Pyrexia:
10/03/2014 Gramercy Theatre – New York, NY
10/04/2014 The Webster – Hartford, CT
10/05/2014 Bogie's – Albany, NY
10/06/2014 Oddbody's Music Room – Dayton, OH
10/07/2014 Reggie's Rock Club – Chicago, IL
10/08/2014 Altar Bar – Pittsburgh, PA
10/10/2014 Empire – Springfield, VA
10/11/2014 Tremont Music Hall – Charlotte, NC
10/12/2014 The Orpheum – Tampa, FL
10/15/2014 Scout Bar – Houston, TX
10/16/2014 Dirty Dog – Austin, TX
10/17/2014 Rail Club – Fort Worth, TX
10/18/2014 Tricky Falls – El Paso, TX
10/19/2014 Joe's Grotto – Phoenix, AZ
10/20/2014 Backstage Bar – Las Vegas, NV
10/21/2014 The Whisky – West Hollywood, CA
10/22/2014 DNA Lounge – San Francisco, CA
10/23/2014 Tonic Lounge – Portland, OR
10/24/2014 Studio Seven – Seattle, WA
10/25/2014 Rickshaw Theatre – Vancouver, BC
10/26/2014 The Level – Kelowna, BC
10/27/2014 Starlite Room – Edmonton, AB
10/28/2014 Rock Bottom – Saskatoon, SK
10/29/2014 The Zoo – Winnipeg, MB
10/31/2014 Mine Mill Hall – Sudbury, ON
11/01/2014 The Opera House – Toronto, ON
11/02/2014 Paramount – Rouyn, QC
11/03/2014 Foufounes Electriques – Montreal, QC
Preorders for Imperium including digital, CD, LP and merch packages are currently available HERE.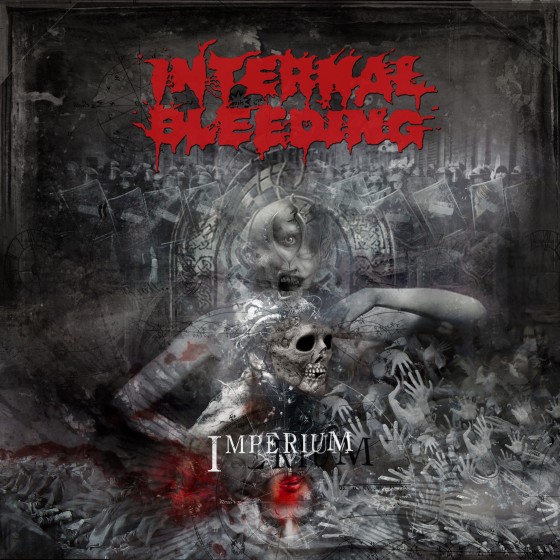 http://www.facebook.com/internalbleeding
http://www.Internal-Bleeding.com
http://www.uniqueleader.com
http://www.facebook.com/UniqueLeaderRecords
http://www.facebook.com/CarnivalOfDeathTour