Standard Model Catastrophes is both a look back and a glimpse of what lies ahead for multimedia artist, Josh Graham, notorious in the metal community for fronting Brooklyn-based sound alchemists A Storm Of Light as well as his tenure conjuring visuals for Neurosis. Graham is now serving as Soundgarden's creative director – a position which has allowed the scope of his work to increase exponentially.
As part of the First Thursday Art Walks in DUMBO (Brooklyn), the Made In NY Media Center by Independent Filmmaker Project will host Josh Graham: Standard Model Catastrophes. On display will be works from the past decade, including concert visuals, music videos, and video art, as well as his most recent visuals for Soundgarden's live performances. Featured works include concert visuals from Soundgarden, Jay-Z, Drake, Neurosis, and A Storm Of Light, as well as music videos from The Dillinger Escape Plan, Eyehategod, Isis, and more.
Standard Model Catastrophes will also see the world premiere of Watchmaker, a brand new installation custom-designed for the Made In NY Media Center's 360-degree projection space. Elaborates Graham: "Watchmaker focuses on the current rising escalation between the US/Nato and Russia, focusing specifically on the thousands of nuclear warheads that are currently armed and ready to launch." The installation is set to the avant-garde electronica song, "Still Life", by Gazelle Twin (aka British composer, producer and musician Elizabeth Bernholz).
Opening Reception: Thursday, December 4th, 2014 6-9pm EST.
Location: Made In NY Media Center, 30 John Street, Brooklyn, NY 11201
I. Retrospective – 27-screen video installation, 2014: This selection of work was created over the last ten years and focuses on concert visuals created for Soundgarden, Jay Z, Neurosis, Drake, and A Storm Of Light. Despite the different musical genres, much of the content relates to the current state of our planet and dives into issues of environmentalism, warfare, government corruption, and the human condition. While not always necessary, approaching visuals in a topical manner can bring more weight, depth, and dynamic to the concert experience.
II. Watchmaker – 360-degree/120-foot video installation, 2014: Synchronized and edited to "Still Life" by Gazelle Twin. Additional ambient soundscape by Josh Graham. The question is being asked all over the world: Are we entering a new Cold War? Some say we are already in the midst of it. Others are more optimistic. Regardless, the global deterioration of peace is impossible to deny. While the idea of a full-scale nuclear war seems impossibly ridiculous, the number of nuclear weapons around the world are both astounding and terrifying. Will mankind destroy itself? Maybe. Maybe not. In the meantime, Watchmaker focuses on the strange and surreal beauty of these weapons, and what the last "minutes to midnight" might look like.
About Josh Graham:
Graham was born in Denver (1974), raised in Phoenix, has lived in San Francisco and Los Angeles, and currently resides in New York. Graham's work – up to and including musical set pieces with any number of his earth-moving bands, from his past with Red Sparowes / Battle Of Mice to his present with A Storm of Light – addresses the inescapable slide of time in passages significant and singular where the illusion of permanence and its ruin are nothing if not inevitable. Graham pursues an obsession with light, dark, shadow space, natural and mad-made forms and his work presages a near eschatological understanding of life cycle and being. We're left with an expansive body of work that is, in micro and macro, about nothing if not the emphasis on form, structure, discipline and their eventual loss. In the music industry, Graham has created work for: Soundgarden, Jay Z, Foo Fighters, Drake, Neurosis, The Dillinger Escape Plan, Shrinebuilder, Jesu, Nadja, Chris Cornell, Underoath, Sleep, Florence & the Machine, Moon Taxi, Red Sparowes, A Storm of Light, ISIS, Sunn, Mastodon, Saves the Day, Jurassic 5, No Doubt, Madonna, and Scion's music division. In the motion design world, he has worked with: Showtime, EA Games, Discovery, Willo Perron, Time Warner, A&E, Nike, TNT, IBM, ABC, PBS, NBC Sports, Zoe Cassavetes, Wieden Kennedy Tokyo, Girl Skateboards, Three Ring Circus, Imaginary Forces, Shine, Spark, Transistor, Digital Kitchen, Blur, Brand New School, Logan, Buck, Showtime, National TV, Thornberg and Forrester, Concrete Pictures, Loyal Kaspar, and Moment Factory.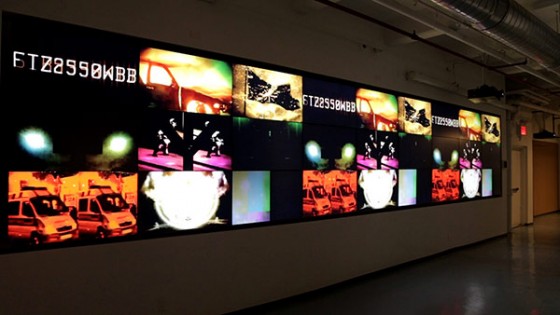 http://nymediacenter.com
http://suspendedinlight.com
http://astormoflight.com