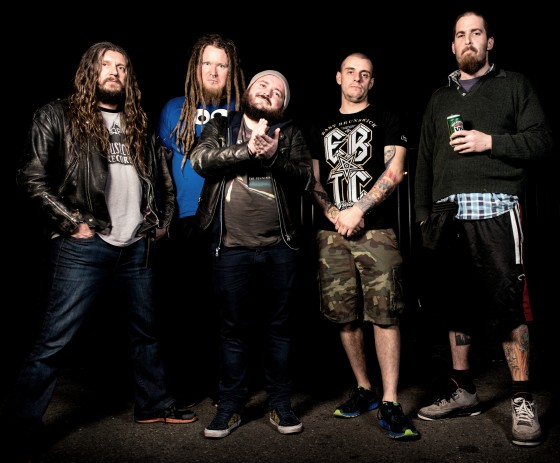 Australian thrash grind misfits, KING PARROT, will return to the road later this week for a final run of live assaults on North America supporting Down, Orange Goblin, and Bl'ast. Set to commence November 29th in New Orleans, the band will steamroll their way through nearly two dozen cities, with the final performance taking place December 21st in Houston.
Dispatches the band: "KING PARROT is honored to be heading the round with some of our all-time favorite bands and musicians in Down, Orange Goblin and Bl'ast this December in North America. This is our fourth tour of the region this year and it's been an incredible journey for us in 2014. To cap it off on this tour, with these bands, is amazing and beyond what we'd ever envisioned when we started out just a few years ago. As an Australian band cracking into the scene over here, the odds are always stacked against you, but we are keen and dedicated to working hard and it's nice to see some rewards coming about. We have our new album written and we're looking forward to recording and releasing it in 2015. It's going to be a big step forward for the band and really shows how much work we've been putting in over the last few years. We're hoping that we can continue to tour steadily and build King Parrot into a regular touring band here. We're confident North America will be seeing and hearing plenty more from us in the next year or two, and if you haven't seen us yet, get down early to one of these shows! It's gonna be wild!"
KING PARROT continues to tour in support of their Bite Your Head Off full-length released via Candlelight Records last year. Championed for its "ceaseless brutality," by Ghost Cult and dubbed "aggressive as fuck," by Headbang Or GTFO, the record was produced by Jason Fuller (Blood Duster, Dern Rutlidge) and Adam Calaitzis (Damaged, Abramelin) and manages to capture the raw intensity of their furious live assault, defying genres with a cross section attack of thrash, grind, punk and hardcore. Watch fan-filmed footage of the band dismantling this year's Housecore Horror Film Fest below.
KING PARROT w/ Down, Orange Goblin, Bl'ast:
11/29/2014 Southport Music Hall – New Orleans, LA *Down, KING PARROT only
11/30/2014 The Lost Well – Austin, TX *KING PARROT only
12/01/2014 Aztec Theater – San Antonio, TX
12/02/0214 Fly Catcher – Tucson, AZ *KING PARROT only
12/03/2014 House of Blues – Las Vegas, NV
12/04/2014 Epek Print – Salinas CA *KING PARROT only
12/05/2014 Riverside Municipal Auditorium – Riverside, CA
12/06/2014 Wiltern Theatre – Los Angeles, CA
12/07/2014 Ace of Spades – Sacramento, CA
12/08/2014 The Fillmore – San Francisco, CA
12/09/2014 Tonic Lounge – Portland OR * KING PARROT, Author & Punisher only
12/10/2014 Showbox at the Market – Seattle, WA
12/11/2014 Commodore Ballroom – Vancouver, BC
12/13/2014 Union Hall – Edmonton, AB
12/14/2014 Flames Central – Calgary, AB
12/15/2014 Knitting Factory – Spokane, WA
12/16/2014 Area 51 – Salt Lake City, UT *KING PARROT, Wolvhammer only
12/17/2014 Summit Music Hall – Denver, CO
12/18/2014 The Riot Room – Kansas City, MO *Orange Goblin, KING PARROT only
12/19/2014 Diamond Ballroom – Oklahoma City, OK
12/20/2014 Gas Monkey Live – Dallas, TX
12/21/2014 Warehouse Live – Houston, TX
"A nice little cross-up of musical ability and amusing visuals (the videos for 'Dead End' and 'Shit On The Liver' are quality viewing), KING PARROT should be able to find their place in a relatively stale and average grind scene. And frankly, thaty's what grind needs: A shot in the arm, a mix-up, and some well-intended goofiness… this should do it. 8.5/10″ – Dead Rhetoric
"Bite Your Head Off has a punk, DIY ethic running through it as well as a dark, black humor… raucous, uncouth, rude, scatological and completely compelling." – This Is Not A Scene
"Every track on Bite Your Head Off is a brutal showing of absolute speed, power and destruction…" – The Metalithic
"I've never felt so personally threatened by a record before" – Hysteria Magazine
"…a must for any fans of Australian metal or extreme metal 4/5" – Sputnik Music
"…a calculated piece of extreme art, with strong musicianship and a production job skilfully left just on the right side of raw and dirty…" – Beat.com
http://www.facebook.com/kingparrotband
KING PARROT on YouTube