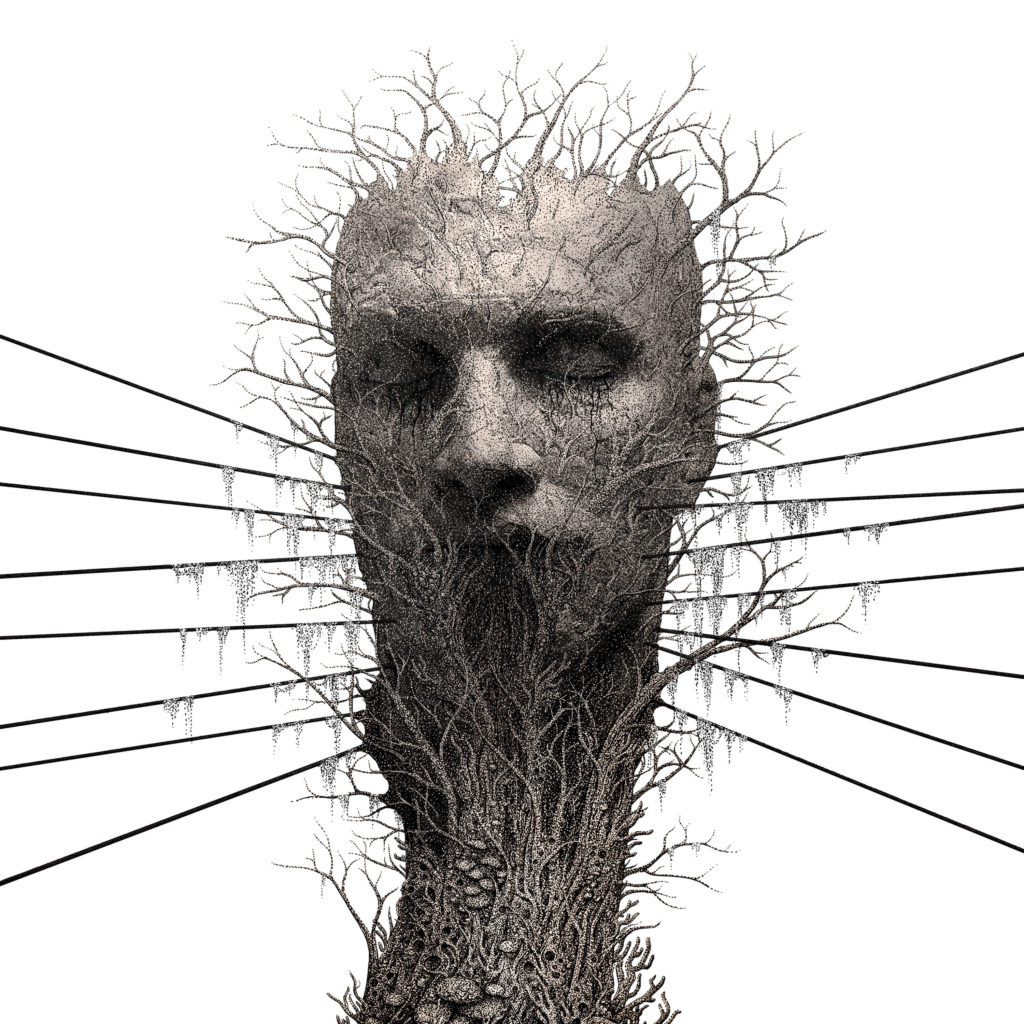 Nefarious Industries is preparing to deploy a split 10″ EP from Southeastern US outfits MACHINIST! and DEAD HAND in March. As the details and preorders for Machinist! // Dead Hand are issued, Decibel Magazine is hosting an exclusive premiere of an official video for the MACHINIST! track, "Bask In The White Light."
The MACHINIST! material was recorded, mixed, and mastered by Lee Dyess at Earthsound Studio in Valdosta, Georgia, and the DEAD HAND side recorded, mixed, and mastered by Matt Washburn at LedBelly Sound Studio in Dawsonville, Georgia. The cover art was created by Connor Anderson (Searing Limb), and the album completed with a photo collage by Clifton Carr and layout by Greg Meisenberg.
The official music video for MACHINIST!'s "Bask In The White Light" was directed/filmed by the band's bassist Matt Zagorski. With its release, vocalist Jeff Hill states, "I wrote this song after someone complained about a music video we released where a guy stabs himself in the stomach and spits up blood. It's not overtly gory, but someone online was upset by it. It really messed me up because it never crossed my mind that anything in this spooky voodoo magic storyline would evoke that response. So, I thought a lot about art and censorship and what an artist owes the world and how outside pressure can affect art. I wrote 'Bask In The White Light' about not wanting to live in a cookie cutter world with cookie cutter art. I think it's one of the strongest things we've ever created."
On doing a split with DEAD HAND he offers, "Our bands have been playing together for years. Members of our bands have been playing shows together for over a decade. DEAD HAND is one of the most if not the most crushing bands in South Georgia. There's a level of suffering and misanthropy that pours out of this band and we couldn't be happier to be releasing this split with them."
Decibel writes with the "Bask In The White Light" premiere, "On the first single, MACHINIST! deliver a straightforward wave of anger and angst in musical form; every instrument sounds like it was produced for maximum heaviness and vocalist Jeff Hill amplifies that with an emotive performance."
View MACHINIST!'s "Bask In The White Light" video first only through Decibel Magazine RIGHT HERE.
Machinist! // Dead Hand will see release on 10″ vinyl and all digital platforms on March 19th. Find preorders at the Nefarious Industries landing page HERE.
Watch for a new video from DEAD HAND and more on the split to see release over the coming weeks.
Machinist! // Dead Hand Track List:
A1 MACHINIST! – Bask in the White Light
A2 MACHINIST! – The Nail
B1 DEAD HAND – Muirgeilt
MACHINIST! photo by Matt Zagorski
MACHINIST! is an explosively unforgiving dynamic heavy band hailing from across the Southeastern United States. Known for chaotic and cathartic live sets, the band has been bringing their madness to venues all over the continent for almost a decade. The band first burst onto the scene in 2013 with back-to-back 7″ EPs via British based Speedowax records, following up in 2015 with Pronegative, their debut full-length on Eulogy Recordings. As so many bands have fallen along the wayside, MACHINIST! has only gotten older and colder, fully embodying the DIY work ethic that initially catapulted them onto the national scene. Their latest full-length Closer To Death, released in 2018 through Innerstrength Records, contains the heaviest tracks the band has recorded. Until now.
MACHINIST! returns with plans to top their prior effort, teaming up with Georgia doom monsters DEAD HAND for their crushing split release. The limited vinyl release further explores the group's continued melding of heavy genres, offering a brand-new song backed up with a remastered version of one of the band's most popular songs, "The Nail," bringing new life to the classic crusher. Light a candle and get ready to get numb.
MACHINIST!:
Jeff Hill – vocals
Jeremy McGuire – drums
Matt Marshall – guitar
Matt Zagorski – bass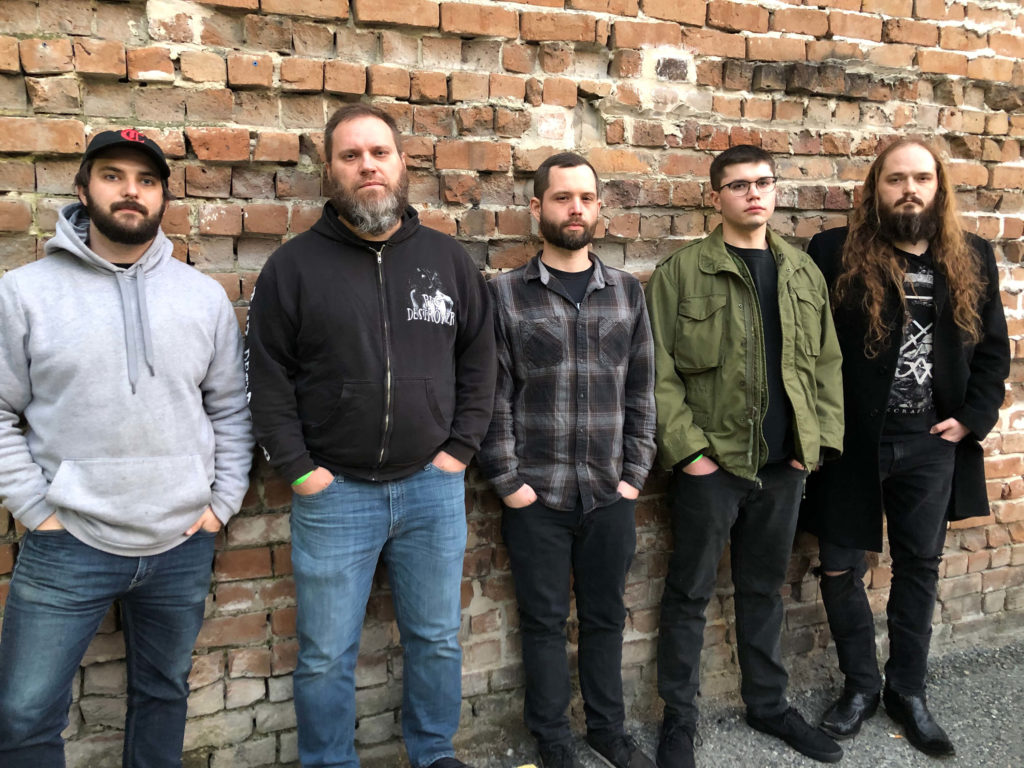 DEAD HAND photo by Dakota Williams
Formed in 2012 near Macon, Georgia, DEAD HAND hit the ground running by teaming up for a split 7″ with Philly shredders Repellers in 2014 on Divine Mother Recordings. Mastered by Dan Randall of Mammoth Sound (Ash Borer, Noothgrush, Unearthly Trance), the split's first pressing sold out quickly and garnered stellar reviews including a nod of approval from Maximum Rocknroll as, "an interesting slab of sludge with some sorta Neurosis-y breaks and riff repetitions." An EP followed in July 2014 and regional touring filled up the remainder of the year.
In June 2015, DEAD HAND released their first full-length, Storm Of Demiurge, on Divine Mother Recordings in the USA and Third I Rex in Europe. The Burning Beard included the album on their "Top 20 of 2015" saying, "It's a smooth and well-constructed romp into the subterranean sludge which forms most of the album, and with it, DEAD HAND quickly establish their fondness for unearthing new facets of each song with a natural-feeling flow to the changes." The group subsequently entered LedBelly Sound Studio with Matt Washburn (Mastodon, Norma Jean, Leechmilk) for a split 7″ with Miami sludge trio Shroud Eater on Southern Druid Records in 2016.
A second full-length, Reborn Of Dead Light, was released in 2018 following the departure of drummer J. R. Morrison and co-founder guitarist Matt Mills. Craig Harper filled the drumming position and the band continued as a four-piece. The Burning Beard once again lauded the group's efforts: "Now they're back with their second album, and that genre-bending approach has even more refinement to its handling, with the band melding those two main styles while swirling in a number of others, and keeping the pacing, energy, momentum, and technical aspects all handled with excellent care."
After a successful tour, the band hit LedBelly Sound Studio once again with Matt Washburn to record a track for the new split with fellow Georgia buds MACHINIST!, now on the verge of release via Nefarious Industries.
DEAD HAND:
Clifton Carr – guitar/vocals
Shannon Harris – synth/vocals
Stephen Williams – guitar/vocals
Carson Pace – drums
Andrew Seth – bass
https://machinistga.bandcamp.com
https://www.facebook.com/machinistga
https://www.instagram.com/machinistga
https://www.instagram.com/machinistga
https://twitter.com/machinistga
http://facebook.com/deadhandcollective
http://deadhandcollective.bandcamp.com
https://www.instagram.com/deadhanddoom
http://deadhandcollective.blogspot.com