Earsplit PR is incredibly proud to join forces with Chicago's infamous murder metal trio MACABRE, as the fiends prepare to eviscerate the public with their first album in eight long years!
Recorded over the course of the band's 25th anniversary, the highly anticipated 14-track platter of splatter Grim Scary Tales presents the classic MACABRE style fans have come to bloodthirstily expect, cleverly combining nursery rhyme sing-along quirkiness with ultra-tight, high-speed, gore/grind/death ingenuity. Their first full length since 2003's blistering Murder Metal, this time MACABRE have cleverly devised a "story book of murder," as Grim Scary Tales traces some of the most infamous serial killers and mass murderers. From the beginning or recorded mass killers, the album progresses through the annals of the world's creepiest ghouls, including Locusta, Vlad Tepes, Gilles Garnier, Elizabeth Bathory, Mary Ann Cotton, the Bender Family, Lizzie Borden, Karl Grossmann and more. Recorded and mixed at The Ensomberoom by Geoff Montgomery (The Chasm, Coffinworm, Shub Niggurath, Couldron), this crushing album also bears original artwork and layout crafted by Scott Jackson of Monsterman Graphics and Rock N Roll Comics notoriety, perfectly visualizing the album's gory nature.
Today, Noisecreep.com is hosting a premiere of the track "The Big Bad Wolf" from Grim Scary Tales. Check it out here.
Keeping a band together for 25 years is a monumental thing for any group of musicians, but to keep a trio together without a lineup change in a quarter of a century as MACABRE have is nearly unheard of. Yet as time goes on, MACABRE remain in their initial lineup, as always consisting of Corporate Death (lead vocals, guitar), Dennis The Menace (drums) and Nefarious (bass, vocals).
To be released on the band's own Decomposed Records as always, Grim Scary Tales is directly licensed for North American release on February 8th via Willowtip Records, and in Europe January 31st on Hammerheart Records.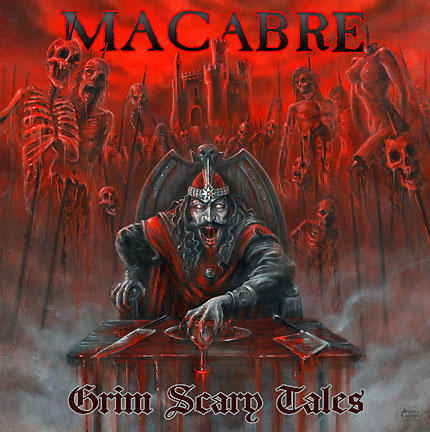 Grim Scary Tales Track Listing:
1. Locusta
2. Nero's Inferno
3. The Black Knight
4. Dracula
5. The Big Bad Wolf
6. Countess Bathory (Venom cover)
7. Burke and Hare
8. Mary Ann
9. The Bloody Benders
10. Lizzie Borden
11. The Ripper Tramp From France
12. Bella the Butcher
13. The Kiss of Death
14. The Sweet Tender Meat Vendor