Finnish hard rock monsters LORDI gives listeners the creeps today with a new digital single, "Thing In The Cage," from the band's upcoming Screem Writers Guild full-length. Providing hard rocking "spooktainment," the song is accompanied by a lyric video which was again edited by mastermind Mr. Lordi himself.
Mr. Lordi comments, "This song was inspired by the old side shows, or freak shows if you will. Musically, with a different arrangement, this could have been a disco song and I think it still is one in its core, just the production is in the hard rock vein. But the bass line definitely keeps the disco vibe vivid here. As for the lyric video, we've never shown too much of making our costumes and masks, so it's a little peek behind the scenes… This video still doesn't show that much, but at least it might work as a little teaser to reveal how we get to be this pretty."
Watch LORDI's "Thing In The Cage" video HERE. Stream/purchase the track HERE.
View LORDI's previously released video for "Lucyfer Prime Evil" at THIS LOCATION.
LORDI will unleash Screem Writers Guild on March 31st via Atomic Fire Records. Its title — a "LORDIfied" play on words — is a reference to the "Screen Writers Guild," an association of Hollywood screenplay writers (1920s to 1950s), yet there is no doubt that LORDI's musical version is much louder and fiercer. "The record itself isn't a real concept album, but it obviously plays with the overall cinematic theme," says Mr. Lordi.
Screem Writers Guild was produced by Mr. Lordi with Mana and Janne Halmkrona as executive producers. Ilkka Herkman took care of mixing and Pauli Saastamoinen mastered the record. The artwork was also designed by Mr. Lordi himself who has made a name as director for the band's vision since the early '90s.
Screem Writers Guild will be available in the following formats:
Limited Collector's Box Set – Includes alternative cover artwork, CD-digipak, 2xLP in gatefold, exclusive Live At Masters Of Rock DVD featuring five live songs, five band member portrait art prints plus LORDI notebook.
The box set will be available in three color variants:
– Red/Black Splatter vinyl @ Atomic Fire Records Mailorder
– Green Marbled vinyl @ EMP
– Purple/Black Marbled vinyl @ Atomic Fire Records US Mailorder, Nuclear Blast, and Levykauppa Äx
Other configurations:
– CD-digipak
– 2xLP gatefold (Transparent/Blue Marbled)
– 2xLP gatefold (Red/Black Splatter; only available in Europe)
– 2xLP gatefold (Green Marbled; only available @ EMP)
– 2xLP gatefold (Purple/Black Marbled; only available @ Atomic Fire Records US Mailorder, Nuclear Blast, and Levykauppa Äx)
– digital
Preorder the album, pre-save it on your favorite DSP, or preorder it digitally to receive "Thing In The Cage" and "Lucyfer Prime Evil" immediately at THIS LOCATION.  
Don't forget to subscribe to Atomic Fire Records on YouTube HERE. Listen to "Thing In The Cage" as well as other new tracks in the AFR New Releases playlist on Spotify HERE.
LORDI will join Sabaton and Babymetal for a European tour this Spring with more performances to be announced soon. See all confirmed dates below.
LORDI:
3/31/2023 Rock 'N Malta @ Aria Complex – San Gwann, MT
w/ Sabaton, Babymetal:
4/14/2023 First Direct Arena – Leeds, UK
4/15/2023 Arena Wembley – London, UK
4/16/2023 Motorpoint Arena – Cardiff, UK
4/18/2023 OVO Hydro – Glasgow, UK
4/21/2023 Zénith (La Villette) – Paris, FR *Sold Out*
4/22/2023 Festhalle – Frankfurt, DE
4/24/2023 Barclays Arena – Hamburg, DR
4/25/2023 Rockhal – Esch-sur-Alzette, LU
4/28/2023 Avicii Arena – Stockholm, SE
4/29/2023 Spektrum – Oslo, NO *Sold Out*
4/30/2023 Royal Arena – Copenhagen, DK
5/01/2023 3-Majówka – Wroclaw,PL *LORDI only
5/02/2023 ZAG Arena – Hanover, DE
5/03/2023 Ziggo Dome – Amsterdam, NL
5/05/2023 Mercedes-Benz Arena – Berlin, DE
5/06/2023 Quarterback Immobilien Arena – Leipzig, DE
5/07/2023 Stadthalle – Vienna, AT
5/09/2023 Atlas Arena – Łódź, PL
5/10/2023 Ostravar Aréna – Ostrava, CZ
5/12/2023 Lanxess Arena – Cologne, DE
5/13/2023 Sportpaleis – Antwerp, BE
5/15/2023 Olympiahalle – Munich, DE
5/18/2023 Saku Suurhall – Tallinn, EE
5/19/2023 Helsingin Jäähalli – Helsinki, FI
5/20/2023 Kuopio-halli – Kuopio, FI
End Tour
6/08/2023 Rockfest – Hyvinkää, FI *New*
6/23-25/2023 Rock Imperium Festival – Cartagena, ES
7/29/2023 Rock Of Ages – Rottenburg-Seebronn, DE *New*
10/14/2023 Wildstyle & Tattoo @ Stadthalle – Kapfenberg, AT
10/21/2023 Wildstyle & Tattoo @ Tabakfabrik – Linz, AT
10/28/2023 Wildstyle & Tattoo @ Messezentrum – Salzburg, AT
Founded in 1992 by singer, songwriter, and designer Mr. Lordi, LORDI are one of the major Finnish rock/heavy metal acts of our time. Originally rooted in Rovaniemi (Northern Lapland, Finland), the band achieved their international breakthrough after winning the Eurovision Song Contest with their hit song "Hard Rock Hallelujah" in 2006.
Since then, the unconventional troop has rocked their way into the spotlight of Europe with charm, unforgettable tunes, and elaborate monster costumes, and have become an integral part of the lineups of globally recognized festivals such as Wacken Open Air (DE) and Masters of Rock (CZ) among others.
LORDI:
Mr. Lordi – vocals
Kone – guitars
Hiisi – bass
Hella – keyboard
Mana – drums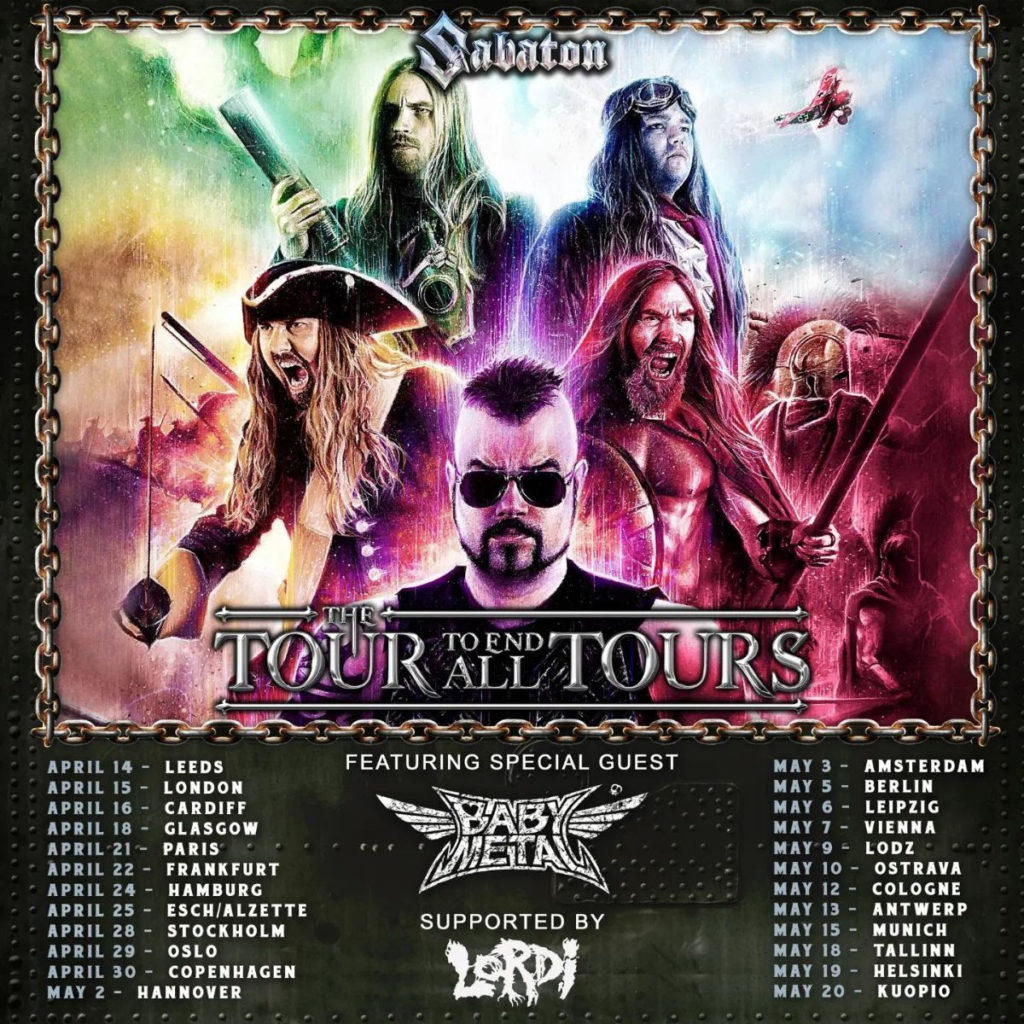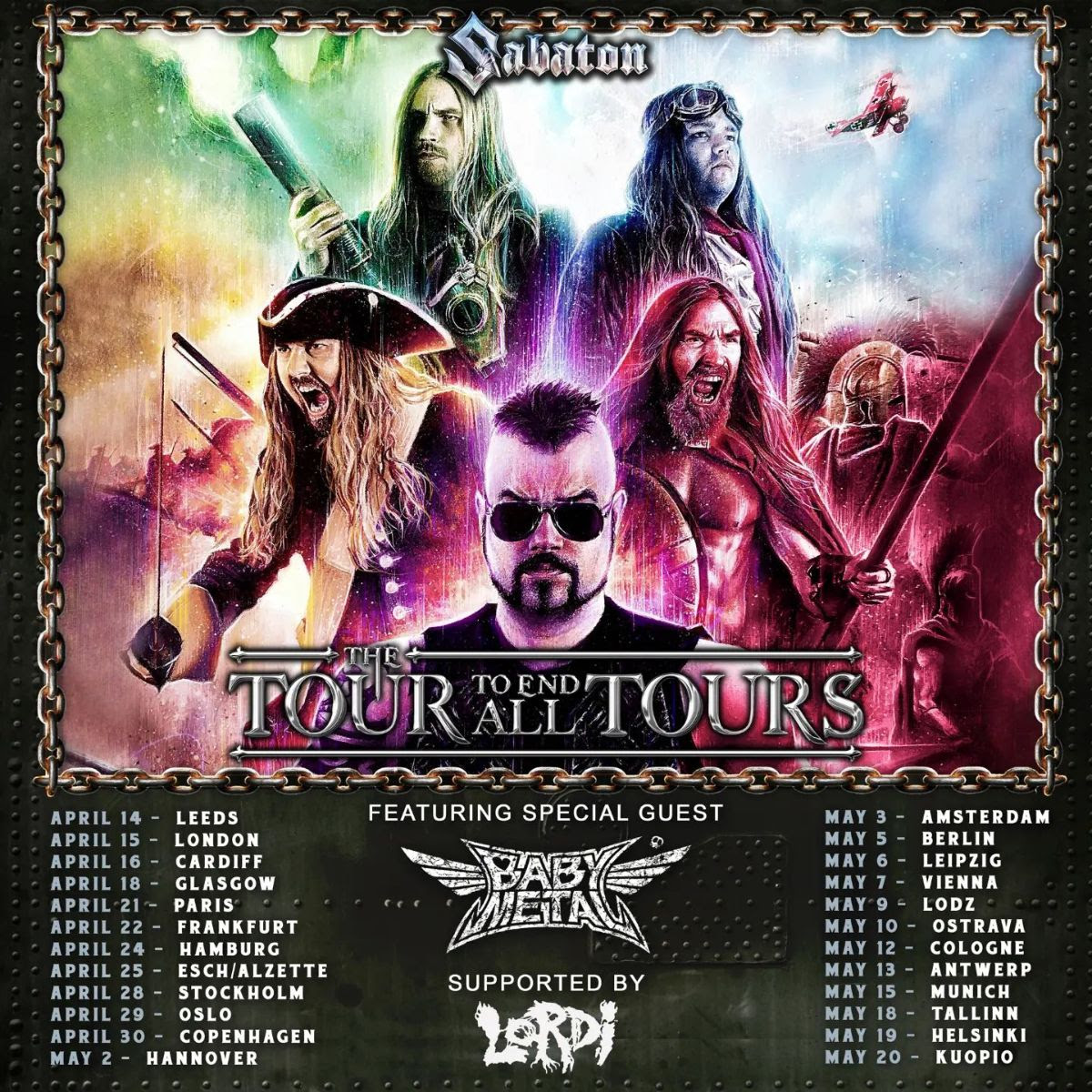 http://www.lordi.fi
http://www.facebook.com/lordiofficial
http://www.instagram.com/lordiofficial
http://www.twitter.com/lordiofficial
http://www.youtube.com/lordiofficial
http://www.atomicfire-records.com
http://www.facebook.com/atomicfirerecords
http://www.instagram.com/atomicfirerecords
http://www.twitter.com/atomicfirerec