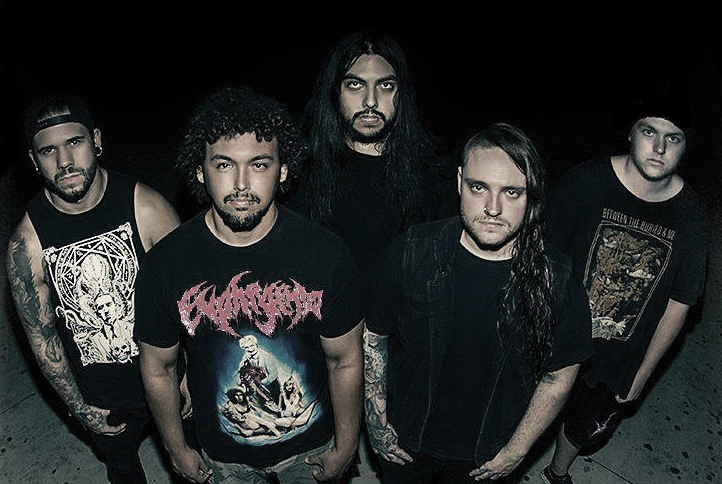 "'Nexus Of Hate' is a concept of a dimension where your darkest fears become reality; a vision of hell personalized to the individual trapped in the Nexus." – LORD OF WAR
Atmospheric death metal unit, LORD OF WAR, today unveils the vicious sounds of "Nexus Of Hate" in the form of a lyric video. The track, which features Nick Arthur of Molotov Solution, comes off the band's impending new full-length entitled Suffer. Set for release July 8th, 2016 via Unique Leader Records, the record was engineered and mixed by Daniel Castleman and Kelly Cairns (Killswitch Engage, As I Lay Dying, Carnifex, Winds Of Plague, Molotov Solution) and mastered by Miah Lajeunesse (Whitechapel, Aegaeon).
Elaborates LORD OF WAR of the track, "'Nexus Of Hate' is actually one of the first songs that came together for the album. Originally we were planning on making an EP which included 'Nexus…' but the label was more interested in us doing a full length. Once we were steered into that direction it changed a lot on how the band wrote music and ultimately how Suffer as a whole would be created. One of the really cool things about this track is that it features Nick Arthur from Molotov Solution. Our recording engineer, Kelly Cairns, previously recorded Molotov's The Harbinger'and that's how things came together with Nick. We were really excited about it because we loved Nick's vocal style and we were already big fans of the band. At the time 'Nexus….' was written, it was literally just [guitarist] Dan [Richardson] and [guitarist] Alex [Walshaw] in the band. It was a really rough time for us because we weren't doing any touring. We had a falling out with our other band members and it just seemed like everything was working against us. We made a joke about how we felt we were in a 'Nexus Of Hate' and when we said that we both looked at each other and said, 'that's a song title!' The writing process for this song solidified a lot of things on how the rest of the album would be written. 'Nexus Of Hate' is a concept of a dimension where your darkest fears become reality; a vision of hell personalized to the individual trapped in the Nexus. Everything you love, know and care about is brutally and methodically torn apart. This stage is set to torture, demoralize and warp the mind of the individual that's trapped and push them past the point of known suffering and insanity. The concept originated from the film Event Horizon and other sci-fi horror films. Scientists have theories that there could be an infinite number of alternate realities and parallel universes. Who's to say something like the 'Nexus Of Hate' doesn't exist…"
Visit the "Nexus Of Hate" below:
Preorder bundles for Suffer are available HERE.
LORD OF WAR's Suffer drags its listeners into a dark sonic realm where elements of science fiction, horror, and sheer unbridled brutality collide. Priding themselves on keeping an expansive repertoire and a "something for everyone" ethos, Suffer delivers over forty-five minutes of unearthly aggression, seamlessly intertwining engaging technicality, relentless viciousness, and deadly precision.
LORD OF WAR has been inflicting its unique brand of thematically driven death metal on the world since 2011. Coming from their hometown of San Diego, California, the band draws inspiration from all across the world's extreme metal spectrum. Always maintaining an uncompromising level of dedication to musicianship, LORD OF WAR constantly pushes their collective skill sets to the next level in order to deliver increasingly imaginative aggression to their fan base. The world took notice of their pervasive efforts after the band had landed shows and small tours with larger national touring acts, on their own. In the Fall of 2011, the band announced signing an album deal with Unique Leader Records, and in January 2012 released their debut album Celestial Pestilence.
http://www.facebook.com/lordofwarmetal
http://www.twitter.com/lordofwarmetal
http://www.youtube.com/user/lordofwartv
http://www.uniqueleader.com
http://www.facebook.com/UniqueLeaderRecords
http://www.uniqueleaderrecords.bandcamp.com