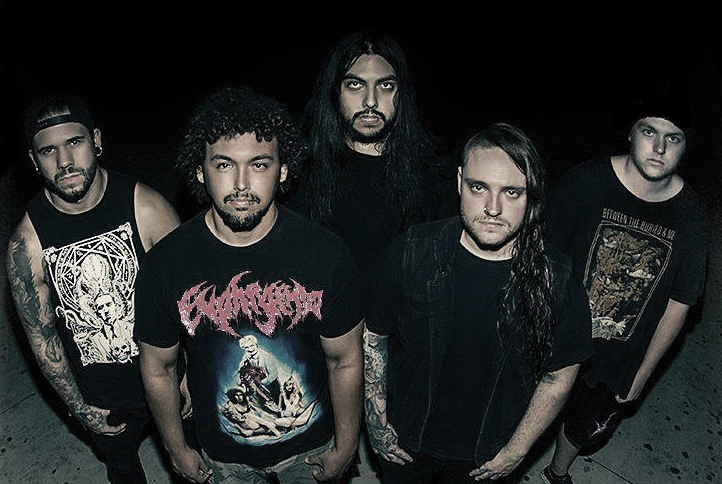 Atmospheric death metal unit, LORD OF WAR, will release its highly-anticipated second full-length on July 8th, 2016 via Unique Leader Records. The eleven track album, entitled Suffer, was engineered and mixed by Daniel Castleman and Kelly Cairns (Killswitch Engage, As I Lay Dying, Carnifex, Winds Of Plague, Molotov Solution) and mastered by Miah Lajeunesse (Whitechapel, Aegaeon).
LORD OF WAR's Suffer drags its listeners into a dark sonic realm where elements of science fiction, horror, and sheer unbridled brutality collide. Priding themselves on keeping an expansive repertoire and a "something for everyone" ethos, Suffer delivers over forty-five minutes of unearthly aggression, seamlessly intertwining engaging technicality, relentless viciousness, and deadly precision. Suffer features a guest vocal appearance by Nick Arthur from Molotov Solution, a revisit of their single "Hamunaptra" from their debut album Celestial Pestilence, and cover art by Colin Marks (Whitechapel, Psycroptic, Sylosis, Origin, Suicide Silence, All Shall Perish et al).
Suffer Track Listing:
Age Of Heresy
Nexus Of Hate (Featuring Nick Arthur)
Embryo
Suffer
Behold The Harvest
Manufactured Existence
Skin
Carbon Based Genocide
Hamunaptra
Drowning
Killing Must Feel Good To God
LORD OF WAR has been inflicting its unique brand of thematically driven death metal on the world since 2011. Coming from their hometown of San Diego, California, the band draws inspiration from all across the world's extreme metal spectrum. Always maintaining an uncompromising level of dedication to musicianship, LORD OF WAR constantly pushes their collective skill sets to the next level in order to deliver increasingly imaginative aggression to their fan base. The world took notice of their pervasive efforts after the band had landed shows and small tours with larger national touring acts, on their own. In the Fall of 2011, the band announced signing an album deal with Unique Leader Records, and in January 2012 released their debut album Celestial Pestilence.
LORD OF WAR is:
Alex Walshaw – Guitar
Daniel Richardson – Guitar
Andrew Rodriguez – Vocals
Wesley Van Hook – Bass
Josh Null – Drums
http://www.facebook.com/lordofwarmetal
http://www.twitter.com/lordofwarmetal
http://www.youtube.com/user/lordofwartv
http://www.uniqueleader.com
http://www.facebook.com/UniqueLeaderRecords
http://www.uniqueleaderrecords.bandcamp.com