[photo by Jane Pags]
Philly's diehard tour soldiers, DIE CHOKING, take their blazing grind back out the latest run of seemingly non-stop touring in support of their III LP this week.
Beginning this Thursday, May 12th, the latest mini-tour will see the DIE CHOKING trio consecutively leveling Providence, Boston, Portland, and Syracuse through the 15th, paired with NYC avant death metal outfit, Pyrrhon, on all but the final show. Later this month will see the band performing with the likes of Rotten Sound, Ramming Speed, Full Of Hell, and others, followed by Earslaughter Fest Vol 1, Blood Rust II Fest, Full Terror Assault Fest, Rotten Fest, and much more through the rest of the year.
A video for the track "Dead Figurehead" will be released alongside additional tour dates and more in the coming days. DIE CHOKING is also currently writing material for the follow-up to III which will soon be slated for recording later in the year.
DIE CHOKING's III is available on limited edition colored wax via The Compound Recs, and on CD through The Compound and Selfmadegod Records available HERE, and digitally via most providers including Bandcamp, iTunes, Amazon, and Google Play.
DIE CHOKING Tour Dates:
5/12/2016 The Funky Jungle – Providence, RI w/ Pyrrhon
5/13/2016 Obrien's – Boston, MA w/ Pyrrhon
5/14/2016 Geno's Rock Club – Portland, ME w/ Pyrrhon
5/15/2016 – Westcott Community Center – Syracuse, NY
5/24/2016 The Meatlocker – Monclair, NJ w/ Full Of Hell, Organ Dealer, Sunrot
5/26/2016 Boot n Saddle – Philadelphia, PA w/ Rotten Sound, Ramming Speed
6/03/2016 Distant Castle – Worcester, MA w/ Eaten
6/04/2016 Katacombes – Montreal, QC @ Earslaughter Fest w/ Birdflesh, Malignant Tumor, more [info]
6/05/2016 TBA – Binghamton, NY
7/08-10/2016 Tiny Boat Art Space in Asheville, NC@ Blood Rust II Fest w/ Torch Runner, Prisoner, more
8/25-27/2016 Full Terror Assault Fest – Cave-In-Rock, IL w/ Rotten Sound, Dying Fetus, Cephalic Carnage
9/02-04/2016 Rotten Fest – Tallahassee, FL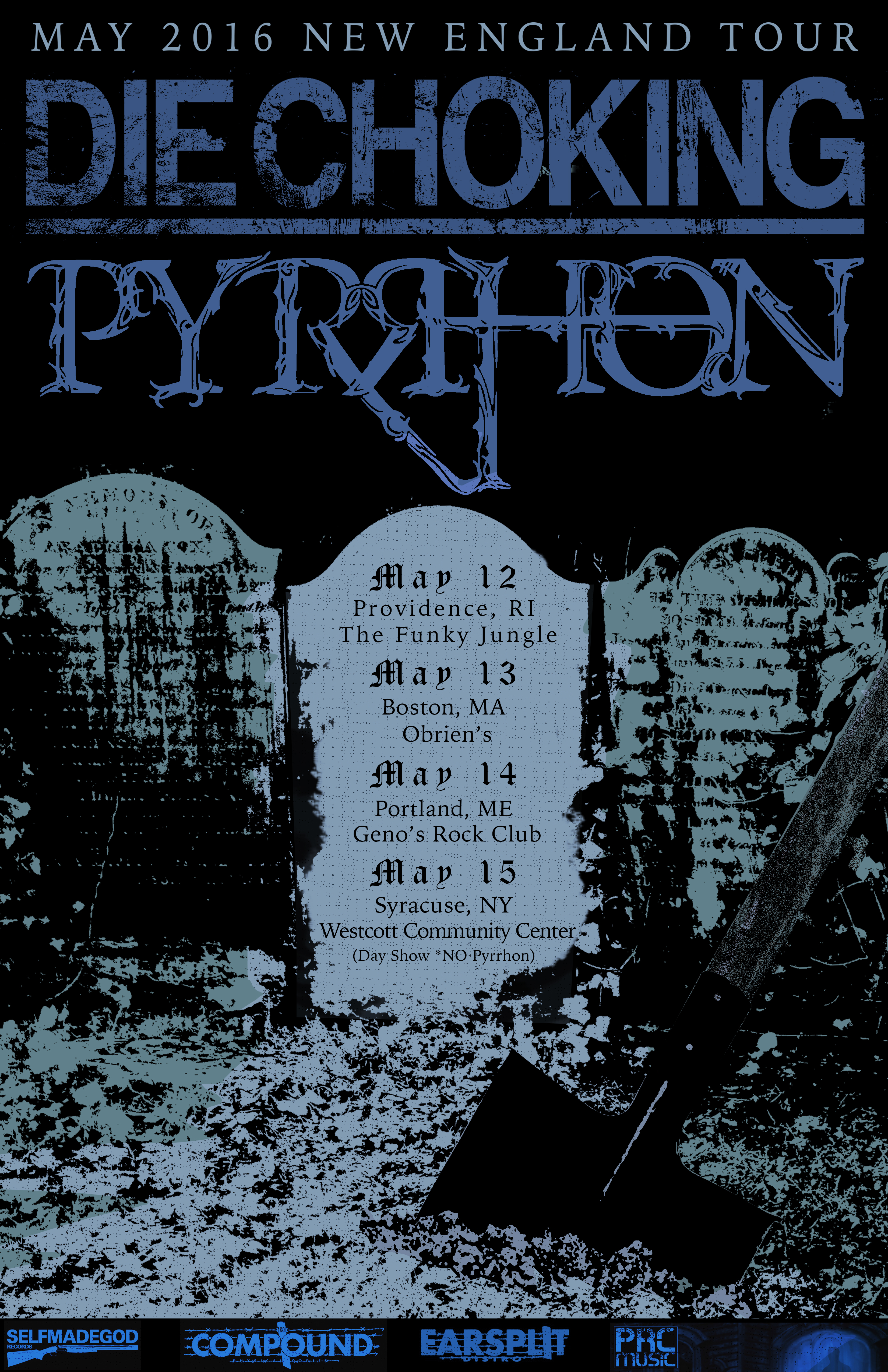 http://www.diechoking.com
http://www.facebook.com/diechoking
http://www.diechoking.bandcamp.com
http://www.facebook.com/TheCompoundRecs
http://www.thecompoundrecs.com
http://www.earsplitdistro.com
http://www.thecompound.bandcamp.com