[photo by Kyle Camarillo]
Reactivated Bay Area melodic death metal outfit LIGHT THIS CITY has unleashed the first single from their fifth LP, and first in a decade, Terminal Bloom. As the album nears release through Creator-Destructor Records in May, "A Grotesque Reflection" has been made available alongside preorders for the record.
LIGHT THIS CITY returns with ten blazing tracks that capture the band's tendency towards extreme melody and intensity, honoring the Swedish sound of the '90s. Having spent the past decade performing and touring in numerous other bands, the five members of LIGHT THIS CITY have only honed and shaped their skills and musicianship since their 2008-released Stormchaser. Terminal Bloom was recorded from December 2017 through February 2018 with Zack Ohren (Suffocation, Cattle Decapitation, Fallujah) at Castle Ultimate Studios in Oakland, California, as with their previous four albums, and is wrapped in the vibrant cover artwork of Tony Midi.
Offers vocalist Laura Nichol with the release of the first single, "I've always had a fascination with Greek mythology, which a lot of my early LIGHT THIS CITY lyrics referenced, and I found myself revisiting similar themes while writing lyrics for 'A Grotesque Reflection.' Obviously, one of the big questions that myths (and religion) try to answer is: What happens when we die? Kharon is the name of the ferryman who carries you into the underworld after your death. The line 'we have always been his passengers' alludes to feeling like normal life and the 'life' of death in the underworld are actually the same thing. So, when I die, and I'm about to approach this hellish place after my death–well, what makes that so different from the life I just came from? Your reflection in the waters of the underworld is really just a distorted visage of the same reflection you looked at every day in your normal life."
Stream LIGHT THIS CITY's "A Grotesque Reflection" at YouTube HERE and Bandcamp HERE.
Terminal Bloom will see release on CD, LP, and digital formats on May 25th through drummer Ben Murray's Creator-Destructor Records; find preorders at the label webstore HERE and Bandcamp HERE.
Stand by for additional audio samples, tour dates, and more to be announced throughout the weeks ahead.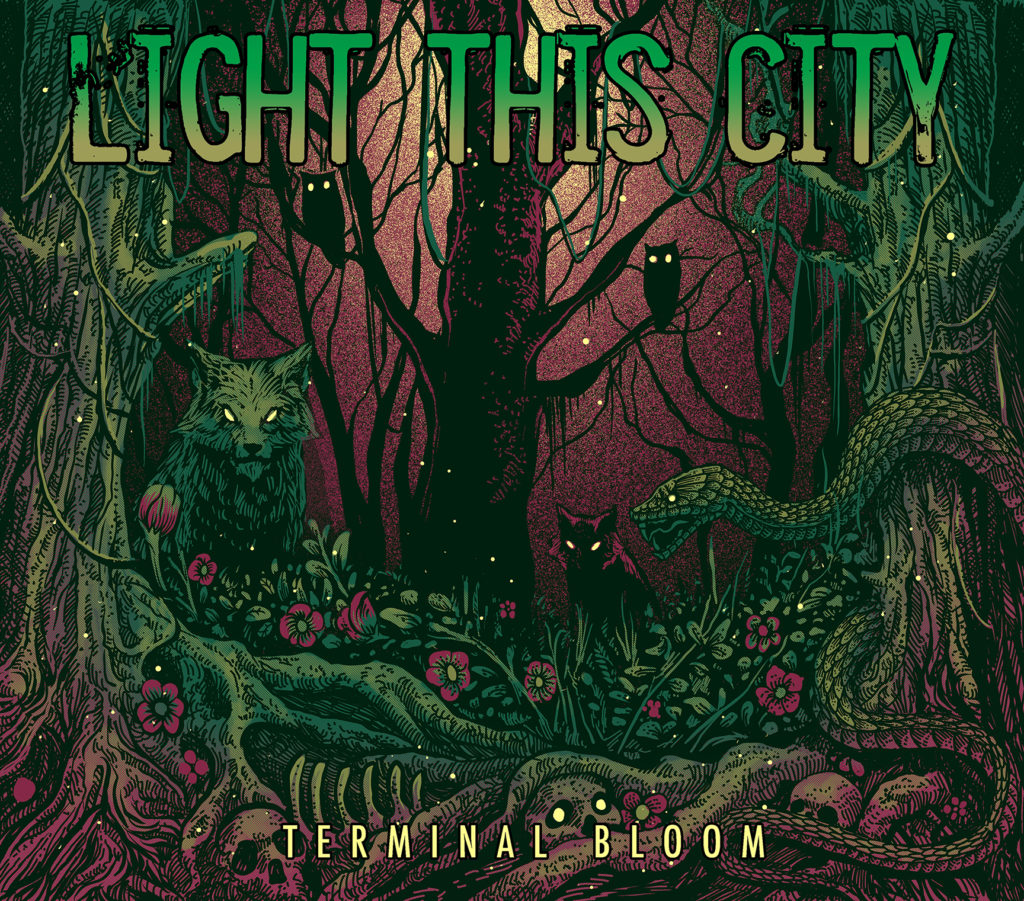 https://www.facebook.com/Light-This-City-12498861242
https://www.instagram.com/lightthiscity_official
http://www.creator-destructor.com
http://www.facebook.com/creatordestructorrecords
http://www.twitter.com/CD_Records
http://www.creator-destructor.bandcamp.com