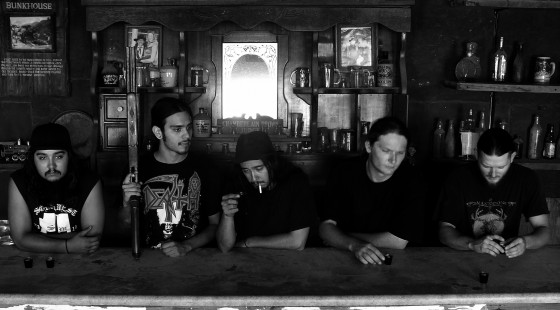 Consume, the second album from Tucson-based modern death/thrash quintet, LETHAL DOSAGE, is out today via Battleground Records. Battleground, founded in 2013 by the members of Godhunter, brought LETHAL DOSAGE onto the label's roster after booking them at the annual Southwest Terror Fest, having been blown away by their kinetic, relentless live energy.
Having harnessed that massive live sound at Arcane Digital Studio, engineered by Ryan Butler and then finalized at Sonorous Mastering, Consume contains over fifty minutes of groove-heavy, contemporary metal comparable in parts to Lamb Of God, Chimaira, Pantera and the like, yet breathing with LETHAL DOSAGE's own desert-baked, contaminant-induced volatility. The album is now available digitally and on CD bound in an eco-friendly digipak, and to celebrate its official release, today PureGrainAudio is hosting an exclusive stream of the entire album.
Unload all of Consume at PureGrainAudio now AT THIS LOCATION.
The same zine also recently published a gear special on LETHAL DOSAGE HERE.
The digipak version of Consume is now available for $8 exclusively at Earsplit Distro, and the digital for the same price via Bandcamp, not to mention iTunes, CD Baby and more.
Having just wrapped up their Consume The Southwest Tour in support of the album this week, LETHAL DOSAGE is now setting their sights on the rest of the country with a US Summer Tour and more in the works. Stay tuned for new announcements in the coming weeks.
https://www.facebook.com/LethalDosageTucson
http://lethaldosage1.bandcamp.com
https://www.facebook.com/battlegroundrecords