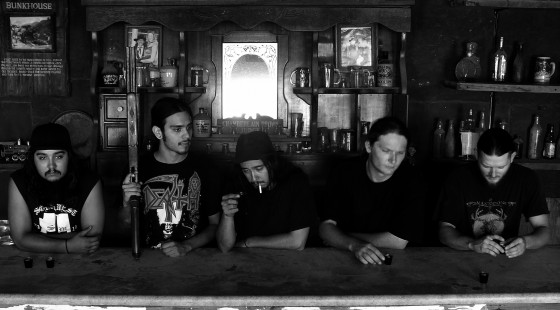 Tucson-based depravity squad, LETHAL DOSAGE, is ready to intoxicate the Southwest once again, having locked down another tour of the region for this Fall.
Having already torched the region on their Consume The Southwest Tour in February, and again during their more widespread Consume The West Tour in June, LETHAL DOSAGE will bring their crushing ruckus to another six towns across the Southwest US. Beginning October 6th, the Completely Meaningless Party Tour will blaze Anaheim, Ventura, Las Vegas, Flagstaff and Tempe before the caravan smolders out with a final show in their hometown on October 11th. The band's hometown brethren in Evasion will be joining the melee as support for LETHAL DOSAGE on all dates.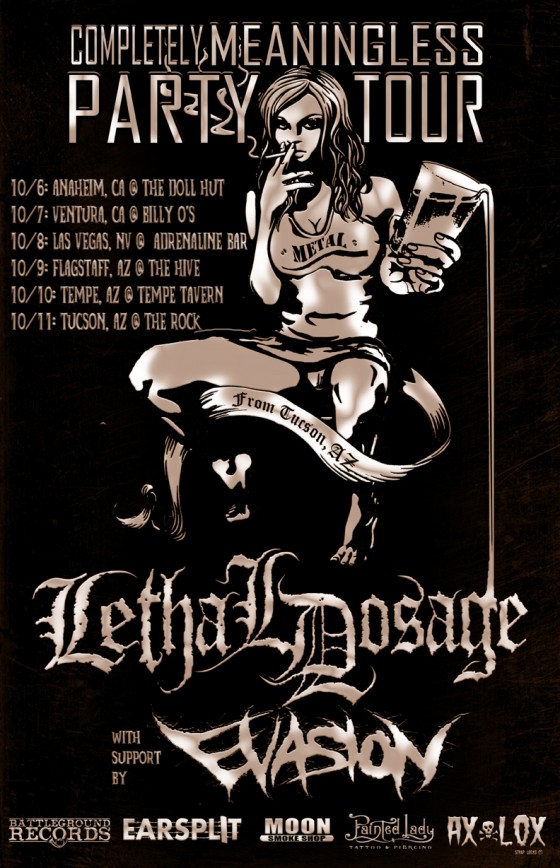 LETHAL DOSAGE Completely Meaningless Party Tour:
10/06/2014 The Doll Hut – Anaheim, CA
10/07/2014 Billy O's – Ventura, CA
10/08/2014 Adrenaline Bar – Las Vegas, NV
10/09/2014 The Hive – Flagstaff, AZ
10/10/2014 Tempe Tavern – Tempe, AZ
10/11/2014 The Rock – Tucson, AZ
LETHAL DOSAGE released their second full-length album, Consume, in February via local cohorts, Battleground Records. Having harnessed the band's massive live sound at Arcane Digital Studio, engineered by Ryan Butler and then finalized at Sonorous Mastering, Consume rages with over fifty caustic minutes of groove-heavy metal with elements of brutal hardcore infusing elements of Lamb Of God, Chimaira, Pantera, and Hatebreed, yet consumed with the band's own self-destructive, caustic, desert-baked contamination. Consume is available in an economical, eco-friendly four-panel digipak exclusively at Earsplit Distro, and digitally via Bandcamp.
"…an exuberant, very welcome surprise… the sound on this album is positively monstrous." – Chronicles Of Chaos
"…a modern and highly brutal form of death-influenced and groove-laden metal in the vein of Chimaira or Lamb Of God." – Puregrainaudio
"Consume is filled with ominous riffs and ample groove, with a breakdown here and there. The bile-filled vocals are balanced with bouncy grooves…" – About.com
"Up-and-coming Tucson-based metal quintet Lethal Dosage's second release, Consume, follows a nonlinear narrative throughout its 10 tracks about the devastating effects of alcoholism, opening a window into the lives and situations affected by the addict… The juxtaposition of orderly and precise music with detached lyrics driven by cold reasoning makes Consume play out like an Apollonian Greek tragedy." – Tucson Weekly
https://www.facebook.com/LethalDosageTucson
http://lethaldosage1.bandcamp.com
https://www.facebook.com/battlegroundrecords