No Clean Singing unveils a haunting new video from French orchestral/operatic entity LES CHANTS DU HASARD, created for the ominous movement "Les Milliers D'une Fois," which is found on the act's 2021-released Livre Troisième opus.
An endeavor conceptualized, composed, and performed by founding member Hazard, LES CHANTS DU HASARD was spawned from the notion that metal is a musical style that deals with extreme emotions, anger, violence, darkness, despair, and whose goal is to create an aural experience of those emotions, something more than just music, that would submerge the listener.
The eight-movements on LES CHANTS DU HASARD's Livre Troisième embody an avantgarde masterwork which seamlessly melds neoclassical bombast, gothic opera, and a blackened metal spirit to manifest a sophisticated sonic grandiosity of extraordinary proportions. Livre Troisième is at once romantic, tragic, tortured, and triumphant. It's breathtaking in the most literal sense treading with the emotional weight and fervor of a thousand suns. With the music and the bulk of the vocals handled by Hazard, Livre Troisième features additional vocals from Marfa Khovansky, Melitza Torres, Vaerohn (Pensées Nocturnes), and Göran Setitus (Svartghast, ex-Setherial). The album was mixed and mastered by Olivier Prouvost, professor at the music conservatory of Paris, who advised Hazard on the orchestration and composition of the record.
Using clips filmed by Hazard in France, the "Les Milliers D'une Fois" video was directed, edited, and created with additional footage filmed in New York by David Brenner (Gridfailure).
Hazard reveals, "'Les Milliers D'une Fois' has been this album's pivotal song during the composition process. This was not the first one composed, but it defined the mood and sound I wanted to have. It is probably the most important song of this album. David Brenner directed the video and made an amazing job there. The pictures perfectly convey the strangeness and old world feel of the song with the aesthetics of a silent movie."
Writes No Clean Singing, "Today we return to the spine-tingling musical world of LES CHANTS DU HASARD, a world of imagination and extreme emotion that is simultaneously enthralling and frightening, seemingly connected to milieu of centuries past but may never have existed at all except in dreams — submersive and astonishing dreams that are both seductive and shuddering, haunting and breathtaking, daunting and fierce, and much more."
The review notes of this movement, "Its frantic scenes, which do indeed seem lifted from the era of silent movies, draw out the most otherworldly and unnerving aspects of the music. In contrast to the video's flashing imagery, the music swirls slowly like a deeply melancholy waltz, joined by a celestial choir and by a baritone voice singing in solemn and sorrowing tones. The soaring strings, horns, and organ notes might make you think the dance is one among wraiths, elevating into the air beneath the vault of an abandoned gothic hall, or through a field of tombstones that don't interrupt their course. Seamlessly, the mood of the music intensifies. Tension builds. A feeling of sinister peril mounts. The operatic singing, searing instrumentation, and low-frequency booms create an atmosphere of immense tragedy and feverish anguish. The music swells to a shattering crescendo. When the waltz resumes, it's still encompassed by feelings of dread and downfall, and the vocals soar again, like a performance at a classically orchestrated funeral mass."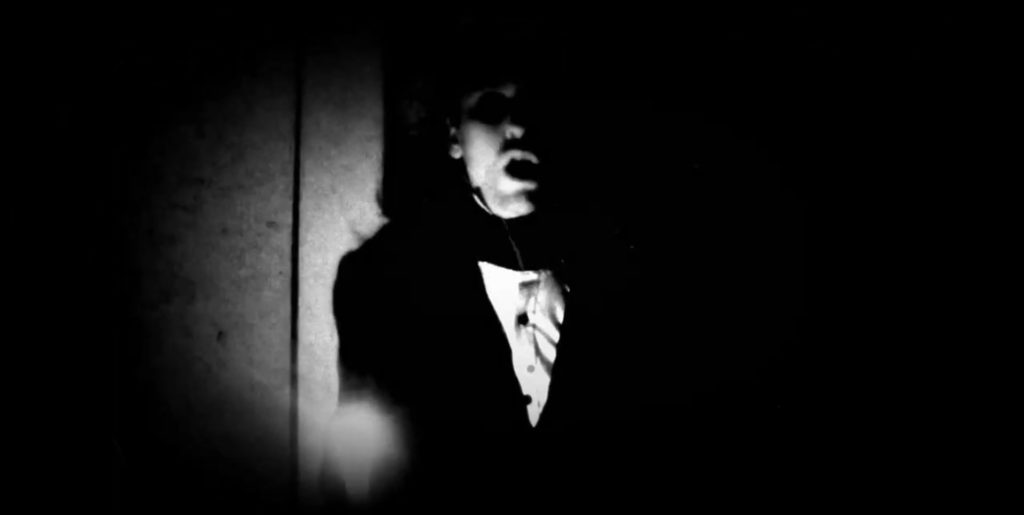 Immerse yourself in LES CHANTS DU HASARD's "Les Milliers D'une Fois" video courtesy of No Clean Singing at THIS LOCATION.
Livre Troisième is available in a deluxe, six-panel digipak CD and through all digital services including Bandcamp HERE and YouTube HERE.
"Combining neoclassical instrumentation and operatic vocal performances with blackened screams, songs like 'Chant III – Le Reflet'… channel a mood that feels simultaneously elegant, epic, and evil. There is a cinematic quality to the instrumentation, lending the song a grandiose feeling." – Decibel Magazine
"Without distorted sound, upcoming album Livre Troisième offers a nuanced look into what exactly makes metal… metal, beyond the superficialities of post-production and armies of pedals. While still just as haunting as a black metal record, if not more, Livre Troisième's far more textured, harmonic approach relies entirely on the utilized instruments' natural sounds and extended sound range to create possessed, enchanting music." – Invisible Oranges
"The album is a dark and ominous set of choral and neoclassical pieces that evoke a sense of doom without being doom metal, their sonic atmosphere more cinematic than heavy. There's an undeniable beauty about the album, yet it's austere and often harrowing… intense stuff, but mesmerizing all the same…" – Treble
"…this was a truly captivating listening experience and was unlike anything else I have ever heard." – Cave Dweller Music
"…a soundtrack of somewhere between mental asylum, church altar in an abandoned monastery, demon exorcism, and funeral requiem. Basically, an awesome experience if you just let go and let it wash over you… a rewarding sonic experience." – Metal Reviews
http://www.facebook.com/leschantsduhasard
http://leschantsduhasard.bandcamp.com