[photo by Tara Spence]
In support of their recently released debut LP, The Torn, Oakland's LAMENT CITYSCAPE will tour through the Southern half of the country alongside Arizona's Take Over And Destroy. The trek sees the bands converging in Arizona for the first show on November 27th, after which they will pummel through Texas, Louisiana, Missouri, Florida, South Carolina, Georgia, Tennessee, Arkansas, Oklahoma and New Mexico before reentering Arizona for the final show on December 15th. LAMENT CITYSCAPE will also play on the 16th in Glendale, Arizona on their way back to the Bay Area.
The biomechanical metal the LAMENT CITYSCAPE duo harnessed on The Torn offers a cinematic atmosphere reminiscent of the brooding and nebulous angst of early Godflesh, Ministry, and Swans, while elements of their crushing, tectonic riffage owes much to regional Bay Area acts Neurosis, Noothgrush and Secrets Of The Sky. More than fifty-one minutes of engaging, sonic intensity complete The Torn, the album's drums and bass engineered by Jack Shirley at The Atomic Garden Recording Studio in East Palo Alto, with the majority of the engineering and all mixing handled by the band and Scott Weiser at Underland Studios in Oakland, the band members also handling all mastering and artwork duties for the album.
LAMENT CITYSCAPE's The Torn is streaming through Bandcamp HERE and Soundcloud HERE, and the video for "Pale Hands" is playing RIGHT HERE.
The Torn is out now through Battleground Records on 180-gram 12″ LP limited to 300 copies including download and a four page color insert available HERE and digitally on all major platforms including Bandcamp HERE.
Decibel Magazine says, "The Bay Area is obviously a thrash mecca, but the nebulous art-metal influence of Neurosis looms just as large. It certainly struck a chord with poetically monikered Oakland duo LAMENT CITYSCAPE. Whipping up a mid-paced industrial/doom miasma in the vein of Neurosis, Swans and Ministry, Mike McClatchey and Sean McCullough have plenty of six-minute-plus epics to display on The Torn…" American Aftermath proclaims, "The record is immense and powerful. Behemoth, down-tuned guitars collide with thunderous percussion for maximum sonic abuse. But darkness is often met with light as shimmering melodies, although somber in their expression, entangle themselves in the mechanical inner-workings of these industrialized opuses. This group has crafted, arguably, one of the more enthralling albums of the year." Metal Insider's review includes, "The beauty of this album though lies in the myriad of ways in which LAMENT CITYSCAPE can drag you under a tidal wave of absolute sonic depression. Whether it's the post-metal moodiness behind a certain riff, as you might find in a track like 'The First Son' or the all-out, mammoth-like doom metal assault of a track like 'The Final Son,' LAMENT CITYSCAPE are adapt at weaving together a shroud of utter dreariness." And Toilet Ov Hell crowed the LP with a 5/5 review, including, "With The Torn, the vision of the artist is fully realized and potent. Nothing is wasted and nothing is extraneous. It's a wholly immersive listen that begs to be spun again and again. It's hard to find fault with it, so I won't go looking for something to complain about. The Nothing has come, and I will happily give myself over to its gaze."
LAMENT CITYSCAPE Tour Dates w/ Take Over And Destroy:
11/27/2015 Yucca Tap Room – Tempe, AZ
11/28/2015 Skybar – Tucson, AZ
11/29/2015 The Sandbox – El Paso, TX
11/30/2015 The Depot – Lubbock, TX
12/01/2015 The Lost Well – Austin, TX
12/02/2015 Bottom Bracket- San Antonio, TX
12/03/2015 Black Barbie – Houston, TX
12/04/2015 Heffe's Saloon – Lafayette, LA
12/05/2015 Siberia – New Orleans, LA
12/06/2015 The Juke Joint – Ocean Springs, MS
12/07/2015 Shantytown Pub – Jacksonville, FL
12/08/2015 WPBR Radio Room – Greenville, SC
12/09/2015 529 – Atlanta, GA
12/10/2015 East Room – Nashville, TN
12/11/2015 Vino's – Little Rock, AR
12/12/2015 Ryleigh's – Fayetteville, AR
12/13/2015 Soundpony – Tulsa, OK
12/14/2015 The Launchpad – Albuquerque, NM
12/15/2015 The Green Room – Flagstaff, AZ
12/16/2015 The Complex – Glendale, CA [no TOAD]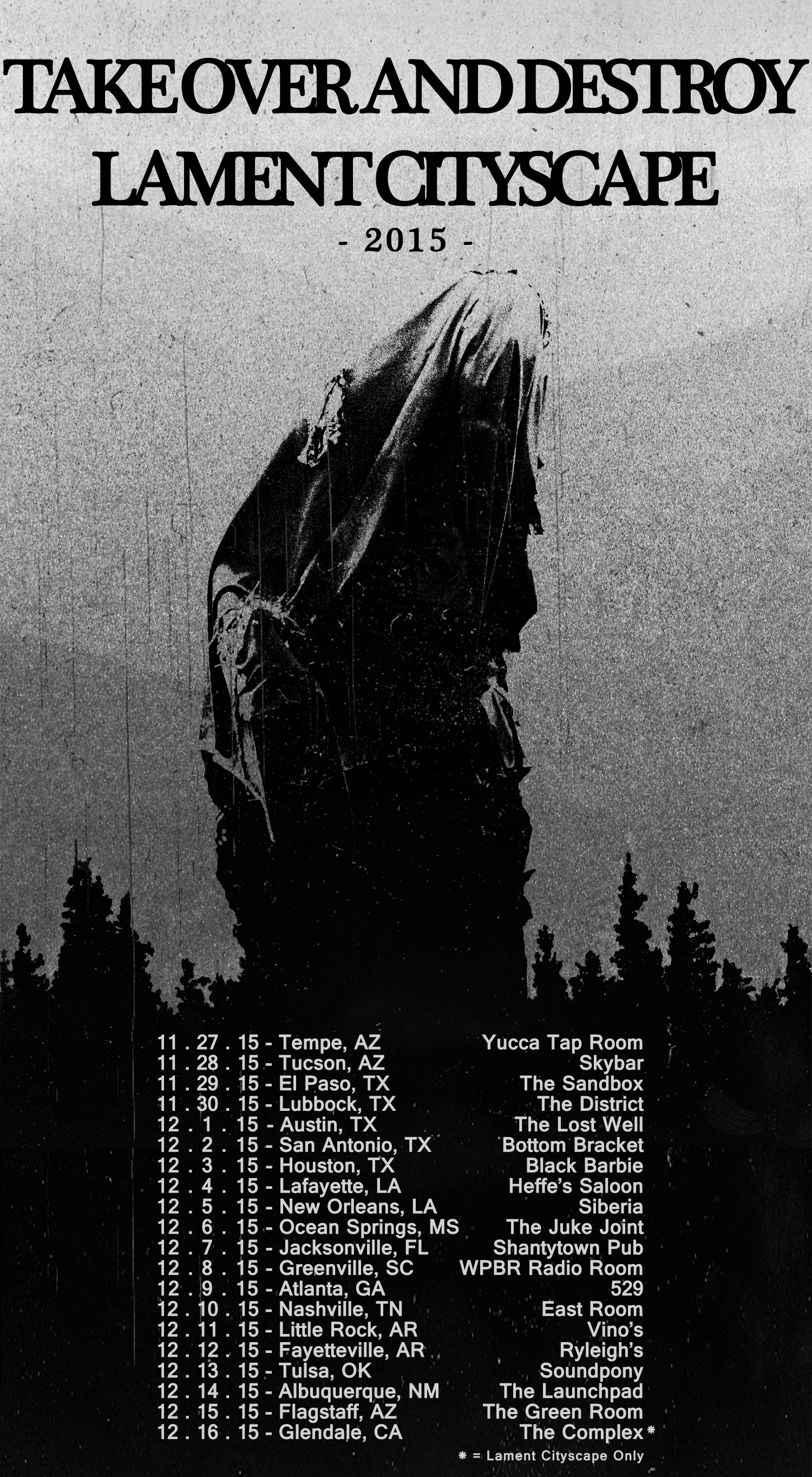 http://www.facebook.com/LamentCityscape
http://www.lamentcityscape.bandcamp.com
http://www.facebook.com/battlegroundrecords
http://www.battlegroundrnr.com
http://www.twitter.com/battlegroundrnr
http://battlegroundrecords.bandcamp.com