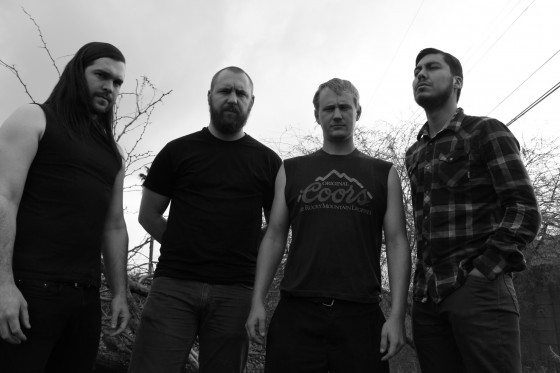 Underground metal zine, No Clean Singing, is now hosting an exclusive listen to the first single borne of Tyranny, the debut full-length from Phoenix, Arizona's ominous deathsquad, LAGO.
After releasing their introductory Marianas EP in 2010, the year of the band's inception, in 2012 LAGO released a two-track demo constructed by a partially revamped lineup, introducing the ideas which would become the full-length monstrosity that is now set for release as Tyranny. Recorded in the Fall of 2013 by Ryan Butler at Arcane Digital Recording (Exhumed, Phobia, Landmine Marathon) and mastered in March 2014 by Dave Shirk at Sonorous Mastering (Incantation, Exhumed, Today is the Day), Tyranny executes forty minutes of primal, pummeling death metal with a dissonant black metal edge through eight destructive tracks. A guest appearance by Jonny Davy from Job For A Cowboy is made on the track "Bring To Ruin."
The fourth of the album's eight works, "Concede To Oblivion" is now playing at No Clean Singing who issues of the traumatic experience, "LAGO deliver top-shelf death metal, like some hellish blackened offspring of early Morbid Angel and Disma, fully armed with an arsenal of impressive technical chops and infectious hooks. The music is suitably ominous and fearsome, but performed with distinctive flair. From this song alone, Tyranny has vaulted onto our list of highly anticipated 2014 albums."
Stream "Concede To Oblivion" now at THIS LOCATION.
In addition to new widespread live actions from LAGO being devised, the band has sanctioned Saturday, September 20th as the date of their free hometown record release show, featuring support from a pile of additional regional underground acts.
LAGO Tyranny CD Release Show:
9/20/2014 Tempe Tavern – Phoenix, AZ w/ Sorrower, Meathook, Unholy Monarch, Cave Dweller, Deadspawn [info]
Tucson's Battleground Records will release Tyranny on digipak CD and digital delivery on September 16th, 2014, while Swedish label Blood Harvest Records will be handling the vinyl edition. Preorder links and additional previews of the album will follow in the coming weeks.
Tyranny Track Listing:
1. I
2. The Tyranny of Men
3. Father Of All
4. Concede To Oblivion
5. Coming Cataclysm
6. Bring To Ruin
7. Reckoning
8. Pox Of The Weary
https://www.facebook.com/LagoMetal
http://www.lagometal.bandcamp.com
http://www.lagometal.bigcartel.com
https://www.facebook.com/battlegroundrecords
http://www.earsplitdistro.com